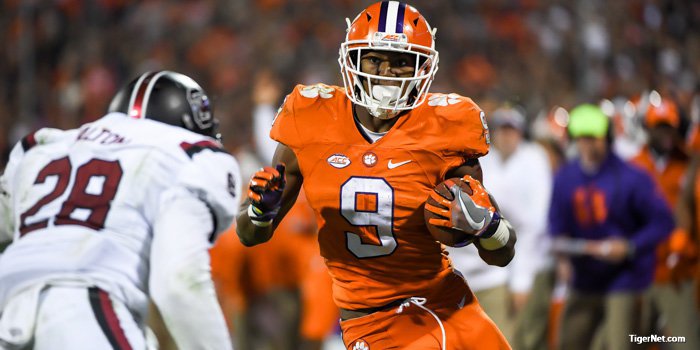 | | |
| --- | --- |
| Elliott says 2016 team now owns most dominant performance in the rivalry | |
---
| | | |
| --- | --- | --- |
| Sunday, November 27, 2016, 8:01 AM | | |
CLEMSON – The Clemson offense saw the smack talk dished out by South Carolina throughout the week, but it was a challenge by Tony Elliott that they took to heart.
Clemson's co-offensive coordinator was a wide receiver on the 2003 Clemson team that beat South Carolina 63-17 and all week, he challenged the offense to put together a more dominant performance than the one he was a part of.
The totals are staggering: 622 total yards – 250 on the ground and 372 through the air – 40 first downs, 10-of-15 on third down, 2-for-2 on fourth down and 56 points.
Mission accomplished.
Elliott told the media after Clemson's 56-7 win over South Carolina Saturday night in Death Valley that the 2016 team now owns the record for the most dominant performance ever over the Gamecocks.
"I have to concede that. I challenged the guys this year. We might have the largest amount of points scored but they have the largest margin of victory," Elliott said Saturday night. "It was pretty dominant. It was on both sides of the ball. The defense played well. I think they held them to right around 200 yards. Special teams played well. It was just a complete game. I'm really proud that amidst the distractions of Thanksgiving and wanting to see your family and the stuff going on in the media with a rivalry game, these young men have blocked out the noise, they focused in and played their best game of the year."
It didn't hurt that the players heard all week how they were soft and played a finesse style offense from the Gamecock players.
"Bulletin board material and talking about our style of play," Elliott said. "Obviously, there's a difference in mentality or so to speak in the different conferences but we pride ourselves on being able to run the football and what you've seen over the last couple of weeks is our guys up front are really starting to pick up where they ended last year. We've been able to consistently run the football and they were challenged. I thought they did a really good job of being able to create a new line of scrimmage and the backs were really able to run hard. Anytime you can rush for over 200 yards, that's a good night."
Elliott said while he will find things to critique, Saturday's performance was as close to perfect as the offense has played this season.
"I think right now, but as I go back and watch the film there are going to be a couple of short yardage situations where I wanted it to be a little bit cleaner," he said. "We did give up a sack. When you're talking about perfection, you're talking about being perfect in every area. I think we were 10-of-15 on third down so there were a couple of situations. We're going to find things to improve upon, but overall in this game on this stage against your rival to come out and set a couple of records offensively - I'm not a big guy about that - but this one here is personal. This is big. For our seniors to finish this way in this stadium versus this team after the way they were challenged is pretty big."
While Elliott is happy to a part of another win over South Carolina, he's happier for the seniors who made the decision to turn the tide in the rivalry.
"Our senior group is part of that 2014 team that drew a line in the sand and decided to make a change when we had the streak where we lost several," he said. "It just so happened that those guys came out and they were challenged all week. Our offensive line was challenged and there were some words that were exchanged about how we play up front, so everyone took this one personally. We know what this means to our fans. On a side note, I just want to give a shout out to our fans. We've got the best fans in the country and they created an unbelievable atmosphere tonight. Our guys fed off it. They had a great week of preparation. They blocked out all of the distractions and that's why you were able to see them be balanced and have the best performance of the year offensively."