| | |
| --- | --- |
| ESPN's Tom Luginbill and Danny Kanell weigh in on Deshaun Watson | |
---
| | |
| --- | --- |
| Thursday, September 25, 2014 5:01 PM | |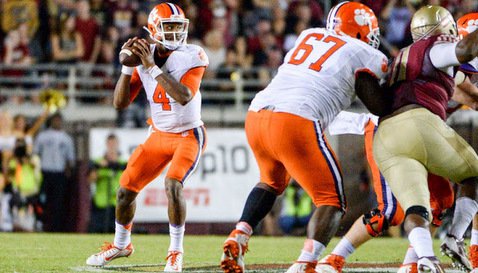 Freshman quarterback Deshaun Watson

Deshaun Watson
Fr. Quarterback
#4 6-3, 204
Gainesville, GA
View Full Profile will hit a milestone Saturday evening in Death Valley, trotting out in front of the home crowd for his first career collegiate start.
The local media has written about Watson and we've heard from the Clemson players and coaches about what makes Watson special, but we wanted to reach out to members of the national media to gauge their feelings on the Gainesville native. TigerNet spoke exclusively with former Florida St. and NFL quarterback Danny Kanell, who is currently a college football analyst for ESPN, and ESPN college football analyst Tom Luginbill.
Kanell said that he is already a fan of Watson, and called him a star.
"I think he's a star. I'm all in with Deshaun Watson as well," Kanell said. "I covered the spring game for Clemson and I remember talking to Dabo and Clemson players about him and even though he didn't play there was definitely a buzz surrounding him. I was bummed, personally, because I wanted to see him play in person at the spring game because of all of the accolades that I had heard about in high school. I personally wonder how the season would have unfolded differently if Deshaun Watson was the starter from week one, first quarter and on."
Kanell said that he thinks Watson's composure is what sets him apart from other freshmen.
"When I watch him play, there's a composure there - a poise that you don't see very often," he said. "I think it's something that we're seeing more and more, maybe in the last five years, because of the attention guys are getting in high school, the attention they get from playing in seven-on-seven tournaments and are playing on national TV and doing Elite 11. It helps players make the transition. It's not such a big deal to be playing in front of 80,000 people on national television as it used to be. There used to be such a huge jump. Now players are like, 'Well, I've already played on national TV. It's just another game.'
"I think that's why I'm so excited about him - more than any arm strength, more than any athleticism or the types of plays that he makes. It's the composure. It's the poise under pressure. That's what separates truly great quarterbacks from just average ones. Those guys that the moment never seems too big for them and so far for Deshaun Watson it seems like the moment is never too big for him. It was similar with Jameis Winston at Florida State. His first game out is on a Monday night on the national scene and he went out there and lit it up. There is common ground in great quarterbacks in that the moment is never too big."
Kanell said Watson has abilities that simply can't be taught.
"I don't think you can teach quarterbacks to be good passers," he said. "I was lucky enough to train with Dan Marino when I was in high school and he told me one time, 'You can either throw it or you can't.' Just for natural passers, that's what it looks like to me with Deshaun Watson. It's very effortless. It looks like it comes very naturally to him when you're talking about throwing the football. Then the athleticism is something you can't teach either. It's just a God given gift that he's got. You put it all together and it really looks like a great package."
Luginbill said that nothing Watson has achieved to this point has come as a surprise.
"Absolutely not, and when I answer that question the answer has absolutely nothing to do with physical tools. It has nothing to do with physical ability," Luginbill said. "I am not surprised by it because the kid has always had a level head, and he is able to deal with hype and exposure and expectation levels with a very even keel. As we all know in this world of easy access and instant gratification, when you are dealing with young kids things can get out of control very quickly. He is a kid that was always able to deal with the ebbs and flows and the peaks and valleys that come along with playing the position."
Luginbill then said that he knew Watson would get the nod over Stoudt sooner rather than later, especially if the Tigers wanted to win out.
"At the quarterback position, there is such a steep learning curve from high school to the collegiate level, and the reason it is so steep is all of the things you have to handle from the neck up. For most kids coming in, it's steeper for some than it is for others," Luginbill said. "He was so ahead of the curve in terms of maturity and mental capacity and aptitude and things of that nature that I didn't think it would be long for him. I said that in a lot of our studio shows over the summer - I said that Cole Stoudt

Cole Stoudt
Sr. Quarterback
#18 6-4, 231
Dublin, OH
View Full Profile may get them off to a start, but if they want to go where they really want to go they are going to have to go with the younger guy and it looks like they are finally doing that."
I asked him if Watson reminded him of any other true freshmen, and he said a former Southern Cal signal caller comes to mind.
"Matt Barkley did that as a freshman at USC where he was thrust into that duty. He came out of high school with very similar traits when it comes to those intangible qualities and football IQ and the ability to handle a lot of things at one time," he said. "There aren't a lot of guys that are thrust into playing as true freshmen. Some might play in like a limited role like we saw with Tim Tebow, but very few are going to be set in stone and go through a season as a starter because there aren't a lot of guys strong enough."
Luginbill finished by saying he thinks Watson might have won the job earlier if he hadn't injured his collarbone in the spring.
"To be honest with you, if Deshaun hadn't gotten hurt in the spring I don't know that they would have been so quick to name Cole the starter when camp started," he said. "But that happened and it was probably for the best because it put Deshaun in a position where he had to battle and he had to compete. Quite frankly he had to earn it. With freshman quarterbacks, the staff is probably thinking that he is going to be a really good player but they don't want to overload him or confuse him and they will start him off with things that he can handle and sprinkle in a little bit more here and little bit more there until you get to a comfort level. They have done a nice job of sprinkling him in and giving him a little more each time. "