| | |
| --- | --- |
| Dye emotional in Clemson debut | |
---
| | |
| --- | --- |
| Friday, November 7, 2014 2:12 AM | |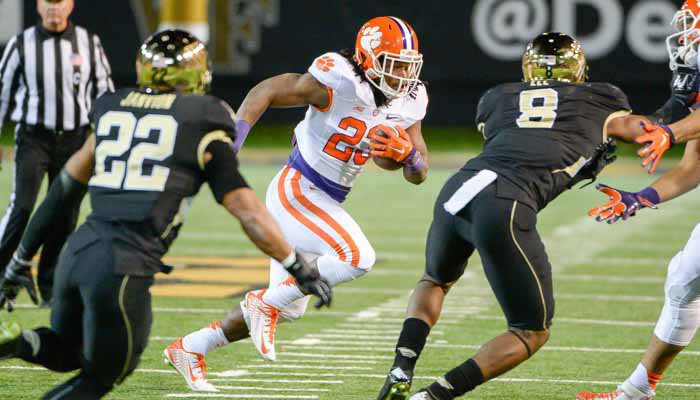 WINSTON-SALEM, NC – Tyshon Dye

Tyshon Dye
RS Fr. Running Back
#23 5-11, 214
Elberton, GA
View Full Profile 's road to the playing field as a Clemson Tiger has been long and arduous but his love of the game that he grew up playing kept him going through even the toughest times.
When the Georgia native's time finally came Thursday night, there were butterflies, jitters and even a few tears.
The redshirt freshman out of Elbert County (GA) High School has suffered through an ankle surgery, a back injury and a torn ACL since his senior year of high school, and it took until the ninth game of Clemson's season for Dye to see game action. And it made him emotional, according to offensive coordinator Chad Morris

Chad Morris
Offensive Coordinator / QBs
View Full Profile .
"That was neat. That was really special. It was almost surreal, watching him, and I think he even had tears in his eyes before he went in there," Morris told the media after Clemson 34-20 victory over Wake Forest Thursday night. "For our fans to see Tyshon come out and play was special. It's been two years, and it is going to take some time, but he is going to be special.
Dye knew that his time was coming but it really hit home when running backs coach Tony Elliott

Tony Elliott
Assistant Coach / Running Backs
View Full Profile came to prepare him for his first collegiate action late in Thursday's game.
"Coach E came over to me and said, 'You ready? You're getting ready to get in.' I was getting the jitters," Dye said. "My teammates were just pumping me up even more. They were just supporting and telling me that it was my time and to run hard when I get in."
The process back from all of the injuries has been the toughest challenge of his life.
"It's been a long time coming and I'm just thankful for the opportunity," Dye said Thursday night. "It was the longest two years of my life. I just had to have faith. It's been tough staying focused and I've had my ups and my downs but at the end of the day I love this game and I was going to do my best to get back to where I once was."
However, getting the first five carries and 18 yards of his Clemson career was a feeling that he'll never forget.
"It's kind of indescribable because I've been through so much," Dye said. "Just to get that first carry and get that many yards, it feels pretty good. It was pretty tough because I've wanted to get in for a long time. Plus, my family and all of the people who have been supporting me have wanted me to come in. I knew that whenever coach was ready that I would be ready."
But he knows that he has a long way to go to live up to his potential.
"About 90. I'm not quite 100-percent because I have to cut some more weight and get back in the flow of the game because I've been out so long," Dye said of his health. "I've been getting better every week, especially just running, getting in better shape and learning the system a lot more. I think I can help the team by adding a little bit more power and learning the system a lot better."