| | |
| --- | --- |
| Dexter Lawrence: Getting to know the player and the person | |
---
| | |
| --- | --- |
| Friday, November 13, 2015 7:01 AM | |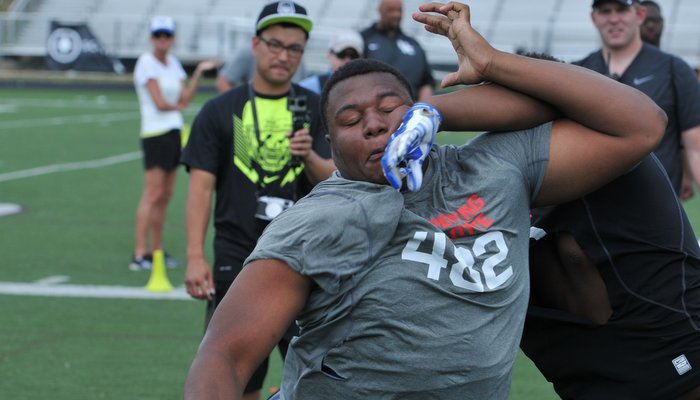 Whichever school Dexter Lawrence decides to attend and play football for will not only be getting a great player on the field but will get an even better person off the field.
The 5-star Wake Forest (NC) defensive tackle fits the criteria that Clemson likes to recruit - he's a high-character young man, does well in the classroom and is an excellent player on the field.
TigerNet spoke with Lawrence's head coach at Wake Forest High School - Reggie Lucas - Thursday afternoon to get an idea for the type of person and player Clemson might be getting on December 14th when he announces his commitment. Lucas said the eight-ranked player in the ESPN 300 takes pride in his play and in how he presents himself.
"He's a tremendous player on the field, and he has tremendous character and leadership off the field, as well," Lucas said of Lawrence. "I have a lot of respect for him as a player and how he's handled things throughout his high school career. Whoever gets Dexter is getting a great young man, not just a great football player. They're getting a great person. He prides himself on doing the right things and being a good person."
Off the field, Lawrence comes across as very calm and even quiet, but on the field he takes on a whole new demeanor.
"I think his outer shell is a little different than his inner drive. I think he definitely has a calm demeanor, but when it comes to his intensity as a football player he can compete with the best," Lucas said. "That's what I like I about him - he can take the football aspect and leave it on the field and then he's a person outside of that. I think that's what you see when you see his calm demeanor. When he's on the field, he's intense, but off the field he's very approachable. Nice young man. His mom has done a great job raising him. She's a single parent and has raised both of her kids and has done a great job."
Lucas said he knew Lawrence had the potential to be special the very first day he showed up for practice.
"Really and honestly, from day one the kid came in at I think 6-4 and 280 when he came here," he said. "The way he practiced, the way he moved, he competed with varsity players as a freshman in practice. I remember the first game he played in as a freshman, he just dominated. You could tell as a coach that the kid was only going to get better because he hadn't really been in the weight room, so you knew he was going to get in the weight room and get stronger. He hadn't really been coached up so you knew his technique was going to be better, so you saw a lot of potential his freshman year."
Lawrence has taken official visits to Florida, Alabama and Clemson, and has a visit to Ohio State scheduled. Those four schools along with N.C. State are thought to be the frontrunners, but for Clemson it's an offensive coach that has kept the Tigers in the mix, according to Lucas.
"I think number one is Robbie Caldwell has been around him since his freshman year. He's a great recruiter and a great person, too. He has a personality that anyone can relate to," he said. "I think Robbie is experienced. He's been around the game a long time and has coached some of the best and has been in a lot of great programs. I think Robbie does a good job of getting Coach Swinney's message out to the kids that he's recruiting. I think Robbie has done a great job of recruiting Dexter. Also, every time Dexter visits Clemson he loves the environment. He's very comfortable, and I think that's important for any kid who's being highly recruited. They have to be comfortable. The coaching staff makes him feel welcome. He loves the intensity of the program. Obviously, Clemson is the top-ranked program in the nation, and they do things right."