| | |
| --- | --- |
| Deshaun Watson puts on a performance for the ages | |
---
| | |
| --- | --- |
| Saturday, November 29, 2014 5:52 PM | |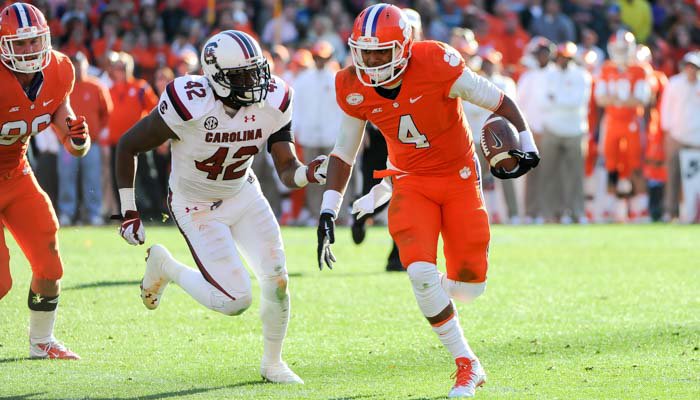 CLEMSON – Deshaun Watson

Deshaun Watson
Fr. Quarterback
#4 6-3, 204
Gainesville, GA
View Full Profile put on a show for the ages, but nobody knew until after the game just how special the performance actually was.
The freshman signal caller finished the game 14-of-19 for 269 yards and two touchdowns, along with five rushes for 13 yards and two scores in Clemson's 35-17 victory over archrival South Carolina.
By anyone's standards, those would be pretty good numbers, especially for a freshman making his first start in a rivalry game. What makes it really special is that he did all of that with a torn ACL.
Watson sprained his LCL two weeks ago against Georgia Tech and completely tore his ACL the Thursday before the Georgia State game during practice, but he elected to put a brace on it and play through the pain.
The Gainesville, Georgia native didn't even mention the torn ACL after the game, and it was head coach Dabo Swinney

Dabo Swinney
Head Coach
View Full Profile who broke the news of Watson's injury.
Swinney said that medical staff thought that Watson might need surgery after suffering the LCL injury because the left knee wasn't as stable the right knee
"One thing I want to say because it's been a crazy place around here the last couple of weeks," Swinney told the media after the Tigers victory in the Palmetto Bowl. "Deshaun Watson, he is a mental and genetic freak. I don't know how else to say it. He came out of that Georgia Tech game and we thought he tore his ACL and as it came back he hadn't torn his ACL. He had an injury in high school and it came back that he had the exact same trace of the ligament. It was something that they said, 'here's the deal, this thing may hold the rest of his career or we might really need to think about going ahead and fixing it and making it as secure as the other one.'"
But, Watson returned to practice midway through the week of the Georgia State game and continued to perform at a high level until he went through a drill that required him to evade pressure and it was at that moment he completely tore the ACL.
"We were contemplating that thinking that we'll go play and finish the season and he gets back to practice and he looks unbelievable," Swinney said. "He's bouncing around and going through cones and that Thursday of the Georgia State, he had done everything and he dropped back to avoid a rusher and he went down. He walked off and we did another MRI on Friday and the ACL was torn."
Watson said the thought of not playing in the rivalry game never crossed his mind.
"Not at all. I just took it one day at a time," Watson told the media after the game. "I knew I had a chance to play in this game and each day I just did a little bit more and then I got better. I felt good today and Coach Swinney said if I'm good then I'm the starter, so I went out there and did what I could do."
Swinney said that when Watson decided to try to play, team doctor Larry Bowman and trainer Danny Poole put a brace on his left knee that essentially served as an ACL.
"You can imagine how we all felt at the time and Deshaun was like, 'I still think I can go.' We talked about it," Swinney said. " Tajh Boyd

Tajh Boyd
Quarterback (2009 - 2013)
#10 6-1, 225
Hampton, VA
View Full Profile played four games in high school, took his team to the state championship and won MVP of the Army All American Game with a torn ACL. Dr. Bowman, Danny Poole and their staff did an incredible job. Basically, that brace was his ACL."
Knowing that Watson willed his team to the endzone for five touchdowns with a torn ACL made Swinney realize just how special of young man he has leading his team for now and in the future.
"That kid played this entire game with a torn ACL," Swinney said. "When he shot off and ran that touchdown, it was unbelievable. The only issue we had today was the brace was so tight that it was making his calf go to sleep. He was losing his circulation. You just need to know what a special human being he is and what an unbelievable performance we just witnessed. I couldn't be more proud of a young man - his will to win, his preparation, his mental capacity, his toughness, his passion are all off the charts."
Watson said that he had a little pain during the game but nothing that made him think he needed to come out of the game.
"Not at all. I knew that I would feel some pain and I knew I wasn't 100-percent but it snuck up on me a couple of times and I had to come out," Watson said. "I wasn't going to stay in and be selfish so I came out and tried to rest it. I'm not even sure. I knew I was going to feel some pain and I just wanted to go out there and help my team. I was going to do whatever Coach Morris wanted to call and execute the play. Coach Swinney told me before the game that if I couldn't run the offense then not to go out there."
Swinney said that Watson will play in the bowl game and will have surgery shorlty after and should be ready to go by the time the Tigers start summer workouts.
"I tell you that because he will have to have surgery after the season," Swinney said. "He will play in the bowl game and we'll do surgery after the season. We expect him to be back during the summer."