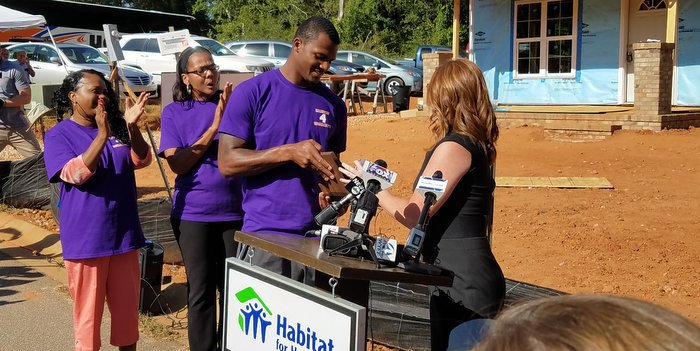 | | |
| --- | --- |
| Deshaun Watson gets a double surprise Tuesday | |
---
| | | |
| --- | --- | --- |
| Tuesday, October 18, 2016, 6:11 PM | | |
GREENVILLE – Deshaun Watson watched head coach Dabo Swinney give a small speech about Habitat for Humanity Tuesday, then received a double surprise.
The Clemson football team traveled to Greenville Tuesday afternoon for its fall community service project, and the players spent several hours helping build new homes and do yard work, landscaping and cleanup on existing homes.
During the opening ceremonies, however, Watson was honored as a member of the 2016 Allstate AFCA Good Works Team. This year marks the 25th anniversary of the award, which was established in 1992 to recognize a select group of college football players who have made a commitment to service and enriching the lives of others.
Habitat for Humanity of Greenville wanted to recognize Watson's path to success by building a house in the Grace Point community in honor of Watson. The house in Greenville will be known as The Next Generation House. Deshaun received Habitat for Humanity International's inaugural Next Generation award in 2015. The award recognizes people who grew up in a Habitat home and embody the qualities of determination, commitment, dedication and citizenship and set an example for other Habitat families.
The football team assisted with the construction of two houses at Grace Point; building new fencing along the property line; performing landscaping on six other houses, and completing other tasks in the community.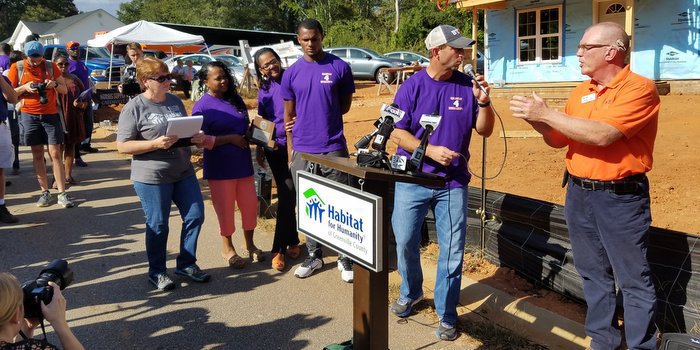 Watson, whose family moved into a Habitat house and out of government housing when was younger, didn't learn of the award until he arrived. His mother and aunt made the trip from Gainesville to see him receive the award.
"I'm just happy to have them up here to be up here with me while I receive the award. And just to give back," Watson said. "We know what it's like to have an opportunity to have a Habitat home and be able to start our own foundation."
He said he was pleased his teammates were also on hand and to see their support.
"It's good," he said. "They've been doing this before I was part of the team so it's something they've been doing the past five years so it's nothing new for some of the vets and some of the guys, but it's awesome to have the whole team and just show our support and serve."
Watson said he hopes he can inspire others and that he was honored his name will be linked with the project.
"Just give back. I don't do it for the popularity, I just do it out of the kindness of my heart and to be able to serve others," he said. "Use my platform not just for me and my family, but to help others and inspire people to be able to do things so they can be able to fulfill their dreams and goals. It's a blessing. It's an honor just to be able to know that my name is a part of it and it can lead on to greater things in more generations. I'm just happy for this family to be able to bless them and be a part of what they're about to experience in their new life and their new home to be able to start a new foundation."
Swinney said that Allstate and Habitat for Humanity couldn't have picked a better spokesperson.
"I think to be an All-American in football you have to be a great football player. To win the Heisman, you had better be a great football player," Swinney said. "But to get on this team and to win that award you had better be a great human being who just happens to be a good football player. That is what he is the epitome of. I tell people all the time, this is a great human being that just happens to be a great quarterback. He is so much more than that and he's a breath of fresh air in today's society. He gets it. He's a great leader and I've never been around a guy more driven and willing to be the best he can be on and off the field. He understands the platform he has. He can't do everything and he can't be all things to all people, but he goes above and beyond in trying to bless other people."