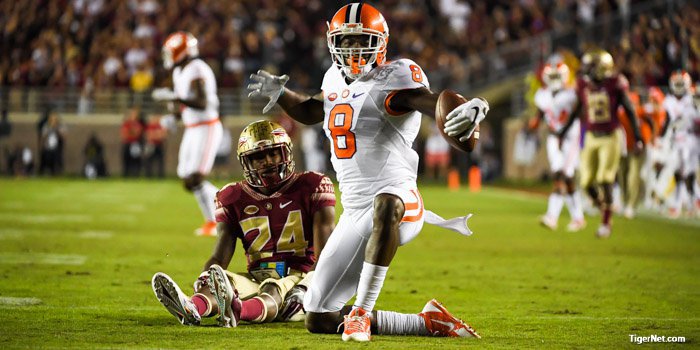 | | |
| --- | --- |
| Deon Cain on underdog FSU: "We're still going to get their best" | |
---
| | | |
| --- | --- | --- |
| Tuesday, November 7, 2017, 6:01 PM | | |
CLEMSON – Deon Cain knows Florida St. is dangerous, regardless of the Seminoles' record. He also has a lot of friends who play for Florida St., and he knows the game also highlights the recruiting battles between the two schools.
Cain is a Florida native, and he's ready to see some old friends when the rivals kick off Saturday.
"I have a lot of friends that committed to Florida State going throughout the recruiting process that I met," Cain told the media Tuesday. "I do have a lot of friends just going through Florida State so it'll be fun going against them. I still got Tarvarus McFadden, one of the corners that plays for them, Auden Tate, (Nyqwan) Murray, all of them guys that play on the offensive side of the ball. It's a lot of them. Can't sit here and just name them all, but it's going to be fun to actually compete and get (to see) some guys and actually love what we're doing together. So it'll be a great experience."
Cain also knows what the rivalry means when it comes to recruiting supremacy in the ACC.
"It's pretty big. This is always one of the biggest rivalries that they have in Clemson history, is the Clemson-Florida State game," he said. "This is actually the game to clinch the ACC title so this is going to really mean lot coming into this game just from both sides. You always want to be in games like that and now I actually get to experience that. So it's going to be a good thing. Should be fun."
He then said that the records and point spreads don't matter.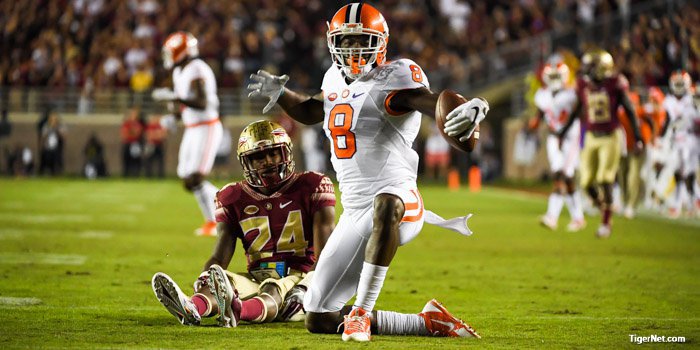 "At the end of the day, Florida State is still Florida State. Even just looking at their record, they're still a great team," Cain said. "They lost maybe two or three games just by the wire. At the end of the day, I think they still have a physical, tough defense and a great offense with their young quarterback. He's looking pretty good. I still like their team. I still don't doubt Florida State because we're still going to get their best from them. "We just gotta show up and execute."
Cain expects Death Valley to be loud and raucous in the stands with plenty of intensity between the white lines.
"It'll probably be a little bit more intense because this is probably the biggest game of the season because we're going to clinch the ACC and this is really one of our goals that we just want to cancel out," Cain said. "So really this game, we've got to come in there with a good, humble mindset and really be ready to attack. Because at the end of the day, we're going to get the best of Florida State and I know they're going to come playing hard. We gotta match that and come out with a W."
He also said he knows he has to be in a leadership position, especially with so many younger skill players getting their first taste of the rivalry.
"Really just trying to lead by example by just my play and stuff like that," he said. "Just trying to show them the ropes of really how being a starting receiver is. I try to be good in the meeting rooms, try to be more vocal to them just to show them examples. Because I was there before. I had to learn my ropes from Mike Williams or from Charone (Peake) or any other of the older guys I had. Just wanted to be there for them just by showing them the little things."