| | |
| --- | --- |
| Defense challenged: Swinney rips off the Band-Aid repeatedly | |
---
| | |
| --- | --- |
| Tuesday, December 29, 2015 7:01 AM | |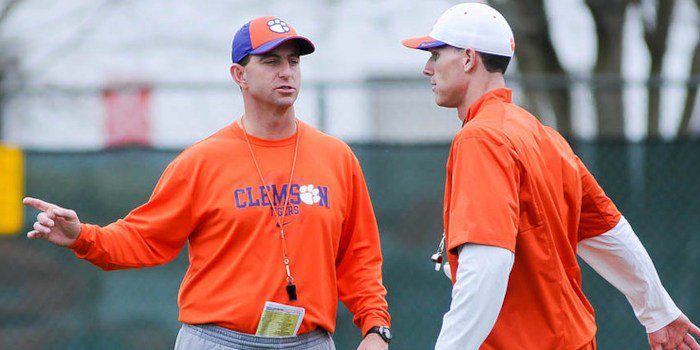 FORT LAUDERDALE, FL – It hurts when you rip a Band-Aid off of a particularly tender spot, and ripping it off of the same spot time and time again inflicts even more pain.
Clemson's defense was subjected to that kind of pain in a meeting recently, and senior defensive tackle D.J. Reader said it's a meeting the players won't soon forget.
Clemson's defense started well in wins over South Carolina and North Carolina at the end of the season, but second half collapses turned would-be blowouts into games that were closer than was comfortable. The defense – in many respects – had lost the edge it had earlier in the season.
The late-season issues prompted a recent meeting, with head coach Dabo Swinney and defensive coordinator Brent Venables sitting down with the defense for a little Band-Aid ripping session.
"We took it as motivation. We knew we have been slacking the last couple of games - people had a lack of focus, people were worrying about the wrong things and we just haven't been coming out and playing the way we played the first couple of games," defensive end Shaq Lawson said Monday. "I feel like we've had a great bowl practice and got back to the defense we were against Notre Dame and stuff like that. I said something to the guys during the season about how we lost focus and weren't finishing four quarters and everything. Then Coach Swinney sat us down and we told ourselves that we had to get it together and get it right."
Reader said the coaches challenged the players' manhood.
"They just challenged us as men. You can put up or shut up," Reader told TigerNet Monday. "We were being complacent and mediocre. They came out and straight up and told us we could handle it. I thought we handled it well. And we just went back and worked. We knew that we couldn't sit there and pout about it or gripe about it. We went out there and got after it. There were things said about we weren't tackling well and we weren't playing well. We are average right now. We took it on the chin, but we accept that. We knew those things and we knew we weren't playing to our potential, but it's different hearing it from a coach. We let our hair down a little bit and we got a reality check."
Defensive end Kevin Dodd said the defense needed to regain its swagger.
"Coach Swinney and the coaches gave us a challenge and said that the second half of the season for the defense - the total of the big runs teams had on us hasn't been a great percentage and that was something we needed to fix coming into this game because we know that these guys are very capable of killing us with the run," Dodd said. "This is something we have to fix as a defense. I feel like we're playing with our old swag and we're working to fix it now.
"We accept the challenge. The coach gave us a challenge, but we kind of already knew what our problem was and it kind of pissed us off from a player standpoint that your own coach would challenge you, but we accepted it and we're going to go out there and put on a show. Just going from the inside out, you know what your problem was - if it wasn't technique or just getting mauled over by a guy. That's when it becomes an issue or if it's a simple communication issue. We know we're going to have to come with a hard edge with these guys. They're big and the backs are hard to tackle. It's going to come down to a tackling game and it's something we're going to have to do well."
Reader said both coaches made sure their point came across loud and clear. Especially Swinney.
"They both can talk. It's kind of like where you keep ripping off a Band-Aid with Coach Swinney sometimes," Reader said. "You will think it's gone and he will keep coming back to it and rip it off again. He wouldn't let it go. And then every talk with Coach V is like a long, intense talk. But with Coach Swinney it's like ripping off the Band-Aid every time. You know it's gonna happen, you just don't know when it's gonna happen."