| | |
| --- | --- |
| Dabo says Tigers preparing for "huge challenge" in 'Noles | |
---
| | |
| --- | --- |
| Tuesday, October 15, 2013 12:13 PM | |
CLEMSON – College GameDay, a top-five matchup with a conference rival in front of 85,000 people and a national television audience.
That is why football players come to Clemson, according to Clemson head coach Dabo Swinney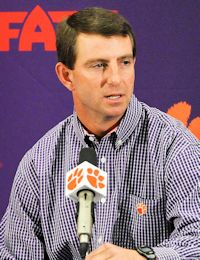 Dabo Swinney
Head Coach
View Full Profile .
Swinney says that every game is the biggest game of the year, but this week that saying holds true for the team, the fans, the ACC and college football.
Swinney is no stranger to big games but he said during his weekly press conference that he knows exactly what's on the line and that all of that is exciting.
"Huge challenge this week. Obviously, very excited about the opportunity that we have," Swinney said Tuesday in the West Zone. "This is a great football team we are getting ready to play. Possibly the best team in the country. Top three offense. Top three defense. Explosive players at every position. They have a Heisman Trophy candidate - and he's playing as well as any quarterback in the country. And top it off, it's a division game.
"I know it's a big game for everybody. For us, it's the biggest game of the year. Just like last week. And come Monday Maryland will be the biggest game of the year. If not, y'all let me know. That's just our mentality. We have to have a great week of preparation. It's going to be a great matchup."
Offensively, the Seminoles present several challenges with a stout running game and solid wide receivers and tight end, but everything starts with red-shirt freshman Jameis Winston.
"Offensively, they are very explosive and very balanced," Swinney said. "They play a lot of guys. The offensive line is easily the best, most athletic we've played. Very well coached. Their Quarterback is special. I know he's listed as a redshirt freshman, but he looks like a full-grown man to me. Very accurate. Very poised. So far he's passed every single test. He can make plays with his legs or his arm. Their tight end is great. Their receivers are explosive. They all do a great job of getting open. Their running backs? They will all play on Sunday. Flip a coin. They are always fresh. We have to do a better job stopping the run. That was a big factor last year."
Defensively, Florida State is as athletic and talented as any team in the country.
"Defensively- they are well coached. I've known Jeremy Pruitt for a long time. We played at Alabama," Swinney said. "They are fast and athletic. Just like what you think when you think about Florida State defenses. Their secondary will be the best we've played. They don't trick you. You have to line up and make plays. Big challenge for our receivers and a big challenge for our quarterbacks. Tight windows will be all he has to throw into. The line of scrimmage will be important. Their linebackers are athletic. I don't see any weaknesses. Special teams they are dangerous. Very dangerous. Last year they had the big kick return on us and we couldn't get momentum back. We have to do a better job in the kicking game."
With equal talent on both sides, the key to the game could be Winston's ability to work in the raucous Death Valley atmosphere and Swinney expects Saturday's crowd to be as good as ever.
"I love it. Just the best place in the world. The people here are tremendous. We were sold out against S.C. State," Swinney said. "I watch a lot of film of good schools with good games and there isn't anybody there. Not here. You show up on game day and it means something and you got people lined up and they are excited about seeing you there... that's what makes college football special to me. Nobody does it like Clemson. Nobody. The rock. The Hill. The emotion. It's awesome. I tell our guys all the time, don't take it for granted because you never know when it's your last time to do it."
Other Notes
Germone Hopper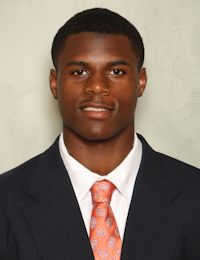 Germone Hopper
RS Fr. Wide Receiver
#5 6-0, 170
Charlotte, NC
View Full Profile and Ronald Geohaghan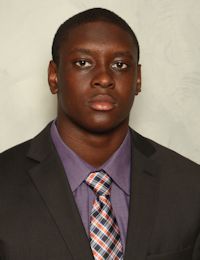 Ronald Geohaghan
RS Fr. Defensive Back
#15 6-0, 185
Orangeburg, SC
View Full Profile
"I expect both of them to be back if they complete their punishment this week."
Playing as the underdog
"I can't answer that. I have no idea. I guess whoever thinks of that stuff thinks that Florida State is better than us. I don't think that really matters. 2003 we were a pretty big underdog too. We weren't very good and they were No. 3 in the country. I guess we were fired up. At the end of the day it comes down to executing on the field. This game is a toss up if you ask me. It comes down to a few plays. Like the Georgia game. In this case, we are talking about trying to win the division. This is the next goal for us, but as far as it being a factor for us being an underdog or whatever, that has nothing to do with it. We know they are a great team."
The culture change at Clemson
"It's just your culture. Paying the price. When you pay the price for something you should be confident. There's a difference between confidence and arrogance. It starts with an attitude of belief. You have to learn how to think the right way. It's reflected in consistency. We've been ranked 37 weeks in a row. We've won our 14th game in a row versus an unranked opponent by double digits. This has been a very consistent football team for quite a while. You know, you people want to bring up well you lost a bowl game two years ago. Well we sure did. We got our butt's whipped. Since then we've lost two games. These guys don't hope to win. They expect to win. If you don't truly believe in what you are doing- you aren't going to be successful. At least not consistently. Prepare with purpose. Give great effort and apply technique. And when you have great commitment you have a chance to be consistent. And you have to have good players. We've recruited really good players and we have to develop those players. That's where it starts."
The crowd factor
"Two things - the energy that it brings your team. Your team feels that. It's a game of energy and emotion. And then the pressing. Trying to make a play to quiet them down. Communication. That's really hard. Especially if you are trying to go with an audible."
Playing through adversity
"It's not just last week. This team has won a bunch of games. A bunch of games. We only had 10 seniors last year. And only 10 this year. Those 42 freshmen we had in 2011 have a lot of experience. Experience factor is huge. Any great team I've ever been on you have to win some tough ones along the way. Look at last week in college football. I know some people think we are supposed to roll out there and everybody else will roll over. It doesn't work that way. I knew Boston College was going to be a dog fight. Sure, we helped them a little bit with some uncharacteristic mistakes but everybody gets tested. It wasn't just last week it's been many times. You make mistakes and move on and keep playing. Hopefully the overall experience we have will help us."
Importance of this game for the ACC
"Well this is what they've been wanting, isn't it? We've got three top 10 teams. They can't talk bad about us now? This is what the conference has wanted. We've had good football and very competitive football. Good parity. But we haven't produced that dominant team to go and compete on the national scene. That's what it takes. And listen, the loser of this game is likely going to still be in the top 10. Anything can happen. From a national standpoint, if we win the game Florida State isn't going anywhere. If we lose it doesn't mean we are a bad team. That's what we need if we are going to be the type of conference you are."