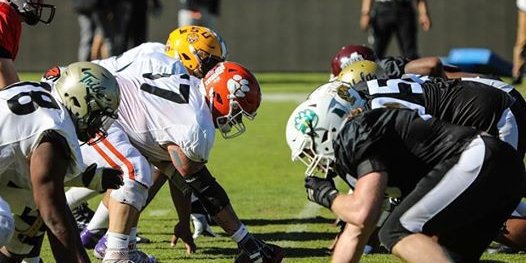 | | |
| --- | --- |
| Clemson's paw making waves with Guillermo in Los Angeles | |
---
| | | |
| --- | --- | --- |
| Friday, January 20, 2017, 2:56 PM | | |
Clemson's iconic Tiger Paw is more recognizable than ever, and former center Jay Guillermo is proudly showing off his Clemson attire in Los Angeles this week.
But he's also taken a huge part of Clemson with him as he chases his dream.
Guillermo has had a busy few weeks – the Tigers returned from Arizona and the Fiesta Bowl, practiced a few days and traveled to Tampa for the National Championship. Guillermo came home with the team, took part in the championship parade and ceremony in Death Valley, attended the team's end-of-season banquet and then flew to Los Angeles.
Guillermo will play in the NFLPA Collegiate Bowl on Saturday. The game will begin at 1:15 p.m. and will be televised by Fox Sports I, and Guillermo told TigerNet that he wanted another chance to showcase his skills for the NFL.
"I came out here so they could see my work ethic and see how I am on the practice field and things like that," Guillermo told TigerNet Thursday night. "I think my tape speaks for itself and I think I've proven myself enough on film, so I want people to see that other side of me in the interviews with different teams. I am coming out here and trying to dominate against some really good athletes."
Playing at Clemson prepared Guillermo for the talent he's facing this week.
"Clemson set me up for this situation because we have fantastic players at every position. Coming out here and I see guys that I've never played against or seen tape on," he said. "In practice during the season, even though I am going against Dexter Lawrence and Carlos Watkins every day, you pick up on the little nuances and things like that you can take advantage of. Whenever you get to something like this, you don't have anything to go off of, and you have to trust your technique and be really sound fundamentally. It's fun meeting guys from all over the country and different classifications. It's been cool to intermingle with everyone and talk about coaches and players."
Guillermo said everyone he runs into mentions Clemson's 35-31 victory over Alabama in the National Championship Game, and everyone recognizes the paw.
"All of them. I go to practice every day with a duffel bag, and it's kind of a running joke that I am carrying the trophy to practice, and I am going to pull it out," he said. "It's pretty cool. Wearing the paw around the hotel and everything, even the hotel workers are saying, 'Hey, you are from Clemson, congratulations!' It's been good to see the recognition and reception the paw receives."
Guillermo said that when he travels and talks to players from other programs across the country, he realizes just how special Clemson is.
"Clemson has the best fans in the country. Talking to these guys here, stadiums don't get filled across the country like it does in Death Valley," Guillermo said. "The way that our fans travel, out to Arizona twice in a year, it's not cheap. People make a way, and they want to see us win. Win or lose, and we even saw that this year with Pitt, they are always supportive. We don't have a lot of fair-weather fans, and it truly helps. I don't know if the fans realize that, but the support that we get and seeing that what we do makes a difference in people's weeks means a lot. Clemson is Clemson, and no one has a family feel like Clemson. It doesn't get any better, and they've proven that over the past few years."