| | |
| --- | --- |
| Clemson vs. North Carolina prediction | |
---
| | |
| --- | --- |
| Friday, September 26, 2014 11:21 PM | |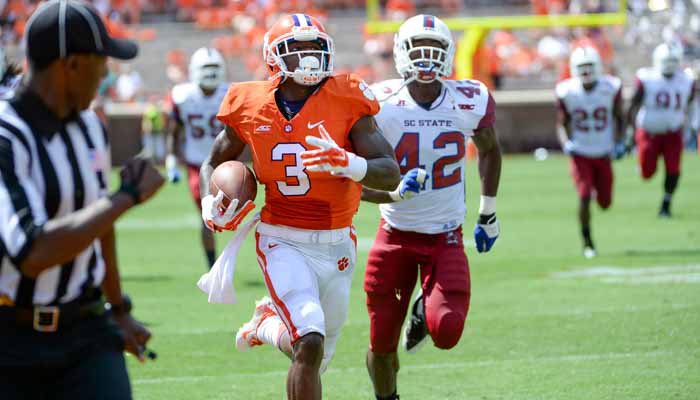 Clemson and North Carolina renew acquaintances this weekend in Death Valley. The last time these teams met was in 2011 – also in Death Valley – as the Tigers rolled to a 59-38 victory. The Tar Heels turned it over six times in that game.
Both teams are coming off disappointing losses – Clemson lost at top-ranked Florida St. while North Carolina suffered a 70-41 thrashing at the hands of East Carolina. Can the Tar Heels find enough on defense to make this a game? Can former Clemson defensive coordinator Vic Koenning confuse freshman quarterback Deshaun Watson

Deshaun Watson
Fr. Quarterback
#4 6-3, 204
Gainesville, GA
View Full Profile ?
These two programs are very familiar with each other: Koenning was the Tigers'
defensive coordinator and defensive backs coach from 2005-08. His Clemson defense
was among the best in the nation in 2007 and 2008. In 2007, Clemson was ninth in the nation in total
defense (307 ypg), and 10th in scoring defense (18.7 ppg).
Several members of Clemson's coaching staff have ties to the Tar Heels. Assistant head coach Danny
Pearman, who also coaches tight end and special teams, was a member of former UNC head coach John
Bunting's final staff in 2006. The Tigers' offensive line coach Robbie Caldwell

Robbie Caldwell
Assistant Coach / Offensive Line
View Full Profile was the assistant head
coach and offensive line coach at UNC in 2000 (under Carl Torbush) and 2001 (under Bunting). Clemson
defensive tackles coach Dan Brooks

Dan Brooks
Assoc. Head Coach / Def. Tackles
View Full Profile coached at UNC from 1988-93 with former head coach Mack Brown.
Thanks to the workings of the ACC schedule, this will be the last appearance for the Tar Heels in Clemson until 2024. Clemson last played at North Carolina in 2010 in what will be the Tigers' only appearance in Chapel Hill between 2003 and 2019. They don't play much anymore, so enjoy it while you can in football.
WHAT: North Carolina (2-1, 0-0 ACC) at Clemson (1-2, 0-1)
WHERE: Clemson Memorial Stadium (81,500)
WHEN: Saturday, September 27th (7:02 p.m.)
SPREAD: Clemson by 14 1/2
TV:ESPNU (Anish Shroff, Kelly Stouffer, Cara Capuano)
THE BREAKDOWN
WHY NORTH CAROLINA MIGHT WIN THE GAME
*The Hangover -No, not the movie. Clemson's loss at Florida St. last weekend was frustrating and heartbreaking, and reminiscent of Clemson's loss at Auburn in 2010. The Tigers followed up that loss by returning home to lose to Miami and then on the road at North Carolina. The Heels may have lost in spectacular fashion last week, but their offense is dangerous and they have enough playmakers to put the Tigers in an early hole if Clemson sleep walks through the first part of the game.
*Special teams-Clemson's special teams have been less-than-stellar the past few seasons, and the Tigers face a dangerous returner in Ryan Switzer. Switzer tied an NCAA single-season record and established an ACC record with five punt return touchdowns as a true freshman in 2013. He set the mark with an 86-yard score in the third quarter of Carolina's Belk Bowl victory over Cincinnati. It was the longest return of his career and the fourth-longest in school history. Switzer is now just three shy of the NCAA career record of eight held by Texas Tech's Wes Welker (2000-03) and Oklahoma's Antonio
Perkins (2001-04).
Kicker Nick Weiler has hit all three of his field goal attempts this season, while Clemson's Ammon Lakip

Ammon Lakip
RS Jr. Kicker
#36 5-10, 200
Alpharetta, GA
View Full Profile has struggled.
*That offense- Lost in the hoopla surrounding last week's loss to East Carolina was the fact that North Carolina's offense still scored 41 points and ran up 439 yards of total offense. Clemson defensive coordinator Brent Venables

Brent Venables
Def. Coordinator / Linebackers
View Full Profile said this week that North Carolina actually runs at a faster pace than Clemson, and they've been solid under Fedora.
Carolina has averaged more than 425 yards per game in each of Fedora's first two seasons in Chapel Hill. Last year was just the ninth time in school history Carolina had averaged more than 400 yards per game. Carolina has posted more than 500 yards of total offense seven times in 28 games under Fedora, including a school-record 721 yards vs. ODU in 2013. UNC has gained at least 400 yards in 21 of Fedora's 28 games as head coach. Since 2012, Carolina is averaging 27.8 points per game away from home (12 games).
WHY CLEMSON MIGHT WIN THE GAME
Clemson just might be really, really good - Let's face it, the schedule has been brutal. Take away a few mistakes last week at Florida St. and the Tigers might be a Top 15 team with a 2-1 record and the inside track to an ACC title. Those mistakes count, however, and Clemson is 1-2 and facing adversity. How good are they? The defense is really good, and the offense will get better as Watson grows and matures. Chad Morris

Chad Morris
Offensive Coordinator / QBs
View Full Profile told us this week that he still hasn't completely opened the playbook for the freshman, but it's only a matter of time before they are hitting on all cylinders. In the meantime, there is enough talent on the roster to score points. This team has the talent – and the schedule – to win out, and they've already played the two best teams they will likely see all season, and they did that on the road. This group – despite the two losses – is battle-tested.
UNC's defense just isn't very good - North Carolina ranks 126th nationally in total defense, out of 128 teams. The Heels are giving up a whopping 548 yards per game, and they aren't choosy about whether it's through the air or on the ground – they are giving up 222.67 yards per game on the ground (111th nationally) and 325.3 yards per game through the air (125th nationally). They are giving up 42 points per game (121st nationally), and it won't get easier this week.
The home field and Deshaun Watson factor - It's a night game in Death Valley, and the last time the Tigers took the field under the lights Florida St. delivered a 51-14 spanking. A bevy of talented recruits will be on hand, and a national television audience will be looking in to see which Clemson team shows up. Is it the Clemson team that underwhelms in losses, or is it the Clemson team that beats teams like Ohio St. and LSU?
This is also the first start for Watson, and the guess here is that the Clemson crowd will cheer his every move. Clemson's fans missed out seeing him in action during the spring – he injured his collarbone – and he played less snaps than people would have liked against South Carolina St. in the home opener. This will be the first chance the Tiger faithful get to see the future – and the present – of the franchise in action.
WHAT WILL HAPPEN - Koenning will throw some different looks and blitzes at Watson and the offensive line early, and it might take a series or four for the Clemson offense to get traction. Meanwhile, North Carolina's offense can do enough to keep the Heels in the game through the first quarter and maybe even the first half. Talent and depth chart begin to show in the second half, however, and Watson delights the crowd by throwing touchdown passes to three or four different receivers as North Carolina's defense begins to become exactly who we think they are – it's too much of Clemson's defense and it's too much of Watson, who helps overcome Clemson's shortcomings on special teams.
Therefore…
FINAL SCORE: CLEMSON 45, NORTH CAROLINA 17
---
GUEST PREDICTIONS
---
Mickey Plyler
- 6AM-9AM EST on WCCP 105.5FM -
48-20 Clemson

Dutch Coleman - 9AM-12PM EST on WCCP 105.5FM - 49-17 Clemson

Nikki Steele - TigerNet Writer - 42-17 Clemson

Tony Crumpton - TigerNet's Associate Editor - 42-24 Clemson

Lawton Swann - Clemson Sports Talk / TigerNet Talk - 51-27 Clemson

Pigskin Prophet - 41-21 Clemson
| Game | Actual | David Hood | Mickey Plyler | Tony Crumpton | Nikki Steele | Lawton Swann | Pigskin Prophet | Dutch Coleman |
| --- | --- | --- | --- | --- | --- | --- | --- | --- |
| Georgia | 45-21 UGA | 27-24 CU | 27-23 CU | 28-27 CU | 24-21 UGA | 31-23 CU | 23-16 CU | 31-20 CU |
| SC St | 73-7 CU | 44-10 CU | 45-10 CU | 49-13 CU | 52-10 CU | 43-7 CU | 44-10 CU | 52-13 CU |
| FSU | 23-17 FSU | 27-23 FSU | 31-23 FSU | 31-21 FSU | 30-24 FSU | 35-31 CU | 31-28 CU | 27-24 CU |
| Points | - | 4 | 2 | 2 | 7 | 1 | 1 | 1 |
* Points: 3 pts for best prediction of the week (tiebreaker is Clemson score), 1pt for picking the correct winner