| | |
| --- | --- |
| Clemson recruiting in the "McClouds" with announcement by Ray Ray | |
---
| | |
| --- | --- |
| Monday, July 28, 2014 7:12 PM | |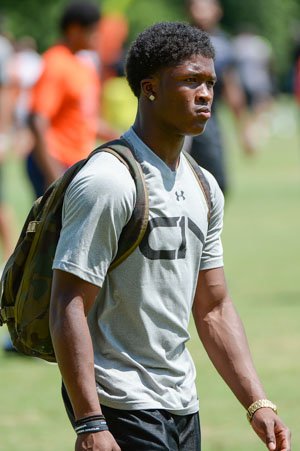 Clemson is making a habit of going into Florida and picking up talented players, a trend that continued Monday evening when Tampa (Fla.) Sickles athlete Ray-Ray McCloud III gave his verbal during a 30-minute local cable television broadcast, becoming Clemson's 20th commitment for the 2015 recruiting cycle.
McCloud (rated as the No. 150 player in ESPN's 300) was in studio and surrounded by two brothers and his mother, pulled out a purple Clemson hat with a big orange Tiger paw in the middle to announce his decision.
"Before I announce my decision, I'd like to thank my Lord and Savior Jesus Christ, my family for supporting me, my doctor for keeping me healthy year in and year out, my youth coaches, my high school coaches and all of the coaches that I've made a relationship with throughout the recruiting process. I hope to keep those relationships," McCloud said.
He then detailed the biggest reason he chose Clemson.
"Just the fact that they really made me feel like family. My relationship with Coach Elliott because that was the first time I've heard of Clemson," he said. "There was just something spiritual at Clemson. Their faith as a team. It was just so family oriented. It just felt like it was the best place for me. It was a blessing to have all of the opportunities to be able to choose such a great school. Most people don't have that kind of opportunity. It was a hard decision."
His mother said that the family supported his choice.
"I'm happy with his choice. Of course we want him to be happy and comfortable wherever he goes," Lisa McCloud said. "The coaching staff at Clemson is obviously amazing. It is a great program. We are really happy about his decision."
Clemson was one of the finalists, along with Florida and perhaps UCLA, Maryland and USF.
McCloud is also good friends with fellow 2015 Clemson commit Deon Cain

Deon Cain
Athlete
6-2, 200
Tampa, FL
ESPN:


View Full Profile .
As a junior, McCloud rushed for 2,316 yards and 26 touchdowns on 293 carries. He also caught nine passes for 192 yards and one score.
We've never had a player like Ray Ray," said Sickles coach Brian Turner. "I could take him out of games a little earlier, but I feel like I owe it to him to let him put up some numbers. He's a special player and he's going to make one of those coaches really happy."
ESPN says the following about McCloud
Size-Strength-Speed
Possesses below average size and bulk, but he is not small, just short. Is tightly wound. Possesses sudden explosiveness and very good top end speed. He is built in the mold of a scatback/utility weapon. He possesses the feet, quickness and long speed to be a homerun threat with the ball in his hands. Is slippery and decisive in his movements.
Ball Skills
Employed almost exclusively as a running back, but with limited reps does show natural ball skills and a feel for the passing game out of the slot. Has quick hands and appears comfortable plucking in space. Transitions quickly upfield and naturally knows what to do with the ball in his hands. With increased reps in the passing game, he could become a legitimate, fulltime slot player.
Versatility
He's a triple threat as a runner, pass catcher and return specialist. Is most experienced as a true running back. Biggest upside may be as a return man over time. size could be a limiting factor as a pure RB or outside receiving threat. Best if used as a utility weapon and "space" player.
Big Play Ability
As a running back, is at his best in the zone scheme. Is quick to get to his read spot and hit the crease decisively with a sudden burst. Shows good in-line vision and quickness to get through the tight seams as well. We like ability to pick and stab his way through traffic. Can outrun initial pursuit angles with very good breakaway burst and has enough long speed to take it the distance. Goes from 0-to-60 in a hurry but does top out at about 20-yards. Quick to get into a second level and utilize his big-play speed. Not a power guy and lacks lower body strength. Would be concerned about durability as a fulltime back. In the passing game is very quick to get on the toes of defenders and can locate voids in coverage when pressing the seams. Is at his best after the catch as he is capable of putting multiple moves together in space to make people miss. Very exciting open field player.
Bottom Line
This kid is in the mold of a Jeff Scott at Ole Miss. McCloud can scoot. Size is a bit concerning, but he is also a big play threat with the ball in his hands that is difficult to get a clean shot at. Any team operating the spread offense will like his skill set. Nice player who could see his stock rise in the spring and summer heading into senior season.
Junior Eval
STRENGTHS: McCloud III is a productive two-way player who can make plays as a runner, receiver and defensive back. Shows good quickness with a short area burst. Can locate a tight seam and accelerate through to the second level. Shows good lateral agility in space or after the catch to make defenders miss and get up the field. Will extend and catch the football. ... AREAS OF IMPROVEMENT: Is a bit undersized as an athlete at this stage. Is not a power runner who will lower his shoulder and push the pile. Could improve top end speed to be a consistent threat to score once in the open field. ... BOTTOM LINE: McCloud III is a dynamic player who could potentially be a versatile playmaker at the next level with his ability to run and catch the football. Will most likely be recruited at a high BCS level as an athlete.
Click here to view McCloud pick the Tigers
I have officially committed to the Clenson University & I thank God for this opportunity. #Gotigers #allin pic.twitter.com/gt4DsMaJVZ

— LT Gutta??an™ (@RM3_legendz19xx) July 28, 2014
The newest #Clemson #Tiger, @RM3_legendz19xx! pic.twitter.com/5OE6JNT6t7

— Bright House Sports (@BHSN) July 28, 2014
Congrats to 2014 #TheOpening alumni Ray Ray McCloud (@RM3_legendz19xx) on his commitment to #Clemson. #SolidOrange pic.twitter.com/Ks0x4EbNIP

— The Opening (@TheOpening2014) July 28, 2014
GREAT DAY TO BE A CLEMSON TIGER!!! #ClemsonFamily

— Coach Jeff Scott (@coach_jeffscott) July 28, 2014
My man @Coach_TElliott is one of the best recruiters in the country!!!

— Coach Jeff Scott (@coach_jeffscott) July 28, 2014