| | |
| --- | --- |
| Clemson looking at all options for football schedule in 2016 and beyond | |
---
| | |
| --- | --- |
| Thursday, May 29, 2014 10:10 PM | |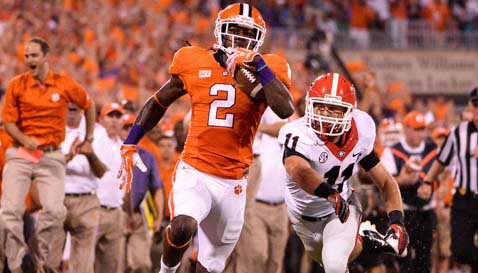 Clemson's football schedule is set for the 2014 and 2015 seasons, but Clemson Associate Athletic Director Kyle Young is working to fill holes in the schedule for 2016, 2017 and beyond, including looking at home-and-home series with a couple of different SEC schools.
The Tigers completed a three-game set against Auburn in 2012 and will finish a home-and-home series against Georgia in Athens this season. The success of those two matchups has Young looking at teams such as Alabama, Auburn, Tennessee and perhaps Georgia.
"As far as I know right now, we are using the same scheduling philosophy we've used over the last ten years," Young told TigerNet recently. "Which is South Carolina at the end of every season, and then we have to find two home games and then find another power conference program to play. "
Future non-conference schedules
2014: at Georgia, SC State, Georgia State, South Carolina
2015:Appalachian State, Wofford, Notre Dame, at South Carolina
2016: Troy, SC State, South Carolina, Open
2017: Kent State, at South Carolina, Open, Open
The ACC recently decided with will stick with an eight-game conference schedule, and Clemson can now look to add a second Power 5 conference opponent each season, starting in 2016. Young told TigerNet the school would look hard at season kickoff games in Atlanta, Arlington and Houston. Included in those discussions is the Chick-fil-A Kickoff Classic in Atlanta – Clemson has played twice in that game, losing to Alabama in 2008 and defeating Auburn in 2012.
"We have 2014 and 2015 set, so now we have to look at 2016," Young said. "Is 2016 potentially that Atlanta game? We don't know yet, and there are other neutral site games that have come into play. But from a travel standpoint, it's hard to beat Atlanta, and being indoors to open the season is not necessarily a bad thing. We know how hot it can get down here that time of year, so we would definitely entertain that if it came down to it. And I've heard that Washington, D.C. is trying to get a game, and Nashville is trying to get a kickoff game, so there are options out there for neutral site games."
Young said relationship with the Chick-fil-A also makes sense, but he really only looks at even-numbered years because Clemson would rather host seven games each fall at Memorial Stadium. The Gamecocks visit Death Valley in 2016 and 2018, so those are years the program would be open to traveling to a neutral site game.
"We've obviously got a great relationship with the folks at the Chick-fil-A Kickoff. That is also an ESPN game so there is a relationship there. It would be a good one," he said. "I think we've had good turnouts there and I think we've had good games. That is definitely something we would look for, but whether that's in the next couple of years or four to six years, I don't know yet. It would be an even-numbered year whenever we play there but it's out there."
However, when it comes to trying to schedule those big out of conference games, Young says the natural ties to the SEC will take precedence.
"We've talked about branching out a little bit but for the most part the SEC schools that are regional to us are ideal," he said. "They are big games and I think our fans like them. We've been rattling cages for years. Is there anything imminent right now? No, nothing right now. There are some discussions with some schools that could lead to something, but as far as rattling cages we're looking at places like Alabama, Tennessee, Auburn and Georgia."