| | |
| --- | --- |
| Clemson #21 in playoff rankings; Radakovich discusses his role | |
---
| | |
| --- | --- |
| Wednesday, October 29, 2014 12:09 PM | |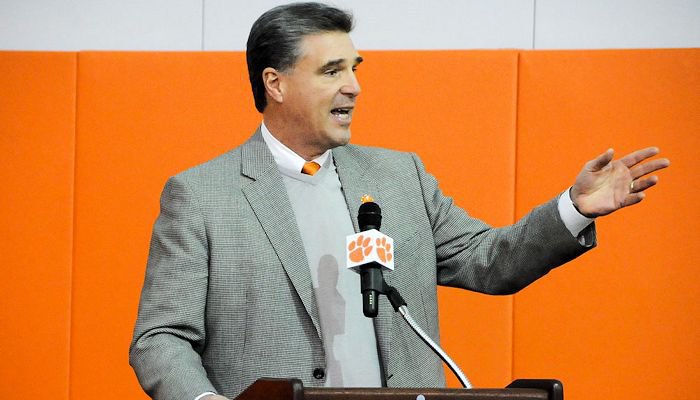 Dan Radakovich

Dan Radakovich
Director of Athletics
View Full Profile has a lot of football watching to do.
While most fans would love the opportunity to watch a bevy of college football games each weekend, Clemson's athletic director knows it won't be all fun and games – he has a job to do.
The College Football Playoff selection committee – Radakovich is one of the members - released the first of seven Top 25 rankings Tuesday night, and Clemson debuted in the 21st spot. The selection committee will ultimately pick the four teams to play in the national semifinals and set the matchups for the other four big New Year's Day bowls that are part of the playoff rotation.
Radakovich told the media a few weeks ago – he is now off limits for interviews – that he spends between 12 and 15 hours watching football teams not named Clemson in order to fulfill his obligation as a member of the College Football Playoff selection committee.
Radakovich said that he can retrieve abbreviated versions of games – without huddles or commercials - which he can watch on his laptop. Each games takes about an hour to watch.
"All the conferences and the teams inside those conferences are available for us to be able to watch," Radakovich said in the WestZone. "In a given week, I'll watch nine to 10 different games or parts of games. It allows us to watch games not just on Saturday, but throughout the week, we're able to catch games, whether it's the broadcast version or the offense-defense-special teams coaches version."
Radakovich said he knew that the playoff selection was a serious business when a former White House aide was enlisted to help train the committee members.
"We've had some really great media training with Ari Fleischer, who is the (public relations) consultant for the College Football Playoff," Radakovich said. "Ari's been in a lot more stressful situations than the College Football Playoff."
One of the main talking points? Radakovich isn't allowed to discuss Clemson.
"He's been really good for us because they know we need to do things like this (media interview) and not only talk about our roles as athletic directors but our involvement in the College Football Playoff," Radakovich said. "We're very cognizant of the fact not to talk about individual teams. The recusal policy takes care of myself and Clemson. When it gets down to things that would matter."
He said that while he understands that there will be controversy no matter which teams are picked, each member needs to take pride in putting forth a total effort to ensure they get it right.
"The most important thing all 13 of us have to do is come to that meeting prepared," Radakovich said. "Not only with your group of 25 or so teams, but to be able to say, here's what I'm thinking, this is what I've seen, this is why I think these particular teams are most deserving. That's what we're going to fine-tune over the next two weeks in preparation for that meeting."
Full Poll
1. Mississippi State
2. Florida State
3. Auburn
4. Ole Miss
5. Oregon
6. Alabama
7. TCU
8. Michigan State
9. Kansas State
10. Notre Dame
11. Georgia
12. Arizona
13. Baylor
14. Arizona State
15. Nebraska
16. Ohio State
17. Utah
18. Oklahoma
19. LSU
20. West Virginia
21. Clemson
22. UCLA
23. East Carolina
24. Duke
25. Louisville