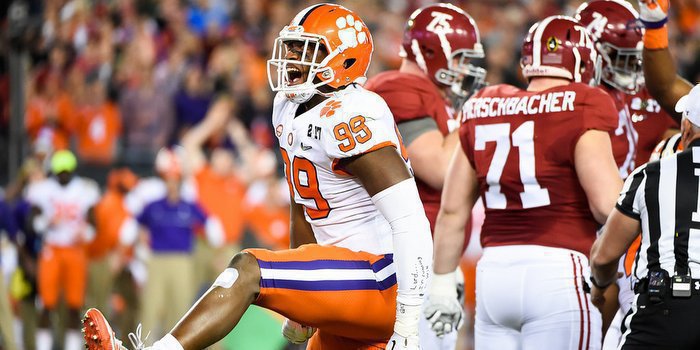 | | |
| --- | --- |
| Clelin Ferrell: Chasing three more rings | |
---
| | | |
| --- | --- | --- |
| Monday, April 17, 2017, 8:10 AM | | |
CLEMSON – Clelin Ferrell and his Clemson teammates gathered in the lobby of the Reeves Football Complex a few weeks ago to get their first look at the trio of rings that celebrate the title-winning 2016 season.
Ferrell pulled the ACC Championship ring, the College Football Playoff ring and the National Championship ring out of the commemorative box, tried each one on for size, and then had a thought.
I want to win three more.
Ferrell was a key component in the Tigers' run to the title last season, but it wasn't until late in the season that things began to click for the talented graduate of Benedictine High School in Richmond, Virginia. Ferrell shared Defensive Rookie of the Year honors with Dexter Lawrence, and produced 50 tackles, including 12.5 for loss and six sacks, to go along with a team-high 24 quarterback pressures in 15 games (15 starts).
However, he had just one tackle for loss in the first four games of the season and had just six-and-a-half tackles for loss in the regular season. He picked the postseason to shine, registering six combined tackles for loss in the final three games – the games that produced the rings.
"The thing is, you start thinking about, 'Wow, now we can get three more.' It's just like 'Wow,' that's where that hunger just came from," Ferrell told TigerNet a few weeks ago. "It's crazy. When you see that, it gives you a big boost going into the next year."
Ferrell said the sight of the rings left him in an unfamiliar position – he was at a loss for words.
"Man, I can't even, we can't even put that into words," Ferrell said. "This is all people get to see, are the rings and all the good. But they don't see what goes into it. So that was just a token of gratification to the hard work that we put in. All those long nights, long summers, grinds, early 5:30 a.m. workouts, that was just great to see that payoff through those rings. That's for sure."
Heading into the spring, Ferrell wanted to make sure his teammates had the same kind of hunger he's seen each of the last two years.
"A lot of progress has been made. Coming into it, I wanted to see the same kind of hunger we've had the last two years," Ferrell said. "That's definitely there. But the biggest thing I've seen is that we've taken that work ethic to a whole other level. This spring we have had that grind mentality, and we've taken it one day at a time. I've been shocked at how we've taken it to a whole other level. We see guys running every drill, and we see guys making plays. I've also been impressed with the camaraderie."
Ferrell almost lost his championship ring the same night he received it – he defensive tackle Christian Wilkins were driving downtown Clemson, holding their hands out of the car windows for people to see, when a female tried to take his ring away.
"Just a random stranger — we were just driving through downtown," Ferrell said. "We were just sticking our hand out the window like, 'Look, y'all! Look!' She was like, 'Oh can we see?' And we said yeah, and she said, 'Let me wear it,' and tried to take it. I was like, 'Oh no! You don't do that.' But it was good. She was just excited. I'm not going to say her name because she did tell me her name and said sorry, but it was good."