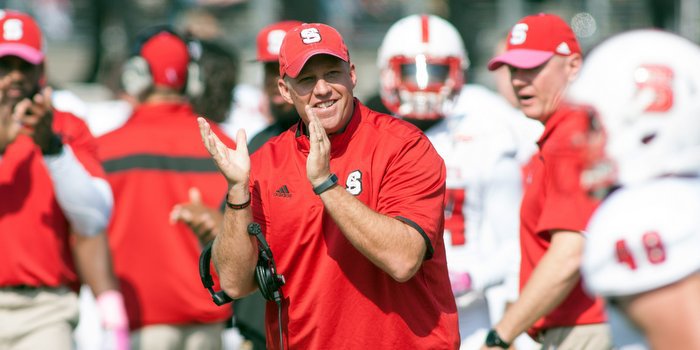 | | |
| --- | --- |
| Can Pack get back on track in ACC in 2016? | |
---
| | | |
| --- | --- | --- |
| Friday, May 20, 2016, 8:04 AM | | |
To say that Clemson owns the series against N.C. State would be an understatement. The Tigers have won 11 of the last 12 against the Wolfpack, including four straight. The Tigers also lead the overall series 55-28-1.
N.C. State head coach Dave Doeren wants to change that.
Doeren enters his fourth season in Raleigh, having finished 7-6 in 2015 after an 8-5 record in 2014. There is a clamor in Raleigh for Doeren to make a move in the Atlantic Coast Conference after three so-so seasons, but if the Wolfpack are to challenge Clemson, Louisville and Florida St. for one of the top spots in the Atlantic Division, they'll have to do it with several new players and a new offensive coordinator.
Gone are quarterback Jacoby Brissett and offensive coordinator Matt Canada. Doeren replaced Canada with Boise St. offensive coordinator Eliah Drinkwitz, who is a Gus Malzahn disciple. Joining Drinkwitz is Dwayne Ledford (formerly of Appalachian St.) who will be the offensive line coach and run game coordinator.
"We had a good spring dealing with some new staff members on offense and seeing them put in their systems and enjoyed watching that process and to see the growth that they had," Doeren said after spring practice. "Really proud of not just the way that Eli and Dwayne have bonded with the staff members, but also the way the players have bought in and working hard and doing the things they need to do to put themselves in the right position for a good summer.
"Unfortunately, like a lot of people we were beat up at some positions where at times you weren't able to do the things you wanted to do in the spring. But I thought our guys fought through it. We return a lot of experience on defense and then offensively we're trying to replace some guys that have been a part of our program for a while, quarterback and O-line."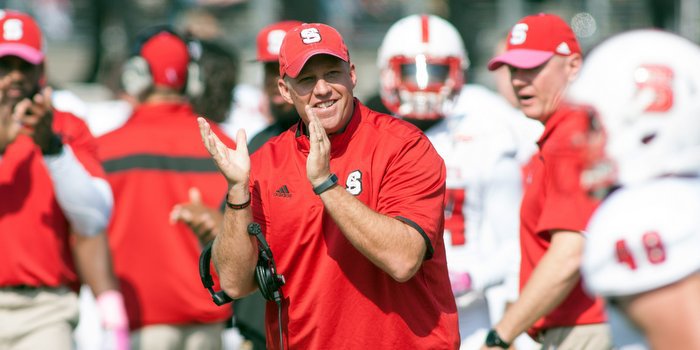 Brissett led NC State to 33.2 points per game last season, the third highest average in school history, so replacing his playmaking abilities will be a priority. Redshirt sophomore Jalan McClendon and redshirt freshman Jakobi Meyers will compete for the spot. McClendon was Brissett's backup last season, but he has only played a limited amount of snaps.
"Jalan McClendon and Jakobi Meyers. We're not going to announce anything until we feel like it's a done deal, and we're not there yet. And I thought both of them made strides," Doeren said. "Only thing I'm interested in now that they know the system is how fast they can advance. It's hard to judge a competition when guys are learning the offense for the first half of it.
"You've got to see them play without thinking as much as it went on. In spring game I thought both of them did good things. So we'll get into summer and see where it goes, and probably sometime during fall camp we'll have a good feel for what we're going to do."
Doeren said he saw a bevy of young players improve throughout the spring.
"There are quite a few guys that have improved. I mean, roster-wise, D-line, I thought just starting there, Bradley Chubb, Kentavius Street, B.J. Hill, Justin Jones, Monty Nelson," Doeren said. "You see guys, Darian Roseboro making strides. I thought that James Smith Williams, a young guy that we red-shirted has gotten a lot better up front.
"Our linebacking corps, Riley Nicholson and Jerod Fernandez have all had good springs. Shawn Boone's a guy we missed a lot last year when he got hurt halfway through the year at strong safety, and having him out there every day helps a lot. On offense, Tyler Jones is probably one of the more improved guys on the offensive line and needs to have a great summer.
"But there were a lot of pieces that weren't out there this spring on offense. Unfortunately, we had a lot of guys nicked up in our play making pool of guys. So Bra'Lon Cherry probably as a receiver was probably the most consistent returner. But the most impressive was probably Stephen Louis. I thought he had a great spring. He was red-shirted last year due to an injury, and he really had a good spring for us on offense."
2016 SCHEDULE
September
3 William & Mary
10 at East Carolina
17 Old Dominion
24 OPEN
October
1 Wake Forest
8 Notre Dame
15 at Clemson
22 at Louisville
29 Boston College
November
5 Florida State
12 at Syracuse
19 Miami
25 at UNC