| | |
| --- | --- |
| Camp Observations: Day 1, Session 1 | |
---
| | |
| --- | --- |
| Monday, June 8, 2015 5:04 PM | |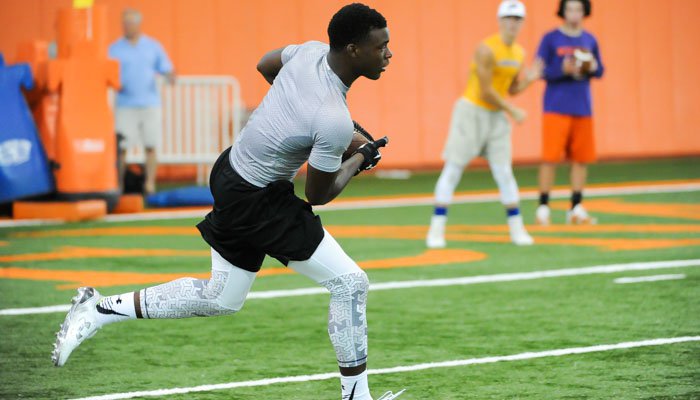 CLEMSON – The heat and humidity have arrived in the upstate of South Carolina, and that means that several of the region's top high school prospects have arrived at head coach Dabo Swinney

Dabo Swinney
Head Coach
View Full Profile 's high school camp. The first session got underway Monday afternoon on the practice fields and in the indoor practice facility.
There will be even more talent on hand for the evening session, but here's the scoop on what we saw in the afternoon session.
North Charleston (S.C.) Fort Dorchester four-star lineman John Simpson

John Simpson
Offensive Guard
6-4, 290
North Charleston, SC
ESPN:


View Full Profile was on hand – along with teammate and 2018 quarterback Dakereon Joyner.
Simpson worked out with the offensive lineman during the afternoon session, but not before getting a hug and a handshake from former lineman and current graduate assistant Thomas Austin. Austin spent time with Simpson despite the large group of linemen, and it's easy to spot why Simpson is so highly-rated. First off, his sheer size doesn't grab you – not the way a Jake Fruhmorgen did a year ago, but when you get right up on him you believe that he is in the 6-4, 290-pound range.
I didn't spend a ton of time watching Simpson, but he was explosive in his drills and possesses nice footwork. He also does something I really like – he takes coaching and seems to listen. I've seen other highly-rated linemen come through and just go through the motions – not Simpson.
Joyner, who has offers from Georgia, South Carolina, Tennessee and UNC, operated under the watchful eye of both quarterbacks coach Brandon Streeter

Brandon Streeter
Quarterback Coach
View Full Profile and starter Deshaun Watson. Joyner is listed as a quarterback/athlete, but his athleticism looks like it's off the charts. He's still raw when it comes to a lot of passing mechanics but he's still young.
*Last year's camp session brought us Deon Cain and Ray-Ray McCloud in the "yes, please" category. The early session today saw 4-star Mt. Pleasant (SC) Wando wide receiver OrTre Smith. Smith has offers from Clemson, Georgia Tech, Florida St., South Carolina, Louisville and Tennessee among others – jumps out at you physically. He's listed at 6-4, 205, but looks like he could play at 215 or 220 and not miss a beat.
He has thick legs and a good burst, and during the short drills I watched showed he has good hands. He worked exclusively in Jeff Scott

Jeff Scott
Co-Offensive Coordinator / WR
View Full Profile 's group, as you would expect.
*Tight end and 2016 commit J.C. Chalk

J.C. Chalk
Tight End
6-4, 221
Argyle, TX
ESPN:


View Full Profile arrived about midway through the session and will work out in the evening session.
Sounds of the game
I always like listening to the coaches and what they have to say, and this afternoon's session was full of one-liners.
Jeff Scott to the wide receivers, who couldn't seem to grasp the concepts of a certain drill. "If English is not your first language, let me know and I can translate for you."
Tony Elliott

Tony Elliott
Co-OC / Running Backs
View Full Profile to a group of running backs who left footballs on the ground after a drill. "Don't just drop balls on the cone and walk away. You are lazy. Your mommas obviously act like she's your maid. Well I ain't your maid and I won't pick up after you."
Elliott to another running back, who obviously hails from Elliott's hometown of Charleston. "We as running backs run - we do not walk when we finish drills. I will give you one more chance. You're from the Chuck man, and I expected better than that. We're better than that in Charleston. C'mon man."
The coaches
Clemson's camps are always a star-studded event with several former and current players helping with drills and instruction.
Headlining the group of former players are Curtis Baham, David Beasley, Dexter Davis, Leroy Hill, Rashaad Jackson, James Lott, Roderick McDowell, Richard Moncrief, Cortney Vincent and Anthony Waters.
New defensive analyst Lemanski Hall – who played linebacker at Alabama and in the NFL – is a nice addition to Brent Venables

Brent Venables
Def. Coordinator / Linebackers
View Full Profile ' staff. Hall is an outstanding coach, and you can tell that if he lands a job coaching linebackers in the near future he is going to be a good one. Keep an eye on him.
The NCAA ruled that players could be paid a stipend if they helped at high school camps, so several of the current players volunteer their time.
Deshaun Watson, Zac Brooks, Adrian Baker, Jim Brown, Marcus Edmond, Justin Falcinelli, T.J. Green, Mitch Hyatt, Jadar Johnson, Jordan Leggett, Eric Mac Lain, Maverick Morris, Ryan Norton, Charone Peake and Andy Teasdall will work at some point this week.
*We will have more from the evening session.