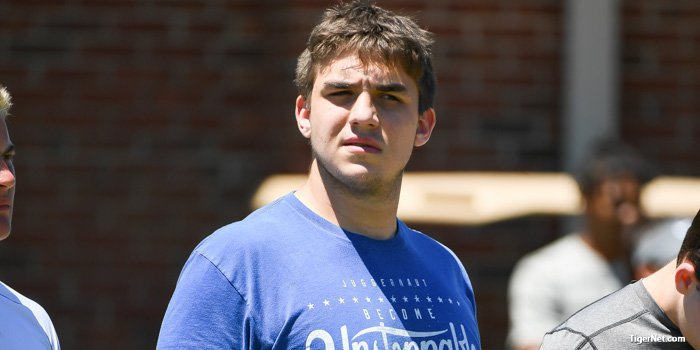 | | |
| --- | --- |
| Camp Confidential: Recruits blaze under afternoon sun | |
---
| | | |
| --- | --- | --- |
| Wednesday, June 8, 2016, 5:46 PM | | |
CLEMSON – The heat was back at Dabo Swinney's high school camp Wednesday afternoon, and we'll catch you up on the rest of the news from this morning's session as well as tell you about the afternoon session.
We'll start with the kid who drove himself all the way from South Dakota just to be in the camp….word among the staff is that he had no issues with the heat today, and he continued to work out with the defensive backs.
Due to the short turnaround time this morning, we didn't post about the offensive line even though there are several intriguing prospects on hand.
The "star" of the group was Memphis (TN) Harding Academy lineman Will Lawrence. Lawrence worked out with the "A" group of linemen under the eyes of offensive line coach Robbie Caldwell. Watching offensive linemen go through drills – at times – doesn't tell the whole story. He might look good hitting the sled, but how is his kickstep with Shaq Lawson bearing down?
We were able to watch Lawrence go through a litany of drills and he showed good bend and quick feet. The 6-4, 285-pounder has offers from all of the big schools, and this was his first trip back to campus since the spring game.
Another one to watch was Suwanee (GA) North Gwinnett guard Warren Ericson. The 6-4, 290-pound prospect picked up a South Carolina offer last week and has also been offered by Florida and Ole Miss among others but is still waiting on a Clemson offer.
*Wide receivers coach Jeff Scott always has something interesting to say, and he coached the A group of receivers on the deep ball. His reasoning makes a lot of sense.
He told the kids to imagine they were in the middle of Lake Hartwell, and they had a turf platform 80 yards long and one yard wide. He then informed them that when he comes to their games, that is the kind of room they leave themselves on the deep ball…they are stacked right up on the sideline. He asked the group what would happen if he put a defensive back in front of them, and told them to not fall off the platform and to run a go route, but they still had to make a catch. Difficult.
He then told them to imagine they have five yards to play with, would their chances increase? Of course they would, and he said that is one of the reasons Clemson has had success with the deep ball. The receivers aren't hemmed in on the sideline and the quarterback still has room for error.
*Grayson linebacker Owen Pappoe didn't make the trip.
*Towards the end of the session, Nikki walked towards me and said, "I just found a GREAT quarterback." I inquired who, and she said Deshaun Watson, who had walked into the indoor practice facility. She thinks she's funny.
*Tony Elliott is using the success of the offense to his advantage when teaching prospects. During a ball security drill, Elliott or one of his other coaches would take boxing glove and try to knock the ball loose and with several prospects they succeeded, leading Clemson's running back coach to turn to Wayne Gallman's success to illustrate his point.
Elliott told the campers, "Did you see Clemson's running back last season? He rushed for 1,300 yards and is now the all-time Clemson single season rushing leader. He wasn't lax with the ball. You don't become the best by being lax with the ball."
*Speaking of running backs, Clemson played host to a return camper in 2019 Greensboro (NC) Northwest Guilford running back Cameron Cloud. The 5-8, 160-pound product is on his third trip to Swinney's camp and has been working with 'A Group' running backs since his seventh grade season. Every year he's a little bigger, a little faster and a little stronger. The rising sophomore already has offers from Elon and Virginia. The Phoenix offered when Cloud was just an eighth grader and the Cavs last season. If he continues to work hard and improve, he could be a prospect to watch over the next couple of years.
His father told us that in McCloud's first varsity game last season, he had eight receptions for 80 yards.
More Dabo Swinney Camp Coverage