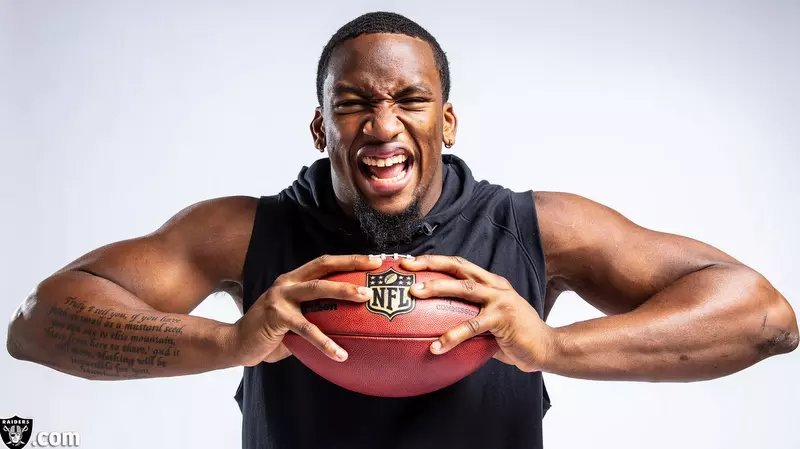 | | |
| --- | --- |
| Brentson Buckner on getting Clelin Ferrell: "What else could you ask for?" | |
---
| | | |
| --- | --- | --- |
| Thursday, April 25, 2019, 11:36 PM | | |
Brentson Buckner doesn't care what outsiders think because he knows the Oakland Raiders ended up with the best man for the job.
The Raiders selected Clemson defensive end Clelin Ferrell with the fourth overall pick in the first round of Thursday's NFL Draft. Head coach Jon Gruden and GM Mike Mayock have said they want players who are not only great players but good people.
Buckner, the Raiders' defensive line coach, says Ferrell fits that description.
"He's a great player, an accomplished college guy. He's big, fast, athletic," Buckner told TigerNet. "He fits a need that we needed on the team. First of all, Coach Gruden and Mike Mayock wanted foundational pieces - guys that are great players but also great people off the field. People who will be the first in in the morning and the last to leave and are going to do everything right to re-establish the Raiders' culture and Clelin fit the need."
Ferrell was a member of the Tigers for four seasons and put up some impressive numbers during that time: 44 games played, 164 tackles, 50.5 tackles for loss, 27 sacks, five forced fumbles, and 7 passes defensed.
Buckner was an All-ACC defensive tackle for the Tigers from 1990-'93 and was drafted in the second round of the 1994 NFL Draft by the Pittsburgh Steelers. He played in the NFL for 12 seasons and played in two Super Bowls for the Steelers and Carolina Panthers.
Buckner was hired by the Raiders as the defensive line coach in January after previously serving as the D-line coach for both the Arizona Cardinals (2013-17) and Tampa Bay Buccaneers (2018).
Buckner says the Raiders did their due diligence with Ferrell.
"We had him out for a visit. We interviewed him at the (NFL Scouting) Combine. He's just a great person," Buckner said. "We talked to everybody in the building and did our due diligence, and nobody had one bad word to say about him. That's hard in today's game. The trainers love him. The equipment guys love him. The strength coach loves him. Head coach, position coach, defensive coordinator, head of football operations, cheerleading coach, fans, English teachers - everybody really loves the guy, and that bodes well. Being from a big-time program, being successful and not having the big head or getting beside himself."
Buckner said Ferrell is the kind of leader and teammate the Raiders are looking for.
"He just loves being there for his teammates, and that's the one thing that drew us to him. It was never about him," he said. "It was all about what he could do to help his team get better and what it meant for his other guys to succeed as well as him. You almost feel like it's too good to be true, but then he's a helluva football player. You turn on the field, and he's been productive against lesser opponents, and he's been productive on the biggest stage in national championship games against quality competition, so what else could you ask for?"
The pick has already come under scrutiny by those outside of the Raider organization, but Buckner says he doesn't care.
"Coach Gruden and Mike Mayock took who we felt we needed. It's not all about the people on the outside. It's about the people on the inside," Buckner said. "Jon Gruden is one of the greatest football guys out there. Mike Mayock, they grind, they watch the film, and they left no stone unturned. This guy fit what we wanted, so we can't worry about what people think. We're not going to worry about what people think because we're working.
"Two years from now nobody is going to care who we drafted, when or where. All they will want to know is is he a good player or he 's not a good player. I think we got a great person, so I know being a good player is going to be easy because he's not going to have to worry about the stuff off the field. He's not into all of the crazy stuff that can distract you from being the best you can be."
Buckner is also excited about the chance to coach one his Clemson brethren.
"I'm super excited because I want him to have a chip on his shoulder," Buckner said. "I want everyone to continue to doubt him like they doubted him when he came to Clemson - you're never going to play, you're not big enough, you don't have this or that - and all he did was prove people wrong. I'm excited to get him out here and to have a chance to coach him and the respect of having one Clemson brother coaching another."