| | |
| --- | --- |
| Bradley Pin You Inside the Twenty a valuable weapon for the Tigers | |
---
| | |
| --- | --- |
| Thursday, August 14, 2014 12:20 PM | |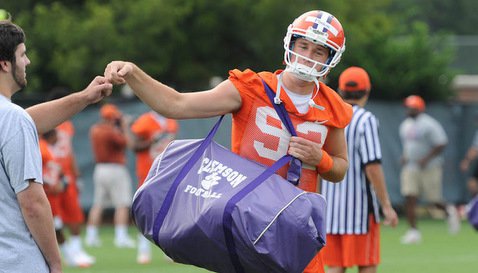 CLEMSON – Clemson punter Bradley Pinion

Bradley Pinion
Jr. Punter
#92 6-6, 230
Concord, NC
View Full Profile might as well be called Bradley Pin you inside the twenty.
Clemson's junior punter tied a school record last season when he had 24 punts downed inside the opponent's 20-yard line, an overlooked but important stat when talking about punters. Even more amazing is the fact that he accomplished that without a touchback.
Fans may overlook it, but coaches and the Clemson defense realize Pinion's value in making an opponent march the length of the field. Pinion told TigerNet earlier this week that he uses a different kind of kick when wanting to pin opponents deep in their own territory.
"There's a punt called the Aussie Punt. It goes end over end and bounces backwards," Pinion said Tuesday evening. "I like to call it the American Punt, because I think we're better at it. You have to stay technically sound at it. You have to keep practicing it. I usually take one day every week and just work on Aussie Punts and not even hit a regular punt that day, because it's such a crucial factor in the game. We actually have a chart in our meeting room that shows field position and what percentage of scores based on that field position. It's a huge factor in the game these days because teams of running at a fast pace and moving up and down the field so much."
Pinion said that he doesn't necessarily distinguish one punt as more stressful than another, but any time he has the opportunity to pin an opponent deep in their own territory he wants to take advantage of it.
"Every time I have a chance to pin it, I think that's a high-opportunity punt for me to show what I'm capable of," Pinion said. "I get a good snap every single time from [Michael] Sobeski. It's awesome having the ball right where you want it. Last year from Phil Fajgenbaum, it made it really easy to do my job. I'd say some of the bigger punts that I thought of are last year at the Georgia game when we were up by very little at the end. I knew they were coming on that one, so it was a little more high pressure. It's really situations like that at the end where we were up."
He doesn't just use the Aussie Punt, however; he spends a good deal of time punting from the endzones and said that he has hit punts from 55 to 60 yards in fall camp.
"It really depends on the situation in the game, the weather - there are a lot of different factors that go into it," he said. "I'd say if the snap is anywhere near around midfield, it has the capability to be one. There isn't anything exact. It's just all about how I'm hitting them that day and how I feel that day.
"We work on the long punts out of the back of the endzone all the time. I love doing those. It's fun to just let it fly as long as I can. It's not so much about hang time, but to get a little bit more distance."
Pinion doesn't look at his success as just how far he can punt the ball. He takes more pride in giving the defense a longer field to work with.
"You look at averages in some instances," he said. "I look at how many punts I have inside the 20 that game or did I hit a 55-yard punt and it went inside the 20. That's how I look at it. Or at Maryland, I had a 27-yard punt but it went inside the five yard line just because it was so windy, we couldn't kick a field goal so we pinned them deep. I look at it a little differently because I have a knowledge of punting. Some people will look at it and say, 'He only averaged 35 in that game,' but I look at it and I put three inside the 20. I can judge myself internal better."
However, Pinion said that he can't take all of the credit for his success on special teams.
"It's good. I've got great people around me that get me the ball," he said. It's partly credit to my teammates getting down to the two or three and catching the ball. That's all the team right there."
Pinion has proven his worth to his team, but he has set bigger goals for himself in 2014.
"Everybody should set goals for themselves," he said. "I want to help my team however I can - on punts, long field goals, kickoffs. I want to be a leader on special teams. I want to win the Ray Guy [award for nation's top punter]. Every punter wants to win the Ray Guy. I'm working on all of the little things to do all of those things to win the Ray Guy."