| | |
| --- | --- |
| Boyd's homecoming a "sweet" success | |
---
| | |
| --- | --- |
| Sunday, November 3, 2013 9:57 AM | |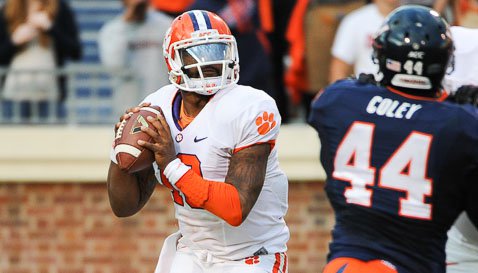 CHARLOTTESVILLE, VA – Tajh Boyd

Tajh Boyd
RS Sr. Quarterback
#10 6-1, 225
Hampton, VA
View Full Profile was back in his home state Saturday afternoon, and his comfort level was obvious even before the game started.
The Hampton (VA) native was sharp during pregame warm-ups, showing a level of intensity and focus that had been missing in recent weeks. He even took time to laugh and joke with his teammates, trading jabs with running back Roderick McDowell

Roderick McDowell
Gr. Running Back
#25 5-9, 195
Sumter, SC
View Full Profile and spending time talking to offensive coordinator Chad Morris

Chad Morris
Offensive Coordinator / QBs
View Full Profile .
Once the pregame festivities had ended, however, Boyd was all business, and he finished his afternoon by completing 24-of-29 passes for 377 yards and three touchdowns, including a 96-yard touchdown pass to receiver Sammy Watkins

Sammy Watkins
Jr. Wide Receiver
#2 6-1, 205
Fort Myers, FL
View Full Profile that was his last toss of the day.
Boyd said it was a sweet homecoming.
"It was a sweeter homecoming for this one," Boyd told the media after the game. "At Virginia Tech two years ago, I kind of got booed a little bit. This one was a little bit sweeter, and I have a lot of friends and family here I can go and talk to. It was great to come up here and get a victory. That makes it 4-0 against the home state – that makes it sweet, but at the same time we just wanted to come out and play the type of football we are capable of playing. That was the biggest thing – we have four games left, and November is when we want to play our best football. Hopefully we can take this and go from here."
Even the most negative of Virginia fans who might have been inclined to boo the senior signal caller would have been hard-pressed to find fault with his workmanlike effort, an effort spoiled only by a first half interception that he said he wished he could take back, and he said that he thinks the offense might be beginning to click at the right time.
"It was fun. And it's good to try and peak somewhat towards the end of the year," Boyd said. "It was good for the team. It was a confidence builder for us and it was a confidence builder for the offensive line – I thought they did a good job out there today. We were able to run the ball, and a lot of guys got a chance to play. We are going to need everybody here down this last stretch. "
If Boyd and the offense indeed are back in synch, they might look back at the last drive of the first half as the drive that provided the spark.
A Virginia punt pinned the Tigers at their own 14-yard line with 55 seconds left before intermission, and many in the announced crowd of 46,959 wondered if the Tigers would simply take a knee and a 28-7 lead into the half.
Instead, with three timeouts to play with, offensive coordinator Chad Morris put the offense in the capable hands of Boyd, who was a perfect 6-for-6 to five different receivers on a drive that covered 86 yards and took just 42 seconds off the clock. Boyd did the scoring honors, diving over the pile from one yard out to make it 35-7 Clemson at the break.
"Probably our best drive of the year," Boyd said. "Probably because we were just out there playing and not thinking. We moved it at a really good pace, and at the end of the day you just let it all hang out there."
Morris said that drive may have been the tonic that Boyd needed.
"Maybe that was what Tajh needed. He was definitely in a zone, just reacting and playing," Morris said. "It kind of looked like LSU last year when we took it down the field and that was our mindset. We executed really well, and I thought that was impressive. That was huge going into halftime."
Boyd would get just one more drive on the day – Clemson's first drive of the second half. The Tigers forced a Virginia punt to begin the second half, but Boyd was sacked on second down and the Tigers faced a 3rd-and-15 at their own four-yard line.
Boyd dropped back to pass and hit a wide open Watkins - he was covered only by freshman corner Tim Harris - up near midfield and Watkins easily outraced all of the defenders into the end zone for a 42-7 lead. The 96-yard scoring play was the longest pass of Boyd's career, the longest reception of Watkins' career and the second-longest play from scrimmage in Clemson history, second only to a 97-yarder set against Virginia in 1974.
Boyd said he looked out and saw Watkins with 1-on-1 coverage on the outside and knew where he was going with the football.
"You have to know your personnel, and they had a guy matched up on him. But when you have a guy like that (Watkins) in space, you know he will have an opportunity to do something," he said. "I thought the safety was going to do a little something different than he did – he kind of came inside a little bit and Sammy took it to the outside and I just let it ride a little bit. He did an unbelievable job. When Sammy or Martavis Bryant

Martavis Bryant
Jr. Wide Receiver
#1 6-5, 200
Calhoun Falls, SC
View Full Profile are out there – you can overthrow it a little bit."
Boyd was asked if he was once again having fun, and he said yes.
"I did. Any time you are out there with the guys, you enjoy it. I understand it is one less game I will have with these guys here, and it is important to go out there and enjoy all of the rest of these moments," he said.
He also said he realizes that this Clemson still is in a great position.
"We never know what can happen. This is college football," he said. "A lot of people thought Alabama was out of it after they lost last November, and they were wrong. We are sitting in the top 10 and in decent position and if we go out there and handle our business and take care of what we can, then everything will take care of itself. We are in a great position."