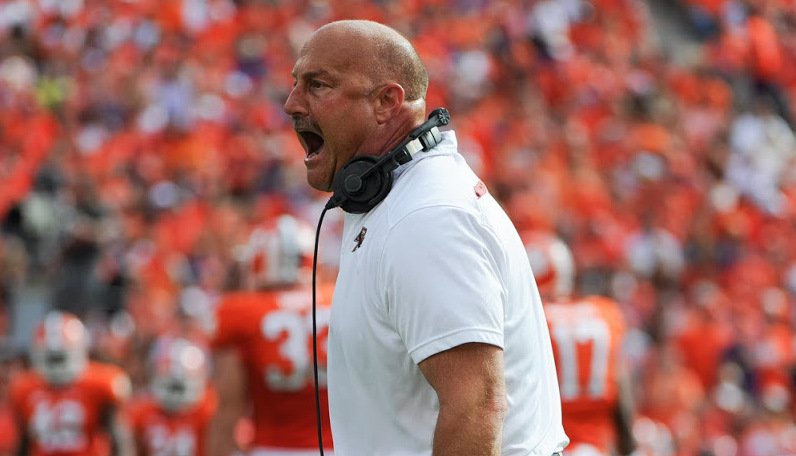 | | |
| --- | --- |
| Boston College coach says Clemson is "elite fast" | |
---
| | | |
| --- | --- | --- |
| Monday, October 3, 2016, 5:01 PM | | |
Welles Crowther embodied everything that Boston College stands for as he selflessly traveled up and down the steps of the World Trade Center of the fateful September 11th morning, and Friday night the Eagles will honor his legacy and memory when they take the field against Clemson.
Kickoff will be at 7:30 p.m. Friday evening in Alumni Stadium and Boston College will host what will probably be its largest crowd of the season as they celebrate the Red Bandana and honor Crowther, who perished while rescuing strangers in the World Trade Center.
Boston College head coach Steve Addazio met with media Monday morning and said he expects the Eagles to give Clemson their best shot in what will be a great atmosphere.
"They're going to come into our backyard and for everybody in the Northeast to have a chance to come watch that game on a Friday night and it will be a great atmosphere," Addazio said. "It's a Red Bandana game, celebrating the life of Welles Crowther and his selflessness. And I think it will be a great atmosphere and obviously a tremendous challenge for us."
However, he also knows that facing Clemson will be Boston College's – who sits at 3-2 after a win over Buffalo last week – toughest task to date.
"We had a long day yesterday, trying to get through the film and celebrate that win but yet here we are. We've got to get ready to roll," Addazio told the media Monday morning. "Clemson's coming in Friday night, and Monday is a Tuesday and today is a Tuesday, and so it was a long night last night trying to get ready for practice this morning. So not really my usual routine.
"But it was great to get a win against Buffalo. Some real positive things occurred in that game. Obviously, some other things showed up that we need to get corrected. We've kind of hashed that all through. My mind is completely already beyond that so far right now. We're way into Clemson. Clemson's a phenomenal football team. I'm making an understatement here. No. 3 team in the country, I believe, and deservedly so. It's hard to find any weakness when you look at them on either side of the ball. They have tremendous athletes at every position. And to watch them elevate their level of play on Saturday night in a marquee matchup at home was really impressive."
Addazio said he heard whispers about how Clemson's offense was off to a sluggish start, but that ended last Saturday as the Tigers put up 42 points in flexing their muscles over then-number three Louisville.
"I heard a lot of people say earlier, Clemson, they're not scoring -- well, you saw Clemson on Saturday night," he said. "They stepped up like a heavyweight contender. And it was a heck of a football game and unbelievable to watch. They're a balanced team. They have a great throw game. Great rushing attack. Their quarterback is arguably the best player in America right now. Arguably. Phenomenal. Not only is he an elite athlete, but he can flat throw the football. The running back, Wayne Gallman, is a really good player. They've got a group of wide receivers that are well-documented with their speed and how good they are. And their tight end Jordan Leggett is a heck of a player."
Boston College has averaged just 23 points per game through five games against Georgia Tech, UMass, Virginia Tech, Wagner and Buffalo and Addazio knows that if the Eagles are to match their average, they'll have to do it against one of the top defenses in the country.
"Defensively, I've always been impressed with them. I think Brent Venables does a great job going against his defenses in the past and not just when he was at Clemson," he said. "They're 12th in total defense in the country. 14th against the pass. They're well put together. They've got some phenomenal players on defense. I mean, they're huge and athletic. So needless to say, we're playing an elite team in America, and we get a chance to play them here on Friday night, our home site, which is fantastic."
Nevertheless, the Eagles are up to the challenge.
"I saw them down at their place. Louisville, the crowd noise was a real factor for them, the atmosphere. But we have them here at home," he said. "We have a chance to come into a packed stadium, play an elite, marquee football team. And I just think that's why -- one of the great reasons you come to BC is to be able obviously to get a great education but to play at the highest level of college football and have a chance to play against the best. And here's one of the top three very best in America coming off a national championship game."
If Boston College is to knock of No. 3 Clemson, they'll have to do it on a short week, but Addazio said Clemson is facing the same challenge.
"I think being home helps you, yeah. But, no, I mean, it's hard. We practice in the mornings. So it's compounded. We couldn't come in today and use the bulk of the day today continue game planning. We had to get it all done yesterday and last night," he said. "At least all done relative to having a good day today, which we did have a good day today. I thought the coaches did a great job. I thought we had a great practice and got some real great things accomplished.
"In fact, I'm looking forward to going back and watching the practice tape with the coaches and going through it right now. I felt a lot of good stuff happened. We had a hell of a day, but it was a grind. It was absolutely a flat grind. And it's different for the players. Traditionally this is the player's day off for us in our program. So we come in, we watch tape on Sunday. We go on the field. We work on fundamentals. Monday is the day off. And then Tuesday is the day we have -- this all got bounced up. But, I mean, it's the same thing for Clemson. It's no different; they've got the same issues. They played late at night."
Other Notes
On the step up in competition from Buffalo
"They're going to be in a, let's call it like a hyped-up game. Right? Big crowd. But it's not like Tech because it's not on the road and you don't have communication issues and all those issues. The issue you're going to have is you're just playing against some of the finest players in the country. That's the issue you're going to have. There're no weaknesses. So mano-a-mano, those matchups are going to be – you're playing against big, fast guys, so the margin for error is like a speck. And one of the things that concerns me the way our schedule was laid a little bit was you're starting out with (Georgia) Tech and down to Virginia Tech and then bump to Wagner, to Buffalo and now, just like this, right back up to Clemson. The good news here, the way we practice, we take – on a Tuesday – we take at least 15 snaps, 1 versus 1, just for that reason. Most places won't do that. We'll do that here. Just to keep the speed of the game alive. The intensity of the play, the speed of the play, because we're so young.
"If we were an older, veteran team, I wouldn't do that, because they know how to ramp that up. So I'd keep it less -- the risk you run is the physicality of the whole thing. You can't do that for a whole season – just we wear down after a while. So tomorrow we'll ramp that down. But I wanted to make sure we had a shot of the speed of the game. So it's not like this. Because that's what it would be like.
"When you watch the film from Saturday night, it's like is this thing -- is this sped up tape? That's how it looks. I mean, I went from watching our game Saturday on tape to that sped-up tape. It's fast. It's elite fast. I would say that … we've got several teams in our conference that could easily be – all of them – top 10 teams. And our conference, in my opinion, is without a doubt the best conference in the country right now, in my opinion. Now, people are going to argue that, and I get it. That's fine. I was in the SEC when the SEC was at the top. I think the ACC right now is at the tippy top. I really do. These teams are marquee. So it's great, though. You want to play against the best. Come on in -- but it's awesome. It's awesome. It's a great challenge. Phenomenal challenge."
On losing WR/TE Chris Garrison
"Well, it shuffles us up a little bit because he was kind of a dual guy. But we'll compensate with other ways. He kind of was a half a tight end, half a receiver, and so we'll have to personnel that and pick up the slack there. He played a lot of snaps and was really doing a great job. Here was a redshirt freshman who was making a real impact on our football team. We hate to lose, obviously, lose anybody, but he's going to leave a real void now that we've got to account for, and that's some of the stuff we're working on right now exactly how we're going to personnel everything."

Upgrade Your Account
Unlock premium boards and exclusive features (e.g. ad-free) by upgrading your account today.
Upgrade Now