| | |
| --- | --- |
| Big Brother: Ben Boulware toughens up his little brothers | |
---
| | |
| --- | --- |
| Tuesday, April 7, 2015 4:17 PM | |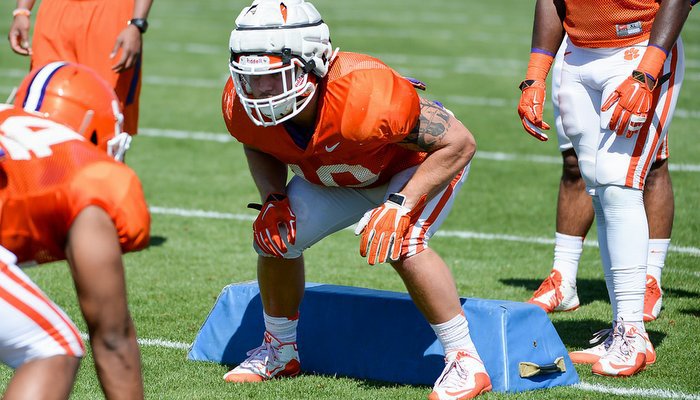 CLEMSON – Clemson linebacker Ben Boulware

Ben Boulware
Jr. Outside Linebacker
#10 6-0, 235
Anderson, SC
View Full Profile has gone from being the little brother on Clemson's defense to being the big brother that has to answer all of the questions and toughen up the youngsters. It's a job he already knows how to do.
The rising junior out of Anderson's (SC) T.L. Hanna High School avoided a redshirt once he arrived on campus in 2013, but toiled in the shadow of stalwarts like Stephone Anthony

Stephone Anthony
Linebacker (2011 - 2014)
#42 6-3, 245
Polkton, NC
View Full Profile , Spencer Shuey

Spencer Shuey
Linebacker (2009 - 2013)
#33 6-3, 230
Charlotte, NC
View Full Profile and Tony Steward

Tony Steward
Linebacker (2011 - 2014)
#7 6-, 235
Hastings, FL
View Full Profile . Those veterans make snaps hard to come by, but Boulware watched, listened and learned, perfectly filling the role of little brother as he compiled 58 tackles, five tackles for loss, one sack, six quarterback pressures, one pass breakup, a 47-yard interception return for a touchdown and two recovered fumbles in 326 snaps over 13 games a year ago.
The older brothers have moved out, however; Boulware is now one of the leaders of the defense and spends a good bit of his practice time answering questions from the youngsters.
"The young guys, it's mainly just them asking questions and us showing them the right way to go," Boulware said after Monday's practice. "That's how it's always been - the guys that are leaders helping the younger guys. I have waited for this role. I have waited for two years, and for it to be here now I am glad it's here. I've watched Stephone and Spencer and now I am finally filling their shoes. It's pretty surreal."
Boulware said earlier in the spring that freshman linebacker Chad Smith

Chad Smith
Fr. Linebacker
# 6-3, 215
Sterling, VA
View Full Profile was the biggest question-asking culprit, but Smith has been joined by others.
"It's not just Chad Smith anymore. It's Chad, the twins (Judah and J.D. Davis

J.D. Davis
Fr. Linebacker
#33 6-2, 220
Clemson, SC
View Full Profile ). Jalen (Williams), it's all of them. Which I don't mind," Boulware said. "A lot of our freshmen are pretty smart, and then they'll have a brain fart and they are like, 'Dude, where do I line up?' I am like, 'Come on, you learned that the first day.' But then I think back to my freshman year and I was in that position asking (Spencer) Shuey, asking Stephone (Anthony) the dumbest questions.
"At the time I thought they were really hard questions to ask, but once you get to this level of leadership it's pretty easy. I am glad I am to that point now. It's middle school stuff, an easy formation and they are like, 'Who do I have?' And I tell them they better be glad Coach (Brent) Venables isn't here because he would chew you out."
The role of younger brother and older brother was one that Boulware was born to play – literally. Older brother Garrett played baseball at Clemson and a younger brother is in a local high school while his younger sister will be at Clemson next year.
"I've got a little brother who is seventeen and he is autistic and he goes to high school in special ed classes," Boulware said. "He runs track and cross country. We play back yard football - like legit tackling. I knew he was handicapped and I didn't want him to be picked on in high school when me and Garrett were gone. Just because he was handicapped, we weren't soft on him – we played tackle football and were laying him out. It sounds harsh to outsiders hearing that, but I'm his brother and I feel like I can do it, but if someone else tried to do it, we'd kill him.
"But, me and Garrett are really tough on him and he's a really tough kid. He's seventeen and I don't think I've ever seen him cry. Ever. And, I think that's just me and Garrett staying on him every day, not bullying him, but making him tough, because I knew he would face some obstacles in his life and we wanted him to be able to survive them. I have a little sister who is a freshman right now and is doing Bridge. There are four of us. She was a competitive cheerleader and I think she is going to try out for the cheerleading team next year. I had to deal with Garrett, getting bullied by Garrett every day, so I was kind of in between having to deal with both of them."