| | |
| --- | --- |
| 'Best Is The Standard' more than just a phrase to Brent Venables | |
---
| | |
| --- | --- |
| Tuesday, August 5, 2014 8:35 AM | |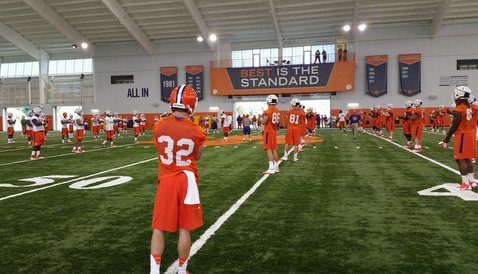 CLEMSON – The phrase 'Best is the Standard' is written in every meeting room and team room, in the locker room, and in the indoor practice facility. Most people take those four little words to mean play your best on the field.
At Clemson, however, 'Best is the Standard' applies on the field, off the field, in the classroom and in life.
Defensive coordinator Brent Venables

Brent Venables
Def. Coordinator / Linebackers
View Full Profile fielded the usual questions surrounding fall camp Monday night outside of the indoor practice facility, but it wasn't until he was asked about the true character of his football team that he became the passionate and enthusiastic coach that has defined his career.
The Tigers are 22-4 since Venables came aboard, but he said that those teams have only been successful because of players who have good work ethic, are unselfish and show humility – a product of the philosophy that head coach Dabo Swinney

Dabo Swinney
Head Coach
View Full Profile has instilled in the program since he took over in 2008.
"I know without question that the vision and the philosophy of this program feeds those characteristics," Venables said after practice Monday night. "Without question. They enjoy their experience. They're treated with respect. They're loved and cared for. They're challenged and motivated. They're held to a high-level of discipline and accountability.
"As a result, you pull out their best qualities and characteristics. I really believe that. I think that – as they say here a lot – you bloom where you're planted. I think that you see that. The right seeds are being sowed. I know that without question. I think it gets guys to think about those things, to challenge themselves. If you're not nourishing that – especially now more than ever because it's easier for guys to become selfish and make it about me."
The standards set by Swinney to be the best players, students and citizens isn't just something that is said to the media or mentioned a couple of times a year – it's preached on a regular basis.
"It's not something that's just talked about occasionally here or a guy getting yelled at once a week. Until you are completely behind these curtains, you won't completely know," Venables said. "I know in my two-and-a-half years experience that a huge part of this program is developing these young guys as strong men. As a result, you're teaching them how to lead and how to become a man of character. It sounds like coach speak, but I'm thinking out loud. Why are there so many [guys of character] because it doesn't happen a whole lot."
As a result, the Tigers are not only winning on the field but also in the classroom - 83 of the 90 senior lettermen (92 percent) in Swinney's five full years as head coach have graduated. The only seven that have not graduated are on NFL rosters.
"There are more guys that stand for what's right here than I've ever been around," Venables said. "I think we have a high retention level here. I don't know what our graduation rate is of all of our seniors a but I guarantee you that nobody else is doing it. Do a story on that and do it apples to apples. Compare it to South Carolina. Compare it to Southern Cal and UCLA and Penn State and Ohio State and Miami. Take the time to do that. That only happens for one reason and it's not because you luck into that. It's because of philosophy and that is culture. It's pretty special and unique."
Academic Progress Rate is one of the ways that the NCAA measures retention and eligibility. The Academic Progress Rate is a metric developed to track the academic achievement of teams each academic term. Each student-athlete receiving athletically related financial aid earns one retention point for staying in school and one eligibility point for being academically eligible. A team's total points are divided by points possible and then multiplied by one thousand to equal the team's Academic Progress Rate score.
Clemson and Stanford are the only two FBS programs with a top 10 final ranking in the USA Today Coaches poll and a top 10 percent ranking in FBS APR scores each of the last two years. The top schools in the 2014 APR are: Northwestern: 996; Boise State: 993; Duke: 989; Clemson: 985; Wisconsin: 985; Georgia Tech: 983; Boston College: 982; Missouri: 982; Ohio State: 982; and Rice: 979.
Graduating 83 out of 90 seniors isn't easy unless you are at an "academic school."
"It's easy to be at an academic school and you recruit all kinds of brain childs and they're going to do well in high school, they're going to do well in college, and they're going do well running the planet Earth," Venables said.
However, Clemson is getting it done both on and off the field.
"Our guys are playing at a high level, succeeding at a high level and graduating and being ready for life after," Venables said. "I'm not preaching to anybody, it's just why our guys have all of these good qualities. Here's a bunch of them in this program. When your talent maybe isn't there sometimes, I think your character, culture and philosophy, I think they trump talent. Whether that's wishful thinking or not, we've got some talent and a good culture."