| | |
| --- | --- |
| Beasley stands by his statement on Clowney, looks to make an impact against FSU | |
---
| | |
| --- | --- |
| Friday, September 19, 2014 7:01 AM | |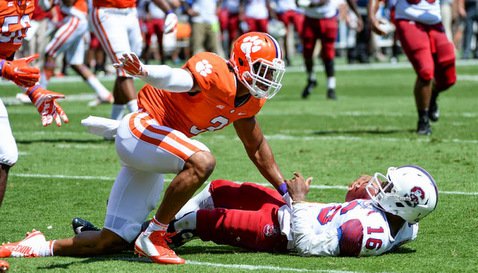 CLEMSON – Senior defensive end Vic Beasley

Vic Beasley
RS Sr. Defensive End
#3 6-2, 236
Adairsville, GA
View Full Profile raised more than a few eyebrows when he told Sports Illustrated that he thought he was a better player than former South Carolina and current Houston Texan defensive end Jadeveon Clowney.
Beasley told TigerNet earlier this week that he stands by his statement, and he hopes he can show the entire nation the kind of talent he possesses when the Tigers take on top-ranked Florida St. Saturday night in Tallahassee.
"I am pretty sure that Clowney has the same feeling, that he is better than me," Beasley told TigerNet in the WestZone. "Whenever you step on the field, you have to have that mindset that you are the best player on that field. That is my mindset when I go out on the field - that I am the best player out there. Whenever I get a challenge that is how I approach it."
Through two games this season, the 6-foot-3, 235-pound Beasley has registered three tackles for loss and two sacks. Last season Beasley turned in an All-American campaign in which he racked up 44 tackles, 23 tackles for loss and 13 sacks compared to 28 tackles, 12 tackles for loss and three sacks from Clowney.
With 23 career sacks, Beasley is just one sack behind Clowney's career total of 24. He could surpass Clowney this weekend in Tallahassee, and he told TigerNet he realizes the opportunity he has to shine.
In fact, he called it a statement game.
"It is definitely my opportunity. This is definitely a statement game for me," Beasley said. "This is an opportunity to show the nation that I am one of the best players in the country."
I asked Beasley if a certain number of sacks or tackles would make the statement he wants to make, and he said it's all about making plays.
"Just being disruptive. The plays are going to be there for me," he said. "I feel like there are going to be plays that I am going to have to make to help the team win. I have to do my job and come ready to play. Big-time players come ready to play in big-time games. If I do my job and come out there with that mindset, then that is my statement.
"I love competing against the best. You have a Heisman Trophy winner. You have a great offensive line and All-Americans all across the offensive line. What more could you ask for? This is the biggest opportunity and a big stage for Clemson. Winston is versatile. He can hurt you with his feet. But he has a great offensive line, and if you don't get pressure on him he is going to tear you apart."
Beasley said that in last year's 51-14 Seminole win, Florida St. nullified his speed with quick throws and he expects to see more of the same this season.
"What they did was they kind of took me out of the game by running, and then they would throw some quick passes," he said. "That really slows a pass rusher down. That is what they did. Then they got ahead and didn't have to really throw the ball deep or anything. They know we have a good defensive line just like they have a good offensive line. They will definitely be getting the ball out quick – I am sure that will be their thoughts."
He then added that it's not only a redemption game for him personally – this one is personal for the entire defense.
"Definitely, going against the number one team in the country. We didn't play as well as we should have against Georgia," he said. "Here we are again on the big stage with another opportunity. This is our chance."