| | |
| --- | --- |
| Balanced offense thrills Elliott | |
---
| | |
| --- | --- |
| Sunday, September 6, 2015 8:01 AM | |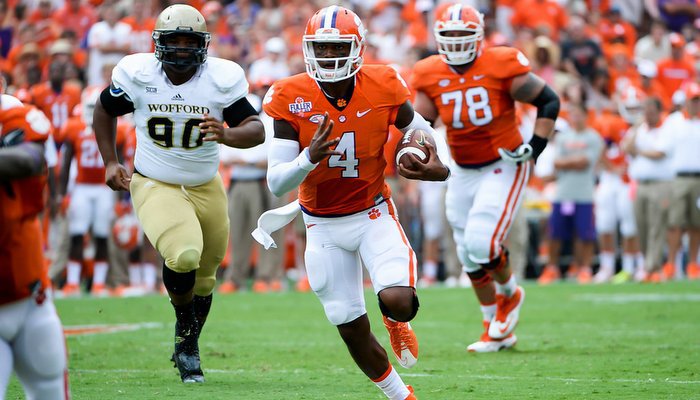 CLEMSON – Jeff Scott

Jeff Scott
Co-Offensive Coordinator / WR
View Full Profile and Tony Elliott

Tony Elliott
Co-OC / Running Backs
View Full Profile made their debut as co-offensive coordinators at the Russell Athletic Bowl last December, but Saturday's season opener against Wofford was the first chance to do it in front of the home crowd.
It was as good as they could have expected as the offense rang up 534 total yards, and the offense scored a touchdown on every possession that Deshaun Watson

Deshaun Watson
So. Quarterback
#4 6-2, 207
Gainesville, GA
View Full Profile was in at quarterback.
"I thought it was a great team effort, a great team win. Offensively, I thought we were balanced, thought we did a good job running the ball. I thought Deshaun played very well," Elliott said after the game. "Very clean execution for our first game — not a whole lot of mistakes, and that's just a testament to the young men that they prepare, prepare with purpose and went out and had effort and technique, and they were committed. We challenged them coming in because it was a long camp, especially having an extra week of practice after school started, to remain committed to the task at hand, prepare with purpose, and they did, and it's just a testament to them. They played their butts off."
Elliott sits in the coaches' box during the game and calls the majority of the plays, but he said it was a total team effort from the coaches.
"I was excited and anxious because you want to do the best you can to help these young men be successful and make sure that you can process the information quickly," Elliott said. "It was a great team effort. It wasn't just me. It was Coach (Dabo) Swinney, Coach (Jeff) Scott, Coach (Brandon) Streeter, Coach (Danny) Pearman sitting right next to me in the box, Coach (Robbie) Caldwell making adjustments on the sidelines. They put me at ease because they have confidence in me. We work on the plan together so we feel like we're sound going into a game. The pressure mounted a little bit and I got a little nervous but I was anxious too because I knew our guys had prepared well and I wanted to see them have success."
Other notes
Clemson got off to a fast start
"We always want to go in and get off to a fast start. We're a tempo team, we want to stretch the defense, make them cover the entire field, so we had a good plan going in, and Deshaun got out there and led the troops, and everybody was making plays. It was imperative that we got off to a good start, and we found ways to continue to do it drive after drive."
On the tempo
"We're a tempo offense. Again, we had the game plan narrowed down. We knew what we wanted to do. Wofford is very sound in what they do. You kind of know what they're going to be in, so you kind of have your calls ready to go, but there was emphasis on trying to call it as fast as we can, and at the same time, making sure we're calling the right plays in the right situations."
Running backs
"I tell you what, it's exciting because I know how hard those guys work, and I know how humble they are and how unselfish they are. For all of them to have a chance to get in there and touch the ball multiple times, and a couple of the guys finding the end zone. We've been challenging them the last two years, let's average over 200 yards rushing per game, so we really put a lot of pressure on those guys. It looked from where I was at, and I'll have to validate it on film, but it looked like their eyes were pretty disciplined, didn't see a whole lot of dancing, looked like they were finding the holes when they were supposed to and got some into the open field. Still have to work on finishing the play — I wanted Wayne (Gallman) to score on that one he broke out, and I kind of got on him throughout the course of the game on the headsets, but it's just good because I know the kind of young men they are, how unselfish they are, how humble they are, how hard they work and how much they want it, not just for themselves, but they want to be the workhorse for this football team."
Passing game
"Obviously we'll have to look at more detail on film, but in terms of Deshaun's precision I was pretty pleased. Wofford did some things a little bit different. They took away some of the quicker throws that we had some success with against Oklahoma, so we had to make some adjustments and throw the ball down the field more, but I thought the guys were where they were supposed to be. We had opportunities. We missed the one touchdown that was just out of our reach, but overall I was pretty pleased with the execution in the passing game. They weren't turning guys loose, and there weren't many opportunities for TFLs. We didn't get the quarterback hit much. Overall, I was really pleased."