---
| | |
| --- | --- |
| Thursday, October 3, 2013 10:33 AM | |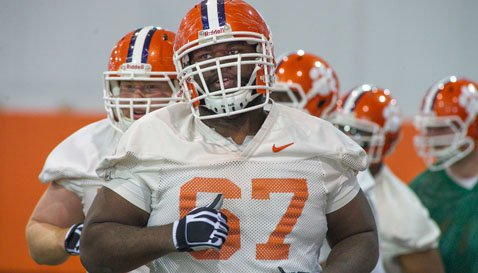 CLEMSON - Many student-athletes swagger around their respective college campuses, enjoying the attention and accolades that come with being a star athlete.
And then there's Kalon Davis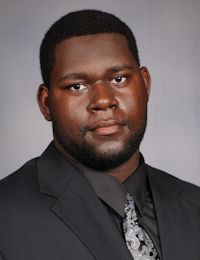 Kalon Davis
RS Jr. Offensive Guard
#67 6-5, 330
Chester, SC
View Full Profile , who wants you to know the man before you know the football player.
At 6-5 and 335 pounds, it's hard to disguise the fact he's a football player, but Davis wants people to see his smart, charming, and funny side before divulging that he is an offensive lineman for the third-ranked Clemson Tigers.
The self-admitted jokester told the media earlier this week that he wants people to see what he has to offer as a person and not just an athlete.
He also said that most people probably don't connect the fun-loving student with the smash-mouth offensive lineman they see on Saturday.
"I don't think so probably because most of the people I meet, I meet in class," Davis told the media Monday. "I never tell people that I play football. Half of them probably guess. I don't want you to know me as a football player. I want you to know who I am. I'm not the joker in class, but I like to crack one-liners. If I can get you to laugh then usually by that time you know what you're getting."
The red-shirt junior is majoring in Japanese and immerses himself in all parts of the language, culture and food.
"I'm a Japanese major – I'm doing the language," Davis said. "I have to learn to speak, the culture, read and write. This summer I'm probably going to go over there for two or three months because I have to do a study abroad for my major. I'll head over there. It's just something I really enjoy especially getting to know the Sensei here."
Football and school take up most of Davis' time, but during the offseason he enjoys playing indoor soccer, which helps improve his footwork on the gridiron.
"I don't play [soccer] during the season," Davis said. "I played during the spring and summer. My favorite position is forward, definitely. When you actually play soccer, it's not as much running as you think it would be. I prefer indoor where there's a lot more footwork and ball skills than running. It helps me get quicks down for football. We have plays here where you have to get that 1-2 down quick because you are on an island. Soccer has been able to help me with that."
However, when he's not on the football field, soccer field, or in the classroom, you can find Davis at home with his dog Rikku – a Spaniel mix – and his friends playing games.
"I don't have a lot of free time, but when I am able to get away I like to hang out with my friends," Davis said. "I have a puppy. I like to play games. They kind of all intertwine – I usually invite people over, they play with my puppy and we all play games."
Even with all his extra curricular activities, Davis has been praised by Clemson head coach Dabo Swinney for his improvement this season.
"I guess there's just a time and place for everything. When I'm on the field, I just go out and get the job done. It's not like I'm not having fun out there. When you see me on the field you see me smiling. It's just taking what I can and using it. I still have to be me no matter what."