| | |
| --- | --- |
| 2015 Clemson football schedule released | |
---
| | |
| --- | --- |
| Thursday, January 29, 2015 10:05 AM | |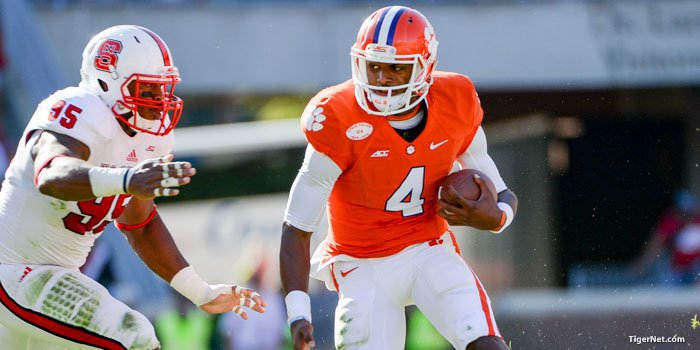 2015 Football Schedule
Sept. 5 WOFFORD
Sept. 12 APPALACHIAN STATE
Sept. 17 at Louisville (Thurs.)
Sept. 26 OPEN
Oct. 3 NOTRE DAME
Oct. 10 GEORGIA TECH
Oct. 17 BOSTON COLLEGE
Oct. 24 at Miami
Oct. 31 at NC State
Nov. 7 FLORIDA STATE
Nov. 14 at Syracuse
Nov. 21 WAKE FOREST
Nov. 28 at South Carolina
Clemson release on 2015 Schedule
CLEMSON, S.C.—A home schedule which includes Notre Dame and 2014 top-10 finishers Florida State and Georgia Tech highlights the 2015 Clemson football schedule announced on Thursday.
Clemson has seven home games and five on the road for the 10th consecutive regular season. Five of Clemson's first six games are at home for just the fifth time in history, just the second time in the last 23 years.
"I am always excited to see the schedule for the upcoming season because it allows us to plan our journey for the next season," said Head Coach Dabo Swinney. "There is no doubt this will as challenging a schedule as we have ever had with some great home games and tough games in road venues. We are already preparing for the challenge and can't wait to get started with spring practice (March 2)."
Clemson opens the 2015 season on the same date and against the same opponent the Tigers faced in opening the National Championship season of 1981, a September 5 contest with Wofford. Week two will see the Tigers face Appalachian State in the first meeting between the two schools as FBS members, and the first time Appalachian State has come to Clemson since the two teams met in the season opener of 1997.
Clemson will have a quick turnaround for its third game, when the Tigers open ACC play at Atlantic Division rival Louisville on Thursday night, September 17. It will be the first of seven straight games against 2014 bowl teams. Clemson has won four straight Thursday night regular season games dating to the 2009 season. It will be the first time Clemson has had just five days to prepare for a game since 2012 when the Tigers won at Wake Forest.
Notre Dame comes to Clemson for the first time since 1977 when the two schools faced in a meeting of top 15 teams. Notre Dame won that game, 21-17, and went on to win the National Championship. Clemson won the rematch two years later in South Bend, 16-10. The two schools have not met since. Clemson will have 16 days to prepare for Notre Dame, the most preparation for a game in the middle of a season since 1918. Notre Dame has a .732 winning percentage in its history, best among all FBS schools. Over the last four years Clemson has defeated seven of the top 25 schools on that list (Ohio State, Oklahoma, Florida State, LSU, Georgia, Auburn and Virginia Tech).
Clemson plays back-to-back home games against league rivals Georgia Tech and Boston College the following two weeks. Tech comes to Clemson on October 10 in a meeting of two top 15 teams from the final 2014 AP poll.
Clemson plays its first Saturday road game of the year at Miami on Oct. 24. It will be the first meeting between the two schools since 2010 when Miami won at Clemson. Clemson won its last trip to face Miami in 2009 by a 40-37 score in overtime. The road team has won all four meetings since Miami joined the ACC in 2004.
Clemson will play back-to-back road games when the Tigers travel to Raleigh to face N.C. State. Clemson defeated a Wolfpack team that won eight games last year by a 41-0 score, the second largest margin of victory for the Tigers over a league team that would win at least eight games in Clemson's 62 years in the ACC.
On Nov. 7, Clemson hosts Florida State in a battle of two of the four teams nationally that have ranked in the top 25 of the final AP and USA Today polls each of the last four years. The winner of the Clemson vs. Florida State game has gone on to win the Atlantic Division of the ACC each of the last six years.
The Tigers play their fourth and final ACC road game on Nov. 14, traveling to Syracuse for just the second time. The Tigers defeated the Orange 49-14 the last time they played at Syracuse, and won the contest at home last year 16-6.
The Tigers conclude their ACC schedule Nov. 21 at home against Wake Forest, marking the second time Wake Forest has been Clemson's opponent on "Senior Day" at Memorial Stadium since 1989.
Clemson concludes the regular season at South Carolina on Nov. 28. The Tigers won the rivalry game last year by a 35-17 score at Memorial Stadium.
ACC Teams Lead Power Five Conferences in Nonconference Games Against Teams in ESPN's Too Early Top 25
GREENSBORO, N.C. -- The 2015 Atlantic Coast Conference football schedule released Thursday by Commissioner John Swofford is once again one of the most difficult nonconference slates among the Power Five Conferences.
ACC teams will play more games against teams that are ranked in ESPN's Too Early Top 25 rankings for 2015 (12) than any of the other Top Five Conferences. The ACC's total is also more than double the number of games played by the next closest Power Five league.
ACC teams also are playing a higher percentage of Power Five Conference teams (38%) than any other Power Five Conference.
ACC teams are also playing games against opponents who had a higher FBS (.536) and overall (.536) winning percentage in 2014 than any other Power Five Conference.
ACC teams will also play 24 games against nonconference opponents that played in bowl games in 2014. That total is the second-highest total of any Power Five Conference.
"This year's ACC Football schedule once again showcases that collectively our league is arguably playing the toughest nonconference schedule in the country," said ACC Commissioner John Swofford. In addition to the nonconference games, we have a tremendously competitive league schedule which provides our teams and fans with great games each week of the season."
The ACC will again have a strong presence on the opening weekend of college football, beginning with North Carolina meeting South Carolina on Thursday, Sept. 3 at Bank of America Stadium in Charlotte, N.C. That will be followed on Saturday, Sept. 5 by Louisville facing Auburn in the annual Chick-fil-A Kickoff Game at the Georgia Dome in Atlanta and Virginia travelling to face UCLA at the Rose Bowl in Pasadena, Calif.
The ACC will then continue its tradition of national exposure on Labor Day Monday, as defending national champion Ohio State travels to Blacksburg, Va., to face Virginia Tech on Monday, Sept. 7. The Hokies were the only team to defeat the Buckeyes last fall, claiming a 35-21 decision in Columbus, Ohio. The game will be nationally televised by ESPN. The game will mark the 11th appearance in 12 years by an ACC team on Labor Day Monday Night since the telecasts began in 2004. It will also mark Virginia Tech's third appearance on Labor Day Monday.
The schedule also incorporates six games against Notre Dame, which will be in its second year of its football scheduling agreement with the Conference this fall. Clemson (Oct. 3), Virginia (Sept. 12) and Pitt (Nov. 7) will host the Irish, while Georgia Tech (Sept. 19) and (Wake Forest (Nov. 14) will travel to Notre Dame Stadium in South Bend, Ind. Notre Dame will also hold a home game at Fenway Park in Boston, hosting the Boston College Eagles there on Nov. 21.
In all, the schedule includes 56 regular-season conference match-ups over a span of 13 weeks and is capped off with the 11th Annual Dr Pepper Atlantic Coast Conference Football Championship Game, which returns to Charlotte, N.C. this year and will be played on Saturday, Dec. 5 in Bank of America Stadium.
Including games against the 11 ACC teams which earned bowl bids in 2014, no ACC team will face fewer than six opponents that went to bowl games last fall, with Virginia facing the most with 10 followed by Georgia Tech, Miami and Virginia Tech with nine each. Boston College, Clemson, North Carolina, Pitt, Syracuse and Wake Forest will each face eight teams that were in bowl games last fall.
ACC teams will also play 12 nonconference games against eight teams selected by ESPN.com in its early preseason Top 10 including matches with 2014 defending national champion and projected second-ranked Ohio State (Virginia Tech), seventh-ranked UCLA (Virginia), eighth-ranked Georgia (Georgia Tech), 12th-ranked Notre Dame (Boston College, Clemson, Georgia Tech, Pitt, Virginia and Wake Forest), 14th-ranked Auburn (Louisville), 17th-ranked LSU (Syracuse) and 20th-ranked Boise State (Virginia).
In all, ACC teams will play 17 games against nonconference teams that appeared in the Associated Press Top 25 at some point during the 2014 season and 15 games against nonconference teams that were ranked in the College Football Playoff Rankings at some time during 2014. Both numbers are the most of any Power Five Conference.
Nonconference opponents that earned bowl bids this past season include Auburn, Boise State, Central Michigan, Cincinnati, East Carolina, Georgia, Houston, LSU, Illinois, Iowa, Nebraska, Northern Illinois, Notre Dame (6), Ohio State, South Alabama, South Carolina (2) and UCLA.
The ACC will play four games nationally-televised by an ESPN platform on Thursday night beginning with North Carolina and South Carolina meeting at Bank of America Stadium in Charlotte (Sept. 3) for the first Thursday night game of the year. Louisville will then host Clemson (Sept. 17) followed by North Carolina at Pitt (Oct. 29) and Virginia Tech at Georgia Tech (Nov. 12).
Since 1991, ACC teams have played in 93 games on ESPN's Thursday Night package with its teams making 163 appearances.
The league will also play five nationally-televised Friday games on ESPN platforms, with Boston College hosting Florida State (Sept. 18): Boise State at Virginia (Sept. 25); NC State at Virginia Tech (Oct. 9); Louisville at Wake Forest (Oct. 30), and Pitt hosting Miami on Thanksgiving Friday, Nov. 27.
The ACC Digital Network, official home of ACC Video and Highlights, will give fans a close look at the highlights of the 2015 ACC Football Schedule with its "Games to Watch", "ACC Contenders: Can FSU Four-Peat?" and a special edition of its daily series "ACC Now". The 2015 Football Schedule Release videos are available on theACC.com, ACC mobile apps, as well as various streaming and connected mobile and TV devices such as Amazon Fire, Apple TV and Roku.