| | |
| --- | --- |
| Tigers swat Jackets en route to 500th win in Littlejohn | |
---
| | |
| --- | --- |
| Tuesday, February 4, 2014 10:24 PM | |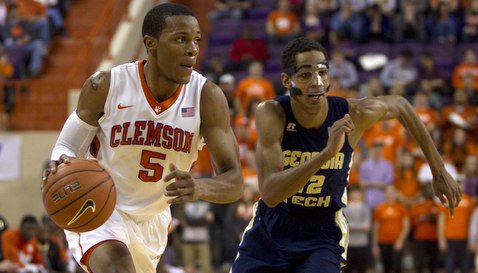 CLEMSON – Georgia Tech missed two chances to tie the score in the final 10 seconds and Jaron Blossomgame hit two free throws with 2.3 seconds remaining to seal the win in Clemson's 45-41 victory over Georgia Tech in Littlejohn Coliseum Tuesday night.
Clemson has won the last eight meetings between the two schools. The Tigers earned their 500th win in Littlejohn Coliseum with the victory. Ironically, the facility opened on Nov. 30, 1968 when the Tigers beat Georgia Tech 76-72.
The 45 points in Tuesday's victory was the fewest points scored in an ACC win since Janauary 28, 1971 when the Tigers beat Virginia 45-44 in Littlejohn.
The Tigers got 12 points from Jordan Roper in improving to 15-6, 6-3 in the ACC with road games at Syracuse and Notre Dame on tap. Georgia Tech (12-11, 3-7) got 18 points from Daniel Miller in the loss.
Clemson head coach Brad Brownell said after the game that he is proud of his team for winning the defensive struggle.
"Defensive struggle with both teams. We were really having a difficult time scoring," Brownell said during his postgame press conference. "Our best player didn't have a good game – it was really the first or second time in 20 games. I'm really proud of our guys to win without that. We had a terrible stretch there in the second half where we got timid and had trouble scoring. Some of it is that you are playing a team that knows you so well. We play them twice a year so we know them, too. Sometimes you are going to have games like this where it's really a grinder and you need to really be proud of your guys for finding a way to win."
A missed runner by Rod Hall with Clemson leading 43-41 with just over 20 seconds remaining set up the final flurry, but the Jackets missed two shots in the lane, and Blossomgame grabbed the rebound to set up his foul shots.
Clemson shot just 32-percent from the field and made just 2-of-13 three-pointers, with both coming in the first half. The Yellow Jackets couldn't muster much better numbers, shooting 35-percent from the field and just 2-of-7 from three-point range.
The first half was reminiscent of the first half against Virginia Tech last month as both teams struggled to find any offensive rhythm. The Jackets – playing without leading scorer Trae Golden – jumped out to the early lead and took their biggest lead of the half on a 3-pointer by Chris Bolden at the 5:08 mark that put them ahead 20-16.
That bucket turned out to be the last for the Jackets from the field in the first half, however, and Roper provided a spark over the final five minutes. His 3-pointer at the 2:21 mark pulled the Tigers to within one at 22-21, and his layup with just 1.3 seconds remaining in the half gave the Tigers a 25-22 lead at intermission.
Both teams struggled to score in the second half – one scoreless drought lasted over four minutes – but the Jackets clawed back into the lead at 33-32 on a jumper by Daniel Miller with just over seven minutes remaining.
Georgia Tech head coach Brian Gregory said just looking at the box score would lead someone to believe that the game was very sloppy offensively, but he credits both defenses.
"It's hard to make baskets. Nothing is easy," Gregory said. "There are a lot of hands and a lot of deflections. Neither one of us are high-pressure type teams, but there are 29 turnovers and you would probably say that it was really sloppy offense. It was really good defense, also."
The lead swelled to five points – at 37-32 – on two free throws by Marcus Georges-Hunt just over a minute later, leaving the Littlejohn crowd feeling restless. However, a Roper jumper, two free throws by Rod Hall and a free throw by Landry Nnoko tied the score at 37-37 at the five minute mark, setting up a trademark McDaniels play.
The Jackets turned the ball over on the offensive end, and Hall led a rare Clemson fast break, beating all but two Tech defenders down the court. Out front was McDaniels, who took the alley-oop from Hall and flushed it home for a 39-37 lead at the 4:38 mark.
The Tigers led 41-39 with just over a 1:50 remaining when Hall hit a spinning layup in the lane for a 43-39 lead, but the Jackets got a quick jumper from Miller and called timeout with the score 43-41 at the 1:34 mark.
The teams traded turnovers, and Hall missed a floater in the lane that was rebounded by the Jackets, setting up a full timeout with 16.6 seconds remaining.
The Tigers return to action Sunday night as they travel to the Carrier Dome to take on Syracuse, and Brownell said that his team should have a little momentum after winning two in a row.
"It's really good. You're just trying to keep positive momentum going," Brownell said." You win differently. Some games you play well and it's offensive minded, sometimes it's defensive minded. And sometimes it can be games like this, where it feels like a football game. You just grind."
Clemson vs. Georgia Tech postgame notes
TEAM
* Clemson won its 500th game in Littlejohn Coliseum on Tuesday, a 45-41 grinder over Georgia Tech. Coincidentally, Clemson's first win in the facility that opened in 1968 was also a four-point win (76-72) over the same opponent, Georgia Tech.
* Clemson's win Tuesday was its ninth straight at home over Georgia Tech. It is the longest home winning streak over another ACC team, passing the eight straight over Virginia from 1959-66.
* With the win, Clemson has now won eight straight in the series against Georgia Tech, the Tigers' longest streak since the 1971-82 era when they won 14 in a row.
* The Tigers moved to 8-0 this season when holding opponents to 50 or less. Clemson is also 27-2 under Head Coach Brad Brownell under this scenario.
* The eight games holding opponents to 50 points or less is a Clemson high in the 35-second shot clock era. The previous best was seven games, on two occasions.
* Clemson's 45 points were the fewest in a home win over an ACC team since Jan. 28, 1971 when the Tigers defeated Virginia 45-44 in Littlejohn Coliseum.
* Clemson has matched its highest overall win total since the 2011-12 team won 16 games.
* The Tigers are 6-3 in the ACC, their best conference record through nine games since the 2008-09 team also achieved the same mark.
* Clemson improved to 3-1 this season in games decided by five points or less.
* For the first time this season, Clemson won a game in which it was not leading with five minutes to play.
* Clemson won the rebound margin 36-34 and is now 12-2 this season when out-rebounding the opposition.
* The Tiger bench outscored Tech's reserves 16-2. Clemson is 10-2 this season when its bench outscores the opponent.
INDIVIDUAL
* Jordan Roper reached double figures for the eighth time this season, third-most on the team. He led Clemson with 12 points.
* Roper made multiple three-pointers for the second straight game, the first time this season he has done that.
* Rod Hall had six assists Tuesday, the second straight game he has had at least six and the third time in ACC play.
In 11 home games this season, Hall has a 41-to-7 assist-to-turnover ratio.
* Landry Nnoko took his first charge Tuesday. Jaron Blossomgame also took a charge, giving Clemson four over the past two games. It was his second this season.
* Blossomgame grabbed nine rebounds, which tied his second-highest total from this season. He had 14 against Duke on Jan. 11 and nine against UMass on Nov. 24.
* Nnoko pulled down four offensive rebounds, his high since recording six against Duke on Jan. 11.