| | |
| --- | --- |
| Tigers prepare for road test against the Pack | |
---
| | |
| --- | --- |
| Wednesday, January 28, 2015 2:11 PM | |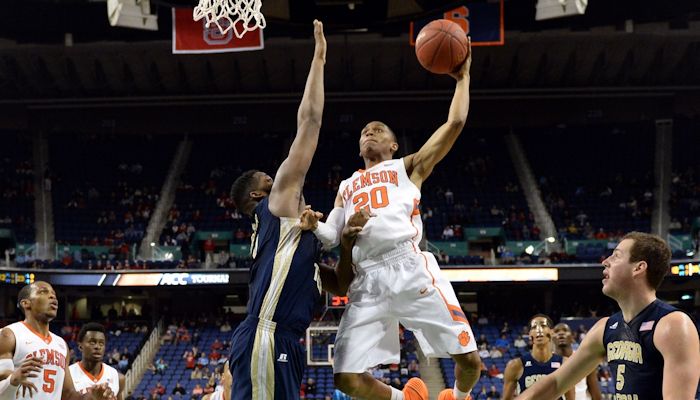 The ACC schedule for Clemson doesn't get any easier as the Tigers travel to Raleigh Wednesday for a late-night tussle with N.C. State.
Clemson has enjoyed a three-game home stretch, but will play three of the next four on the road beginning with N.C. State in a 9 p.m. matchup at PNC Arena, where the Wolfpack are 12-3 this season.
GAME SETUP
Clemson (11-8, 3-4 ACC) vs. NC State (13-8, 4-4 ACC)
Date: Wednesday, Jan. 28
Tipoff: 9 p.m. ET
Arena: PNC Arena (19,722)
Radio: CTSN (Tony Castricone-pbp; Tim Bourret-color)
TV: ACC Network (Bob Rathbun-pbp; Mike Gminski-color)
The Wolfpack have dropped three of their last four since upsetting Duke, but Clemson head coach Brad Brownell

Brad Brownell
Head Coach
View Full Profile said N.C. State's team is deep and talented and can't be taken lightly, especially in the friendly confines of the PNC Arena.
"They have a really powerful lineup. They've got big bodies inside and they can score around the rim," Brownell told the media during a Tuesday afternoon press conference. "Trevor Lacey is fantastic on the perimeter. Ralston Turner is one of the best shooters. Lacey can do it both ways - he can do it off the bounce, he can pull up into his shot, he can shoot off screens. They have a lot of guys that can score. They run their big guys in there and they all play a lot of minutes so there's not one anchor guy. Kyle Washington, BeeJay Anya are both big guys that can play. Abdul-Malik Abu, the freshman, is a Top 50 player and is really showing signs of being outstanding. In the Miami game, he scored the first 10 or 12 points.
"They have a lot of good pieces. Playing at home, they play with a lot of confidence. Their offense was really good the other day against Notre Dame. Getting back in transition is important. Having good offensive possessions is important on the road. If you bad offensive possessions, that leads to transition basketball for the other team. We're going to have to have good possessions - can't turn it over, have to get quality shots, have to make some three's, get the ball inside more to Landry. I thought we missed him four or five times in the Wake Forest game when I went back and looked at the film."
Clemson found a spark with junior Jordan Roper

Jordan Roper
Jr. Guard
#20 6-0, 165
Columbia, SC
View Full Profile in the starting lineup in Clemson's last game. Roper had 12 points in the Tigers last second victory over the Demon Deacons and Brownell said that he expects the Columbia native to get the start Wednesday night, as well.
"Probably. We'll see after one more day today. In all likelihood, yes," Brownell said. "I think he had good energy in the game and his ability to move around is really helpful. D-Marc ( Damarcus Harrison

Damarcus Harrison
Sr. Guard
#21 6-4, 205
Greenwood, SC
View Full Profile ) has had a little bit of an ankle that's bothered him a little bit. He got kicked in the shin and that really bothered him yesterday in practice. I hope Jordan is in a little bit better place. Hopefully he can run around and make some shots. I think he's doing some good things in practice, probably more so than what I actually see in games. I thought he was a really good spark in the game against Wake on Saturday."
Clemson has been bothered by untimely turnovers and a lack of offensive production but a major cause for concern was the Tigers 31-of-58 (53.4-percent) effort from the free throw line. However, Brownell said that he doesn't want to compound the frustration by placing too much of an emphasis on the lack of consistency from the free throw line.
"For whatever reason, we're in a free throw hole right now in terms of not shooting free throws well," Brownell said. "We've shot them reasonably well at times this year but we had a bad week. It's one of those topics that you're a little scared to talk too much about with your team but we're certainly working on it and talking with a few guys about a few things. You don't want to make it bigger than it is because I think if you make it bigger than it is it becomes even worse. I'm a little worried about that right now - it just being in a couple of guys' heads. We've just got to get up there and shoot them. "