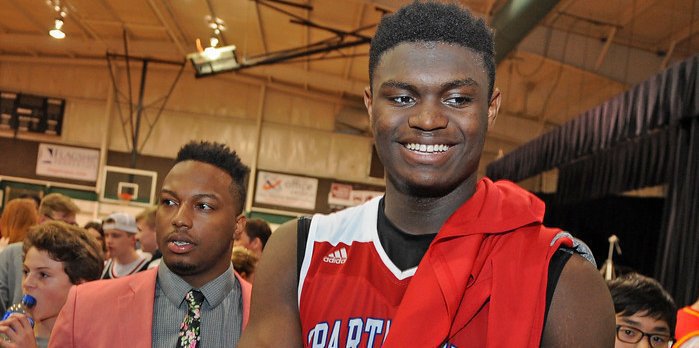 | | |
| --- | --- |
| The Zion Williamson Show: Elite talent breaks down Clemson, recruitment | |
---
| | | |
| --- | --- | --- |
| Wednesday, January 25, 2017, 8:01 AM | | |
Hundreds of people wanting to get a glimpse of 5-star 2018 prospect Zion Williamson were turned away the door two hours before the game started, and Greenville County deputies had to tell others that tried to sneak their way into the Shannon Forest gymnasium to disperse and go home.
University of North Carolina head coach Roy Williams tried to sneak in the door ten minutes before first tip, and even Williams had to take a seat in auxiliary seating against the wall beside the door.
It was that kind of night at Greenville's Shannon Forest Christian School as hundreds packed into the gymnasium to catch a glimpse of the nation's second-ranked player according to Rivals. Williamson, out of Spartanburg (SC) Spartanburg Day, didn't disappoint the crowd.
Williamson scored 41 points and elicited the proper amount of oohs and ahhs as Spartanburg Day rolled to an easy victory, and he faced a line of about 80 people after the game that wanted a chance at an autograph and a picture.
Just another night for a junior who has over 100,000 followers on Instagram and has seen the rapper Drake take a photo wearing a Williamson jersey.
"I love it. My favorite part of it is that I get to share it with my teammates and bring them to them spotlight," Williamson told TigerNet after the game. "They support me like my brothers. We treat each other like brothers. If something happens, they always tell me congratulations and if anything happens for them I always tell them congratulations. If something happens, it happens and we just move on to the next thing."
Williamson said he wasn't fazed by seeing Williams in the crowd.
"It doesn't change anything, but I do like that he's coming to watch me," he said. "Anytime I go out on there on the court, I'm going to kill and play my game. But I also love to see my teammates have success. I love to make that pass and see them more than I love to score."
Williamson said the attention had changed his life.
"It's changed really fast. I've gotten a lot of attention to where I can't go out into public anymore without someone wanting a picture with me," he said. "I just embrace it. My teammates and my family help me get through it. With the Drake thing, I just woke up and said, 'This is my favorite rapper wearing my jersey.' It's just keeps surprising me."
The 6-6, 230-pounder has dozens of offers, including North Carolina, Duke, and Kansas, but said he isn't favoring any school at this point. That means in-state schools Clemson and South Carolina are still in the mix.
"I'm wide open with my recruitment, but staying in state, I do keep that mind," he said. "Nobody wants to leave home. I love the state of South Carolina and if Clemson or South Carolina fits me, then I'll go to one of those schools."
Williamson's father, Lee Anderson, played at Clemson from 1976-78, so he's been around the Clemson program. He said he loves Clemson's revamped basketball facilities and has built a strong relationship with the Tigers' coaching staff.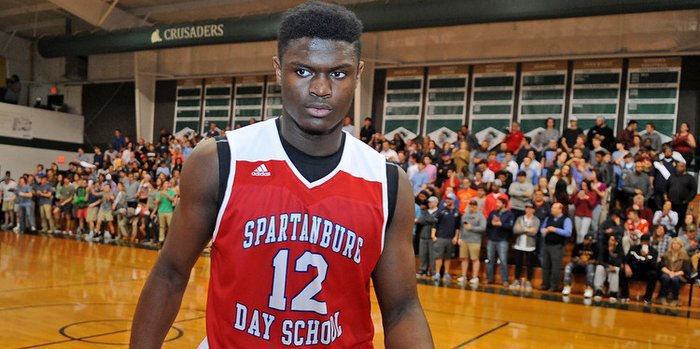 "We have a really good relationship. I've built a strong relationship with the assistant coach (Steve) Smith and I feel like we have a strong relationship," he said. "I like how when I go up there they always introduce me to people outside of basketball, like the president, teachers. They show me from a student's perspective how it would be."
Williamson conducts his interviews with a shy smile and was humble when asked to stay and take pictures with his admirers.
"It's shocking at first to see a number of people who stay after just to get a picture, but they came to my game so the least I can do is get a picture with them," Williamson said. "It's not going to bother me."
The large crowds that follow Williamson around the Upstate bring back memories of Kevin Garnett's time at Mauldin High School, and Williamson said he is honored to be mentioned in the same breath as the NBA great.
"I've never talked to him, but people like Kevin Garnett paved the way for players like me to come through," he said. "I've talked to Dwight Howard, James Harden. They told me to stay locked in and keep working hard and everything will work out. It's amazing that NBA players even know my name."