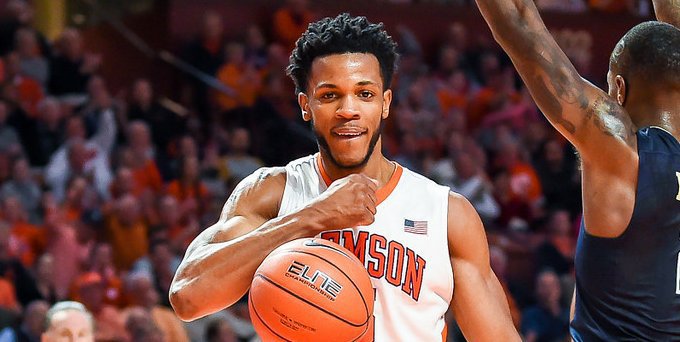 | | |
| --- | --- |
| Jaron Blossomgame: Will he stay, or go? | |
---
| | | |
| --- | --- | --- |
| Thursday, May 5, 2016, 3:51 PM | | |
Jaron Blossomgame has three weeks until he must make one of the biggest decisions of his life. Does he take a chance as an underclassman and jump to the NBA or does he come back to school and improve his stock during his senior season?
Clemson's junior forward doesn't know which way he's leaning, but he does know one thing: he will follow his heart and whatever he decides he'll give it his all.
TigerNet caught up with Blossomgame – who is currently in Utah – Wednesday evening to see where things stand with just 20 days left until decision day and he said that right now he's not leaning one way or the other.
"Honestly, I don't know right now. Obviously, playing in the NBA has been my goal ever since I was a little kid," Blossomgame told TigerNet. "I've been blessed to have this opportunity right now, but there is a right time to do this whether it's this year or next year. I'm just going through the process and taking it day by day. I'm doing these workouts with these teams and I'm going to go to the Combine and get the best, most accurate feedback I can from all of this and then make a decision come May 25th."
However, he has a plan already in place for when the time comes.
"Ideally, anywhere in the first round, whether that's 20-30 or 25-30, is an automatic go because that's the first round," Blossomgame said. "I guess a range where I would have to make a decision is 25-40. I would have to think about that and sit down with my family and sit down with the people who are going to help me make this decision. Anything past that, 40-60, I'm coming back to school. 25-40, I'll make a decision."
Blossomgame is receiving a lot of advice from various people, but he told TigerNet the best he's been given came from former Clemson forward K.J. McDaniel, who faced a similar decision not too long ago.
"I talked to K.J. about a month ago now. I told him my situation, and he was aware of it. He said, 'Congratulations,' and then I asked him what he thought I should do," Blossomgame said of his conversation with McDaniels. "He basically told me that if I feel like I'm ready in my heart then it's time to make that jump, but if I have any doubts or anything, then I should come back. At the end of the day, he said it's all my decision and how I feel in my heart. It doesn't matter what anyone else tells me or how other people feel. I have to make a decision that's best for myself."
The Georgia native received news Wednesday evening that he had been invited the NBA Combine and he said he's going to use the opportunity to prove how valuable he can be to any organization.
"It definitely helps because I only have a certain amount of time that I can get these workouts in, so that means that I'll only be able to work out for six or seven or eight teams, max, without the Combine," he said. "The Combine is giving me another chance for all of the teams there to be able to see me. They'll see me play. I'll participate in every event - the 5-on-5, the physical measurement, shooting drills, interviews.
"I feel like I'm very underrated. People don't understand or see how good I am, so I want to go up there and prove that I can play at the highest level and that I can produce at the highest level, even among the best players."
Whether Blossomgame chooses to turn professional or return for his senior season, he said, for now, he's just enjoying the ride.
"It's been good but it's been stressful managing school and all of the travel, but I love playing basketball," he said. "It's been my lifelong dream. It's just fun, so I have to enjoy every moment of it right now."
First one is in the books #Jazz pic.twitter.com/sRSmS00OtU

— Jaron Blossomgame (@JaronBgame) May 5, 2016
Other Notes
Balancing school and workouts
"School, honestly, it's been tough. We did finish up last week, but all throughout the pre-draft process where I was doing workouts in Atlanta and Indiana, it was very tough keeping up with school. I had class on Tuesday and Thursday, so I got a lot of my academics moved to Tuesday, Wednesday and Thursday so I could leave on Thursday afternoon and be gone until Monday afternoon to go workout in Atlanta and Indiana. It was tough to stay on top of everything. I had to make sure I knew when assignments were due. Leslie, our advisor, did a good job of reminding me when things would be due. I didn't get behind on academics. I passed all of my classes this semester, and I only have one more to take in summer one to graduate, so I'll be graduating pretty soon."
Brad Brownell's help throughout the process
"Coach Brownell, he's been really good throughout this whole process. Me and him text back and forth. Whenever I'm on campus, he'll call me into his office and we'll sit down and talk about everything. He's been really good. I wasn't expecting that early on in this process."
Travel schedule
"Right now, I'm currently in Utah. I work out with the Utah Jazz tomorrow morning and I'll fly from Utah to Boston tomorrow and work out with the Celtics on Saturday. Then, I'll be working out in Atlanta on May 9th with Cleveland. The Combine is the 10th through the 15th, and then I'll work out with either Memphis or Chicago on the 16th. Then the Clippers on the 18th and the Lakers on the 19th."