| | |
| --- | --- |
| Heart to heart with Brownell leads to Roper's resurgence | |
---
| | |
| --- | --- |
| Monday, February 2, 2015 5:18 PM | |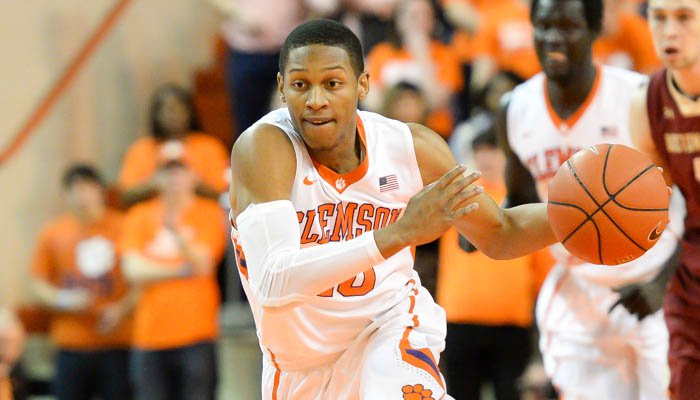 CLEMSON – Jordan Roper

Jordan Roper
Jr. Guard
#20 6-0, 165
Columbia, SC
View Full Profile 's recent success may come as a surprise to Clemson fans, but his resurgence and newfound confidence don't come as a surprise to his coaches and teammates.
The junior guard has started the last three games and has given Clemson's offense a spark - he has scored 54 points during the three game stretch, including Clemson's first 11 in Saturday's 64-49 victory over Boston College.
Prior to the three game stretch that has seen Roper start all three games, the Columbia native was averaging just 4.2 points per game coming off the bench. Head coach Brad Brownell

Brad Brownell
Head Coach
View Full Profile said that something needed to change before Roper would get another opportunity.
"Guys are a little more fragile sometimes than people understand," Brownell said in his postgame press conference Saturday afternoon. "They're under a pretty good microscope. They know when they're not playing well. They get asked about it and social media can be harsh. When you're not playing well, you lose some confidence and sometimes is hard to get that back. I thought Jordan Roper had a long stretch where he just didn't seem right.
"We thought it would come but he wasn't handling some of his failure really well and he needed to be sat down. He didn't really need to keep getting opportunities because he wasn't competing the way he needed to compete."
Brownell said that he and assistant coach Richie Riley

Richie Riley
Assistant Coach
View Full Profile sat Roper down for a heart-to-heart in hopes that Roper could move past his troubles.
"He and I had a long talk with Coach Riley," Brownell said. "It was probably an hour-and-a-half conversation. I don't even know when it was, probably three weeks to a month ago. Jordan has responded well from it. I think he's focused on talking a little more, competing a little more, trying to throw himself into the team and let his good play come when it comes."
Roper said that Brownell's challenge was for him to become that team leader during practice and games and to become more vocal on and off the court.
"He just wanted me to play – whether it was coming off of the bench or starting – with more energy, effort and enthusiasm," Roper said after Saturday's game. "If you've ever seen our shirts they say E3 and that's what it stands for. He wanted me to be more active. I'm one of the older guys on the team and he wants me to talk and say what I want them to do on the offensive and defensive end.
"I think it's just being more vocal on the court, whether it be in practice or on defense. Just say what I think. I've been here for a while so I know what he wants and what he's expecting. I'm trying to do that every day."
Since Roper's meeting with the coaches, he's been more active on the court and has given Clemson life from behind the are and scoring points in bunches. Brownell said the change has been evident in more ways than one.
"He has since changed a little bit and he's got a burst to his step," Brownell said. "His speed is helpful. When he's playing like that, it changes us to have another player running around on offense that can make some shots. It puts pressure on the other team's defense."