| | |
| --- | --- |
| The Meeting: Dabo introduces Monte to Clemson | |
---
| | |
| --- | --- |
| Thursday, July 9, 2015 8:01 AM | |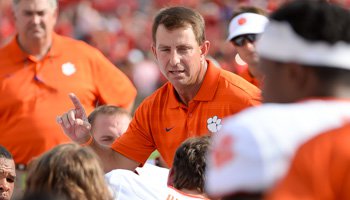 CLEMSON – Monte Lee

Monte Lee
Baseball Head Coach
View Full Profile walked into his introductory press conference in the team room at the WestZone last month and owned the stage, drawing comparisons to the coach that holds his own weekly and postgame press conferences: Dabo Swinney

Dabo Swinney
Head Coach
View Full Profile .
The comparisons didn't end there as many in the media said that Lee – like Swinney – has the IT factor, that undeniable charismatic quality and force of personality that has been a contributing factor in Clemson's football success.
It didn't take Lee – named as the head baseball coach at Clemson in June – long to find that out first hand when Swinney invited Clemson's newest head coach for a sit down meeting in his office.
"Dabo spent about an hour with me when I first got here," Lee told TigerNet last week. "Just sat down with me and took time out of his day to sit down with me and show me some things that they've done and what's important to him. He has called me and texted me a couple of times, and he's gone out of his way in just the few weeks I have been here to reach out to me and welcome me to Clemson."
I asked Lee if he could apply Clemson's football success as a means to helping out his own recruiting, and he said yes.
"I am going to utilize him. They have a lot on their plate at all times, and when our evaluation period ends - we are in the height of the evaluation period right now - but when we can get a little bit closer to the school year I want to find a way to sit down with him and some of his coaches and learn," Lee said of Swinney. "I want to know, 'What are some of the things you guys sell to recruits? What are the things you do with your team that you think are very beneficial?' He is definitely a tool you want to use."
Lee said he came away from the short meeting with Swinney impressed.
"I was blown away by him. I really was. In the hour or so I got to spend with him 1-on-1, I was blown away by his passion for what he does," Lee said. "I was blown away by his organization and I was blown away by his level of detail into how he does things. He is extremely impressive. I left out of there and told a couple of folks after that I don't know if I've ever met someone in the coaching ranks that is more impressive in a hour's time. I was really, really impressed at how important family is to him and how important his coaching staff is to him and I was pretty floored by him."
Swinney has often said that Clemson is the place he wants to be for the remainder of his career, and Lee echoed those comments in saying he hopes Clemson is his last job.
"I am not just saying this, but it does not get any better for me. This is THE best opportunity of my life professionally," Lee said. "I want to do everything I can every single day to do the best job I can for Clemson for giving me this opportunity. This is THE final job for me. I hope to be here for the rest of my career. I hope to do a good enough job at Clemson to where I can stay here for the rest of my career. Because I will never think about being anywhere else or coaching anywhere else.
"This is IT for me. To be in a position to have a job like that, I don't know if I can put into words the amount of gratitude I have for this opportunity. I am blown away every day that I can't believe I am the head coach at Clemson. It's very humbling. I feel like I am kind of a regular guy and to get this kind of opportunity - it truly is the opportunity of a lifetime. I am going to do everything I can to do the best job that I can for the school, the athletic department, the kids that are here and the fans. I just want to give them my best every single day for the rest of my career."