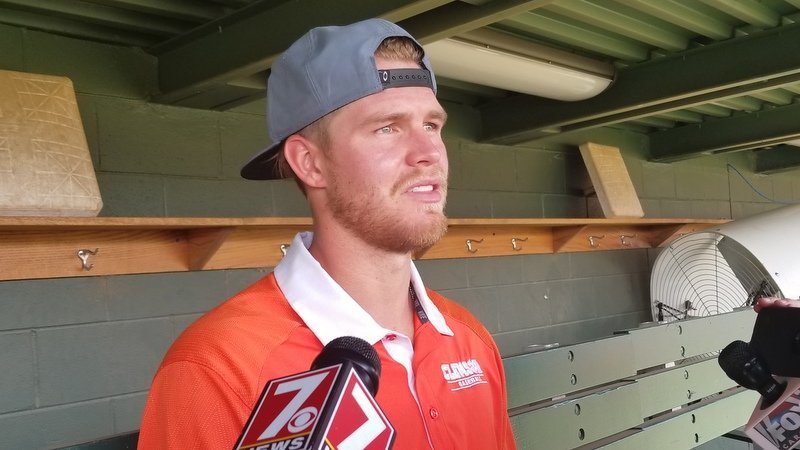 | | |
| --- | --- |
| Seth Beer in a Texas state of mind after message from Nuk Hopkins | |
---
| | | |
| --- | --- | --- |
| Friday, June 8, 2018, 3:49 PM | | |
CLEMSON – Seth Beer watched the Houston Astros clinch the World Series over Los Angeles last fall and let his mind wander. What if he could play in a World Series? What if it was with the Astros? Big dreams for a player who has never even set foot in the state of Texas.
Those dreams are one step closer to becoming a reality for Beer when he was chosen in the first round of this week's MLB Draft by the Astros. Taken with the 28th overall pick, Beer will begin his professional career soon, less than a week after he finished his record-breaking college career with a disappointing loss to Vanderbilt in the Clemson Regional.
"It's something you dream about as a kid. Growing up, that's the kind of stuff that drives me every day," Beer said Tuesday. "To see my family there with me to experience it was just something I'll cherish for the rest of my life."
The No. 28 overall pick in this year's draft has a slot value of approximately $2.4 million. That represents an estimated signing bonus that could end up being higher or lower. Beer can return to Clemson for a senior season, but everyone knows he's played his last game in a Clemson uniform.
"It's almost like it was the ending of something incredible and special in aspects that I can't describe. This is a place I love. This is a place I poured my heart and soul into when it came to on the field, and I knew my teammates did too. That's why it really hurt when they finally had to tell us we can't play anymore this season. It's done," Beer said. "That's a dagger to the heart. That hurts.
"But I think right when I was walking back to the dugout for the last time, and my teammates were pouring out of the dugout to give me hugs, I was just like this is a brotherhood for life. And I'm going to remember every single one of those guys and everything that we've experienced together. I'm just so happy and blessed to be able to come through Clemson during this time."
Beer admitted to the media that he's never been to Texas, but Houston is a city that is now home to former Clemson greats Deshaun Watson and DeAndre Hopkins, who both play for the Houston Texans. Hopkins immediately reached out to Beer via Twitter.
"It was really cool … I'm like, 'Wow. I feel like a little fan girl again' … telling my dad, who loves football, and he's like, 'Really? You have his number?' I was like 'Nah, you can't have it dad,' " Beer said, laughing. "(Hopkins) was just like 'Congratulations,' and he said 'When you do get here and we're talking, make sure to reach out to me.' And I said 'Of course and thanks for all the support.' He's a great guy."
When the pick was made, Beer thought back to last year's World Series.
"Once I heard my name, being told that I was going to go there, I was just thinking about those games and going 'Wow, what would it be like to play with some of those great players?' " Beer said. "Obviously, right now their track record is incredible when it comes to what they're doing and they're a great group of respectable gentlemen when it comes to how they go about their business. ... I really feel like this is a great fit."