| | |
| --- | --- |
| No Competition: Tigers doing work in the Palmetto State | |
---
| | |
| --- | --- |
| Thursday, July 9, 2015 4:32 PM | |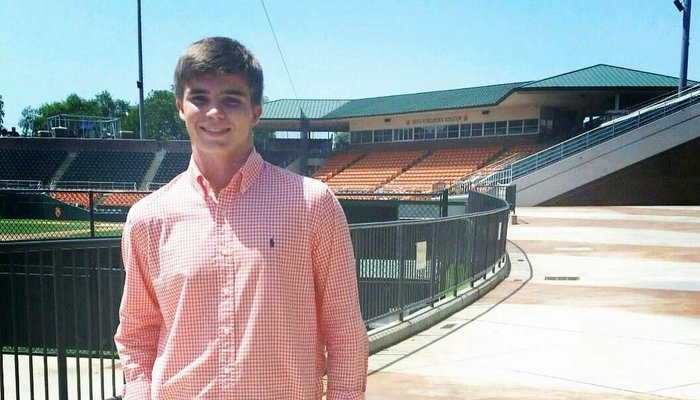 Monte Lee

Monte Lee
Baseball Head Coach
View Full Profile and Bradley LeCroy

Bradley LeCroy
Assistant Head
View Full Profile are doing work in the state of South Carolina and on Thursday took another prospect away from their in-state rivals.
Clemson's new head coach picked up the ninth commitment since taking over in June when pitcher Owen Griffith of Aiken (SC) South Aiken gave his verbal to the Clemson coaches.
Griffith had offers from Coastal Carolina, South Carolina, Winthrop, The Citadel and College of Charleston but decided Clemson was the best fit for his talents and he becomes the fourth player from the Palmetto State to commit to Clemson in recent days.
He also said the Tigers now boast the best facilities in the state when telling why he chose the Tigers
"Clemson's environment. It's a college town. It will give you the best college experience," Griffith said. "It has the best facilities in the state. There's no competition when it comes to Clemson in the state of South Carolina."
Griffith was originally committed elsewhere as a catcher, but began pitching earlier this year and his low 90's fastball caught the eye of Lee.
"I was formerly committed to a Division II college in Aiken to catch," he said. "I didn't really start pitching until April and it kind of took off. Monte Lee was interested in me when he was at the College of Charleston and then he went to Clemson and he became more interested in me because my pitching got better. I went on a visit to Clemson today and I was blown away by the campus and the town of Clemson and I decided that I didn't want to go anywhere else but Clemson to play baseball."
Griffith said he was excited to be a part of Lee's first recruiting class.
"I think he's bringing in a great group of kids. We're his first class and we've got set the bar," he said. "I think the class that he's bringing in and the group of kids that he's bringing in, we're going to do big things in the future. The program is heading up for sure."
Griffith said the plan is for him to become a starting pitcher as a Tiger, and as a former catcher he knows the importance of throwing strikes.
"My strength is that I throw lots of strikes. My fast ball is in the high 80s and low 90s," he said. "I pound the inside and outside corner. My curve ball is from 76 to 78 miles per hour. Change up is about 74 miles per hour. I've got three pitches. I'm fairly new to this pitching stuff, so I'm still kind of getting the hang of it but I'm excited to see what the future holds for me at Clemson."