| | |
| --- | --- |
| Clemson's Robert Jolly plays on while remembering sick aunt | |
---
| | |
| --- | --- |
| Wednesday, May 27, 2015 3:02 PM | |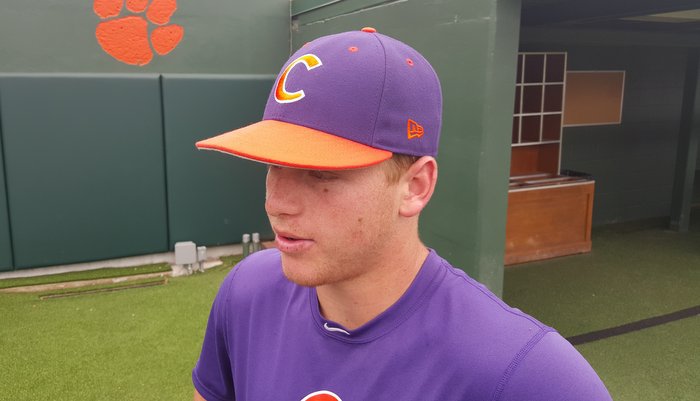 CLEMSON – Robert Jolly

Robert Jolly
Fr. Catcher
#12 5-9, 195
Myrtle Beach, SC
View Full Profile has proven this season that he's a warrior, battling his way into the starting lineup for the Clemson baseball team, but for now he represents a different kind of fight.
A fight for life and a battle against a terrible disease.
The freshman catcher and Myrtle Beach native has started 10 games – mostly in the designated hitter spot – including Clemson's three games in last week's ACC Tournament. Jolly is 17-for-50 (.340) with three doubles, seven RBIs, 11 runs and a .411 on-base percentage in 23 games.
During telecasts of the tourney in Durham last week, one of Jolly's sweatbands was emblazoned with the word "Tracy" written out in ink, and Jolly told TigerNet this week that he is trying to keep a sick family member close to his thoughts while he plays the game he loves.
"Tracy is my aunt who lives in New York. She is my dad's brother's wife," Jolly told TigerNet Monday afternoon. "Two days before the ACC Tournament she was diagnosed with leukemia. The whole week of the ACC Tourney she was starting her chemo, which started Monday. She was going through seven serious days of chemo all of the time. We're pretty close with them and I felt like I wanted to show her some love and tell her that I'm praying for her the whole time I'm playing. I wanted encourage her to keep fighting and for her to know that I'm playing my hardest for her because I know she's going through a tough time."
While Jolly has fought a different kind of battle, he said he wants his aunt to know that he will give his all on the field if she gives it her all while she is undergoing treatments.
"She's struggling a little bit. I've been keeping up with her. How I play doesn't really have anything to do with it," Jolly said. "I'm just trying to show her that I'm there for her and that I'm playing for her, because she's going through a tough time while I get to play baseball - a game. I want to show her that I'm thinking about her no matter what and that if she's going to fight her hardest, I'm going to fight my hardest on the field no matter which way it goes. I'm going to keep it up and wear the wristband for her, just to show her that if she keeps fighting, I'm going to keep fighting with her."
The 5-9, 195-pounder didn't get his chance in the everyday lineup until second baseman Chase Pinder

Chase Pinder
Fr. Infielder
#5 5-10, 175
Poquoson, VA
View Full Profile

Chase Pinder
Infielder
# 6-0, 165
Poquoson, VA
View Full Profile went down with an injury, but he said he thinks he proved to the coaches what he was capable of during his time as a pinch hitter.
"I waited for my opportunity. Chase Pinder did his job phenomenally and unfortunately his injury is what allowed me to get into the lineup," he said. "I just try to make the most of my opportunities, especially just pinch hitting early in the year. Once I got my shot as a starter, I wanted to show that my pinch hits weren't a fluke and that I could really hit the baseball. That's what I pride myself on. I just try to make the most of my opportunities every single time. Being in the starting lineup, I'll get more than one at bat each game and I'm just trying to keep progressing with each at bat. I'm just trying to help the team win at all cost."
Jolly has proven he belongs in a dangerous offensive lineup and as the team heads to California for the Cal State Fullerton Regional, the Tigers must prove they belong in the postseason.
"I fought my hardest to get into the lineup. There are always thoughts about when you get your shot," he said. "I always had thoughts that this team would make a regional. We have a really good lineup. We have two really good starting pitchers and we're playing well."