| | |
| --- | --- |
| Clemson-South Carolina rivalry? Monte Lee gets it | |
---
| | |
| --- | --- |
| Monday, June 22, 2015 3:41 PM | |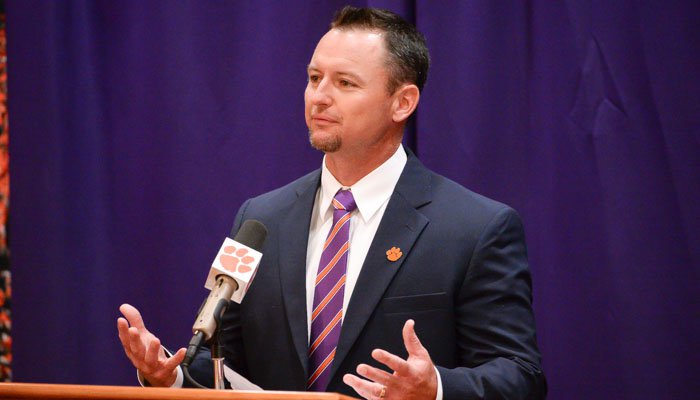 CLEMSON – Monte Lee

Monte Lee
Baseball Head Coach
View Full Profile made it clear to anyone who would listen Monday afternoon: He understands the dynamic of Clemson vs. South Carolina, and he understands the rivalry and that should make upcoming baseball games between the rivals even more intense.
Lee was introduced as Clemson's head baseball coach Monday in the team room at the WestZone, and he was asked his thoughts on the rivalry. Prior to Clemson taking two of three this season, South Carolina had won 23 of the previous 31 games and seven of eight. There were also streaks of four straight, 10-of-12 and 13-of-16. Included in that total were two wins over the Tigers in Omaha in the 2010 College World Series as the Gamecocks were winning back-to-back national championships.
The foundation of those championship teams at South Carolina was started with the help of Lee, who was an assistant coach under then-head coach Ray Tanner from 2003-08, eventually working his way up to recruiting coordinator.
TigerNet asked Lee if being a part of the rivalry – even from the other dugout – will help him at Clemson and he said yes.
"I think it helps me tremendously in this job, because I've been a part of the rivalry," Lee said. "I'm from South Carolina and I also coached at South Carolina, so I know what it's like in the dugout with this rivalry. I think it will help me tremendously, but I also understand that we have to play 56 games, too. That weekend is going to be big and it's one that we're going to embrace and be excited about."
Lee has a reputation as a strong recruiter - especially within the state of South Carolina – and he said he will scour not only South Carolina but the nation for the best talent.
"The one thing I bring to the table right away is I have relationships across this state that I believe are second to none. I can reach out to all the different pockets in this state," he said. "I have strong connections in every area. I know Bradley LeCroy

Bradley LeCroy
Assistant Head
View Full Profile , my assistant, has strong connections in this state as well. We'll be able to find the best and the brightest players in this state and hit the ground running. But that doesn't mean necessarily that we won't go outside this state. We'll go into the state of Georgia, Florida, the whole East Coast, the Midwest, the West Coast. We're going to go wherever we have to go to find the best players to fit our program."
Lee was born in Spartanburg and started his coaching at Spartanburg Methodist and he says he understands how important college baseball is in the state.
"Growing up in South Carolina, we don't have professional sports. College baseball is huge in this state," Lee said. "When you grow up in South Carolina like I have, you're on one side of the fence or the other. This rivalry is second to none in college baseball. And I can tell you this: we are going to do our best here at Clemson to recruit the kind of kids that can knock down that fence to play for us. The kids of South Carolina will be our utmost priority. We will recruit this state inside and out. But we will also recruit nationally. We will go to all parts of this country to recruit the best and brightest student-athletes we can find, because the Clemson brand is nationwide."
Clemson's newest head coach says he is friends with South Carolina head coach Chad Holbrook, who arrived in Columbia the season after Lee left for the job at his alma mater in Charleston. That familiarity is already fanning the embers of what should be an intense rivalry.
"It's going to be one of respect. We respect each other," Lee said of Holbrook. "We have a relationship with each other, but when it comes to recruiting and coaching against each other, we're going to get after each other extremely hard."