| | |
| --- | --- |
| Timothy working hard to make sure 2012 doesn't repeat 2008 | |
---
| | |
| --- | --- |
| Sunday, April 22, 2012, 5:43 PM | |
CLEMSON – Gifford Timothy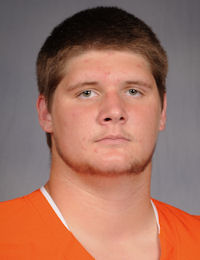 Gifford Timothy
RS Fr. Offensive Tackle
#70 6-6, 315
Middletown, DE
View Full Profile played his high school football in Middletown, Delaware, but that doesn't mean he didn't follow Clemson football before his commitment.
In fact, he knows much of the history of the Tiger program, including why Clemson fans tread cautiously and temper their expectations when talking about the 2012 season and the season opener against Auburn in the Georgia Dome.
The Tigers entered the 2008 season with a top 10 national ranking and opened against Alabama in – yes – the Georgia Dome, only to be embarrassed in front of a national television audience in a game that was in many ways the beginning of the end for head coach Tommy Bowden. The one real question mark for that team was an inexperienced offensive line, a line that was dominated not only by the Crimson Tide but would prove to be problematic all season.
Clemson enters 2012 as the defending ACC champs, and a bevy of skill players will go only as far as a line that will feature three new starters will take them. One of those new starters is Timothy, the rising redshirt sophomore who only played 45 snaps over seven games in 2011 as the backup to right tackle Landon Walker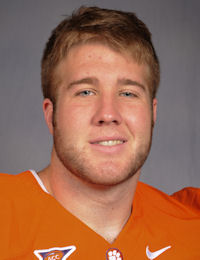 Landon Walker
Gr. Offensive Tackle
#72 6-6, 305
North Wilkesboro, NC
View Full Profile .
Timothy has played well this spring, and I asked him last week if he has thought that his first career start - should he hold onto the starting job - will be in the Dome.
"It is in the back of my mind. I think about it every day," Timothy said. "I have been using that as motivation all through camp, and that keeps me from getting complacent. This will hopefully be my first real start, and I can prepare myself for that game."
He said that he can offer Clemson fans – who might think this could be a replay of 2008 - some solace, however.
"I know about that game, but this is a different offense, a different coordinator and a different coaching staff," he said. "I am not saying that was a bad coaching staff, but things are very different now. Our tempo is so fast, and we come off the ball quick. That keeps the defense on their heels and we can keep the speed of the game up and we can keep an edge on them. I think this is just a different situation now."
Timothy has drawn positive reviews from both Clemson head coach Dabo Swinney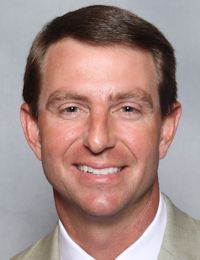 Dabo Swinney
Head Coach
View Full Profile and offensive coordinator Chad Morris, and he said he feels "good" about his progress.
"I definitely feel good about my progress this spring," he said. "Going against Malliciah Goodman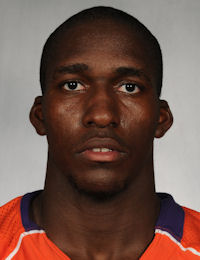 Malliciah Goodman
Jr. Defensive End
#97 6-4, 280
Florence, SC
View Full Profile every day this spring has been a huge blessing and a hard task at the same time. But I am really glad that I get to go against someone as good as he is every day in practice. He is someone that pushes me to get better every day."
Midway through spring camp, Morris said that Timothy showed flashes of being a consistent player, but compared him to a sparkler that quickly fizzles out. Timothy said he took the criticism to heart and has worked to become more of a steady player.
"I believe I have reached some of that consistency he wanted," he said. "Every time Coach Morris or Coach [Robbie] Caldwell have talked to me about my play, they find something I need to work on every day. Something that I can fix and work on to get better, and I take that and work on it. It's all about getting better every day."
Part of that has been making he sure he knows the playbook.
"I feel like I am getting the playbook down pretty well," he said. "Just being here last spring when we were doing the installs was a big help. It was all brand new then, but I was more worried about what I was doing instead of just playing football. But now that I have a full season and a spring and now another spring under my belt, I have gotten everything down mentally and it's second nature to me and I can just play football."
In fact, he has helped new right guard Tyler Shatley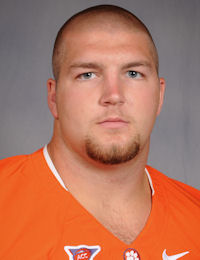 Tyler Shatley
RS So. Offensive Line
#43 6-3, 295
Icard, NC
View Full Profile adjust to playing on the opposite side of the line after Shatley played defensive line last season.
"Actually, he has done really well," he said. "He has Dalton [Freeman] or me on either side of him, and we can talk it out before the play is set. He has learned it so quick, and he is a really bright guy. I am kind of surprised at how quick he has caught on. But I am not surprised at how physical he has been. He is as strong as can be, so I am not surprised about that. He definitely gets a good push off the line and smacks some heads around."
Timothy said he wants to use the summer to get even better.
"I feel like I can only get better but if I don't keep working hard I can lose the job. Joe [Gore] is coming along and he is getting better. It is good that he can push me like that, and it keeps me working hard. And it makes us both better. Footwork and strength are the two areas I really need to concentrate on this summer. I feel like my foot quickness needs to get better so I can backpedal faster, and my strength needs to get better so I can have a better punch. I want to come off the ball with a little more authority."