| | |
| --- | --- |
| Tigers taking their talent to South Beach | |
---
| | |
| --- | --- |
| Tuesday, October 20, 2015 1:10 PM | |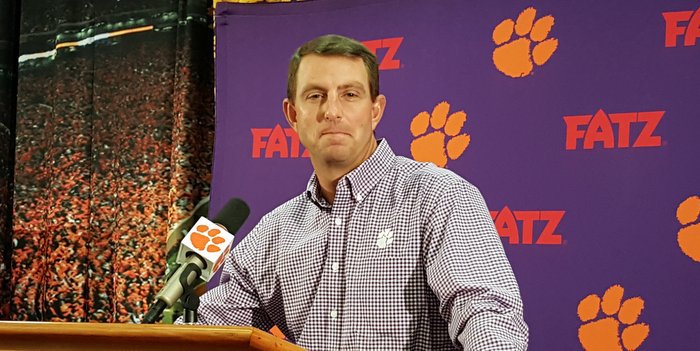 CLEMSON – Every week presents a new challenge for the Clemson football team, and this week just so happens to be traveling to sunny South Beach for a noon matchup with the Miami Hurricanes.
The Tigers have played their last three games – and five of the first six – in the friendly confines of Death Valley. Clemson head coach Dabo Swinney

Dabo Swinney
Head Coach
View Full Profile has made it obvious that he enjoys playing on the road in hostile environments and told the media during his weekly press conference that the road trip is simply the next challenge on the schedule.
"I like going on the road. I think our guys are excited about getting back out on the road," Swinney said Tuesday in the WestZone. "It's just part of the process you go through each and every year. I wish they'd let us play all of our games at home, but it doesn't work that way. You look forward to each and every game and the challenge that each and every game brings. The challenge this week is we're playing a great team at their place. How awesome is it to be able to load up and go down to South Beach and play at a place where the College Football Playoff is going to be held, play at a place where that we played at the Orange Bowl. Our guys like being down there. We've got a bunch of guys from Florida getting a chance to go home to their home state and play, so it's exciting."
Miami's Sun Life Stadium isn't known to hostile on most Saturday, but Swinney said the crowd – or lack thereof – won't matter when Clemson takes the field.
"It ain't got anything to do with us," Swinney said of Miami's home crowd. "Whether there is 100,000 people or 100 we're going to play to a standard. We don't play to a crowd. We play to a standard and that's just the bottom line. None of the rest of it matters."
Clemson has several players from the state of Florida, and Swinney said the entire team is excited about playing in the Sunshine State.
"We're excited about playing Miami. We're excited abou taking our talents to South Beach to see if we can play our best game in this one-game season that we've got against the Hurricanes," he said. "Miami is a really talented football team. They're an improving team and it's easy to see if you watch their games from the beginning to end in sequence. It's just very obvious to see that their confidence has grown and they are improving. I think that they've figured some things out personnel-wise. They have people in the right places and they're playing their best football of the season. That's what good teams do, they get better as the year goes, and that's what I see in Miami."
Remembering Clemson's dramatic win over Miami in 2009
"One of the best. Just an awesome night. A lot of playmakers on that field. They were top 10 in the country. I think that was our first top 10 win, just coming out of the gate that first year. If you o back and look at that game, there were a lot of NFL guys on both sides, especially those guys down there. It was an electric night. I'll never forget that kick return by C.J. Spiller

C.J. Spiller
Pro Running Back
#28 5-11, 195
Lake Butler, FL
View Full Profile , the wheel route by Spiller - two huge plays for touchdowns. The overtime play to Jacoby was great and the throw by Kyle Parker

Kyle Parker
Quarterback (2008 - 2010)
#11 6-1, 200
Jacksonville, FL
View Full Profile . It was just a great moment for our guys, especially for that team because we had gotten off to a slow start with a freshman quarterback trying to kind of figure things out then we went on to win six in a row and came back and beat Florida State. It was a fun year just getting started. For whatever reason, every time I've been down there we have been in overtime. I was down there in 2004 and 2009 and both went to overtime. It's a fun place to play. Our guys will be excited. A lot of these guys know each other. I have great respect for Al Golden and the job he has done down there. They've got a roster full of talent."
On Clemson's linebacker depth
"We want our best guys in there. They only played like 60 plays the other night. It's not like they are playing 80, 90 plays out there. I think we have done a pretty good job of getting off the field so that is the main thing there. They have done a great job. Jalen (Williams) and Kendall (Joseph) are really improving and earning more and more trust as we go. If we need them they will be ready."
Miami's run defense
"We always want to run the ball. There is no question. That's where it starts for us every week. Last week was just a philosophy of you are not going to run the ball. They can enforce that philosophy. These guys are good enough to do that and they did it versus Florida State who I think has the best running back in the country. Boston College can take the run away from you. It was a deal of this is what we got. We are going to have to make some plays and we were good enough to do that. That's the way it played out. We are either good enough or we are not. It was a very simple game. Not very complicated. Those are the easy games. You are either better than that guy or you are not. It's not a lot of deception and disguises and putting air in zones. Not a lot of that. It was a pretty simple game as far as you are going to be good enough or not. This is different as far as their style of play. They have done a good job in staying on top of things in the passing game. They got 11 interceptions. They know what they are doing.
"Maybe they have given up some things in the run but consistently moving things down the field and scoring in the red zone are two different things. Yeah we want to run the ball and hopefully we can establish some of that and the play action that comes off of that. Take what is there in the passing game, but you got to finish drives. You got to convert in the red zone. As the field gets shorter, what they are doing best right now becomes a factor. So we got a tough challenge on our hands. And those things could be misleading too. If you look at all their games, and you just really sit down and watch they have really, really improved. They did a great job against Florida State outside of about three plays and they are going against as good of a player as there is in the country in Dalvin Cook. That guy is a freak. They couldn't have done a better job. He made three plays in that game that won the game and was the difference in the game. If you just take those three plays away they did a great job versus the run. This is a very capable group that has gained confidence and has improved. I think part of it is they have so many guys to work with, I think it took them a little while to kind of figure out who their best personnel was. But I think they have got that dialed in now.
Miami's offense
"Offensively it's the best quarterback we have seen. He is smart, he is poised, he's very aware of what's going on, he has great fundamentals for the position, excellent feet. He is the guy. Their deal is they want to put the ball in his hands and he is good enough to beat you. This is a big challenge for us. Their running backs, they're very much involved in the passing game. I think (Joseph) Yearby is the third leading receiver on the team, so they do a great job of involving those guys and incorporating them into their packages. The receivers, this is the best group of receivers as a group that we have seen collectively. They will put three and four on the field who can play for anybody. And they can all run.
"They also have a trigger guy who can get them the ball. It's a really, really talented group. This will be the biggest challenge we have had from a coverage standpoint. I think every team to this point that we've played has a run first mentality. They want to come in and they want to run the football on us and set the pass up. This team wants to throw the football and I don't blame them. They have great skill outside and they've got a quarterback that's a next-level guy. It's a big challenge for our guys on the backend. They're excellent at tight end. The other thing offensively is that they're taking care of the football. They are No. 1 in the nation in turnover margin. I think they've got 11 interceptions and Brad Kaaya has thrown one, so they're doing a great job taking care of the football, so that will be a big factor in this game."