| | |
| --- | --- |
| Swinney's Wednesday morning camp session nuggets | |
---
| | |
| --- | --- |
| Wednesday, June 13, 2012, 1:43 PM | |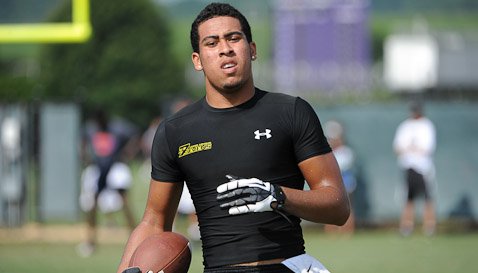 CLEMSON – The second day of Dabo Swinney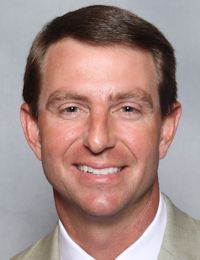 Dabo Swinney
Head Coach
View Full Profile 's summer camp got underway Wednesday morning, but the media was only allowed 30 minutes to observe so we'll make this brief.
First off, it was almost like "legacy day" out at the camp, especially with the tight ends. Former Clemson players Matt Riggs and Jim Riggs were on hand watching Zach Riggs of J.L. Mann. Zach is the son of Jim, who watched all of the proceedings with interest.
Zach certainly has the size, and word is that he might get some kind of preferred walk-on status if he doesn't get an offer. I only got to watch a few minutes of his drills, but liked the way he catches the ball and runs his routes (you can bet he's had good coaching in that regard).
Another tight end I watched was a kid out of Hammond down in Columbia. He is supposedly the son of former Clemson player Bill Smith, who played on Clemson's National Championship team. Clemson head coach Dabo Swinney wandered over to watch him work out, and said that the coaching staff really likes him. I am going to try and track down more info on him in this afternoon's workout, but from what I understand he is just a sophomore.
I also took time to watch Clemson commit Jordan Leggett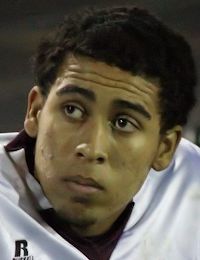 Jordan Leggett
Tight End
6-6, 235
Navarre, FL
View Full Profile , and you have to love his 6-6 frame. Someone mentioned to me yesterday that Leggett didn't look 6-6 to them, but I am a solid 6-3 and he towers over me. You have to love that in a tight end prospect, and he looks like he can add more muscle without gaining a ton of weight. In my time watching him, he didn't drop a single pass.
*Watching the tight ends also enabled me to watch offensive coordinator Chad Morris work with the quarterbacks, and especially 2014 Clemson commit DeShaun Watson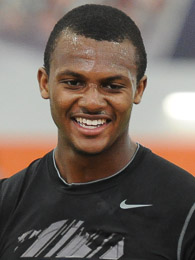 DeShaun Watson
Quarterback
6-3, 190
Gainesville, GA
View Full Profile . Watson looks like he has added a couple of inches in height since I saw him at camp last year, and her certainly has the arm strength needed to make all the throws. Morris worked with Watson on the deep ball, and you could tell Morris liked the way Watson put touch on the deep throws.
*Watching Morris also has another caveat – you get to hear some of his famous one-liners. After one particularly brutal throw over the middle that went high – very high – Morris quipped to the offending quarterback, "Son, if you throw that pass in a game, they are going to be calling his next-of-kin."
He also worked with another young quarterback on his motion, repeating the process three times, and when the quarterback finally made the correct throw with the correct motion, Morris said, "And that's why you come here."
*Clemson linebacker commit Ben Boulware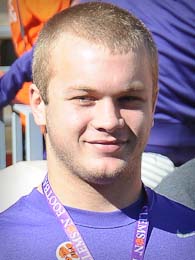 Ben Boulware
Outside Linebacker
6-1, 230
Anderson, SC
View Full Profile was on hand, but he didn't work out due to an ankle injury he suffered in spring practice. He said he is almost fully healed, and can't wait to get back into action. He said that his high school coaches allowed him to take his helmet and cleats to a recent 7-on-7 passing tourney, but didn't let him play when they arrived. You can tell he loves to compete.
*I spoke with FSU commit Joseph Yearby of Miami (FL) Central for just a quick second as we both watched potential Clemson commit Dalvin Cook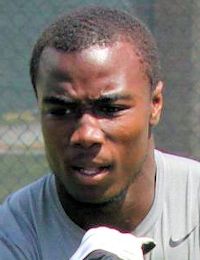 Dalvin Cook
Running Back
5-11, 190
Miami, FL
View Full Profile work out. Yearby said he and Cook are already talking trash about playing against each other collegiately.
*Speaking of talking trash, it didn't escape the notice of Clemson running back commit Wayne Gallman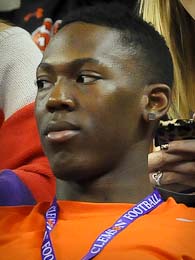 Wayne Gallman
Running Back
6-1, 195
Loganville, GA
View Full Profile that Miami Central had several players on campus. Gallman's Grayson High team plays Miami Central on the Friday night before Clemson plays Auburn (yes, I will be there), and Gallman has taken a few moments to throw some verbal jabs at his future opponents.
*Finally, the number one recruit in the nation – Gallman's teammate Robert Nkemdiche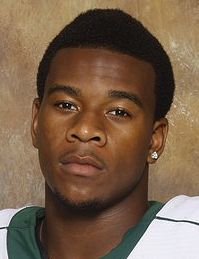 Robert Nkemdiche
Defensive End
6-5, 265
Loganville, GA
View Full Profile – is expected to be on hand for the afternoon workout, along with David Kamara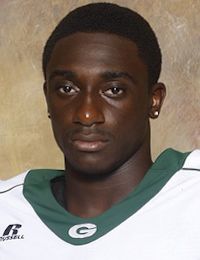 David Kamara
5-11, 185
Loganville, GA
View Full Profile , another Grayson standout. We will have plenty more later on.