| | |
| --- | --- |
| Swinney's Wednesday afternoon camp session news and notes | |
---
| | |
| --- | --- |
| Wednesday, June 13, 2012 8:07 PM | |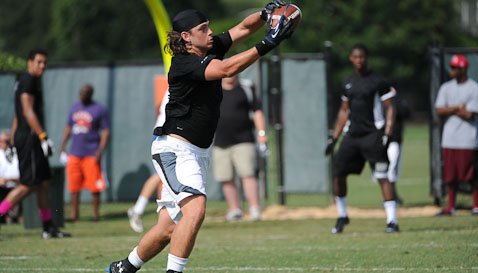 CLEMSON – The second Wednesday session of Clemson head coach Dabo Swinney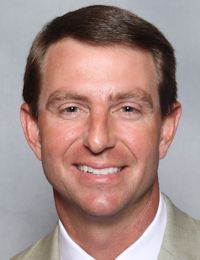 Dabo Swinney
Head Coach
View Full Profile 's camp saw the 200-plus high school players working out in hot and muggy conditions on the practice fields behind Jervey.
The heat and humidity didn't stop the activities, however, and we were able to get a look at some more of the prospects that are enrolled in this first session.
We'll start with J.L. Mann tight end Zach Riggs, the son of former Clemson great Jim Riggs. I mentioned in the earlier story today that Zach might get a look as a preferred walk-on, but after talking with Jim about his son, there might be other offers out there.
Jim said that Zach has camped at both N.C. State and Virginia Tech, and Tech might be close to an offer. Riggs said that longtime Hokie defensive coordinator Bud Foster came up to him after last week's camp and said that he sees Zach not only as a tight end, but the type of player who might eventually move to tackle. Riggs is already 6-5, 230-pounds, and definitely looks like he might get bigger. Watching him again Wednesday afternoon, I was shocked at how polished he looks despite playing organized football for just the past three seasons.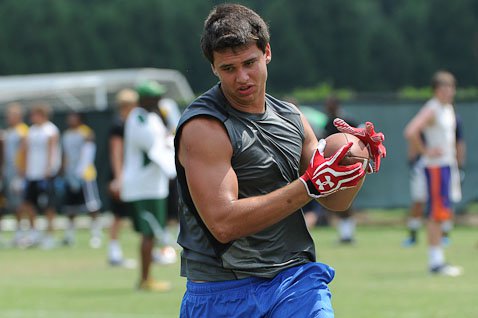 Cannon Smith
The other Clemson legacy I wrote about this morning is tight end Cannon Smith, a rising junior at Hammond in Columbia. He is the son of former Clemson defensive end Bill Smith, who played for the Tigers from 1977-81. The senior Smith was on hand to watch his son, and he said that his son – who is a solid 6-5, 230-pounder, is getting attention from schools like Appalachian St. and VMI, but he thinks that over the next year he will begin to get more attention from the bigger schools, and I know the Clemson coaching staff is actually very high on Cannon, so they will follow him closely over the next year.
*I always like to talk about a kid who is unheralded but stands out to me at these kinds of camps, and today I watched Chester defensive back Jamarcus Moore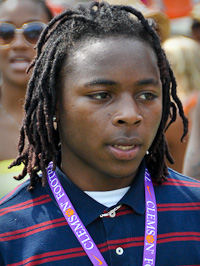 Jamarcus Moore
Safety
5-8, 155
Chester, SC
View Full Profile work out with the rest of the defensive backs. I went over to watch a couple of the bigger-name kids work out, but Moore just kept jumping out at me. Turns out I wasn't the only one.
A college coach and I started talking about Moore, and he said that Moore is easily one of the best defensive backs in camp. The college coach said Moore plays the ball well, has great feet and can high-point the ball. The problem is that Moore is 5-8; if he were just a couple of inches taller he would have offers from most of the big boys. To me, I don't care a lot about the height. The kid can just play.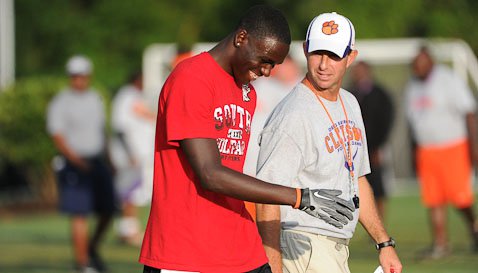 Jayron Kearse
*I also spent time watching Jayron Kearse work out at defensive back. Watching the Miami commit – out of South Fort Myers, Fla. – I felt much like I felt last year when I watched current Clemson defensive back Travis Blanks work out, Kearse just jumps out at you. His size and athleticism are readily apparent, and you can tell his potential is almost limitless. I know that he is a solid verbal to the Canes, but the fact that the kid came all the way to Clemson from south Florida for Swinney's camp shows there is still interest there.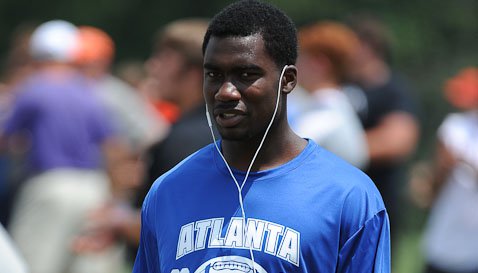 Nick Glass
*Two other interested bystanders at the afternoon session were Nick Glass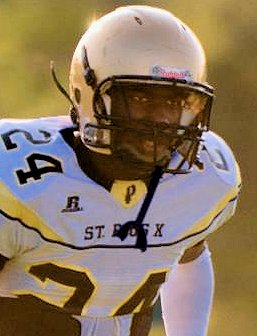 Nick Glass
Safety
6-2, 200
Atlanta, GA
View Full Profile – a 2014 safety prospect out of Atlanta that is committed to Georgia – and Demarre Kitt

Demarre Kitt
Wide Receiver
6-1, 185
Tyrone, GA
View Full Profile , a 2014 wide receiver prospect out of Georgia who is also committed to the Bulldogs.
Both players were very up front that they were still solid to Georgia, but that Clemson was a close number two. Glass told me that he has a great relationship with the Clemson coaches, and considers Clemson his fallback plan in case it doesn't work out with Georgia. He told me that he still has two years before he signs, and that a lot could change between now and then.
Kitt told me pretty much the same thing, but said that this is his first trip to Clemson to visit the campus, and he has already fallen in love with it. He said that he has a great relationship with recruiter Jeff Scott, and he is keeping all of his options open.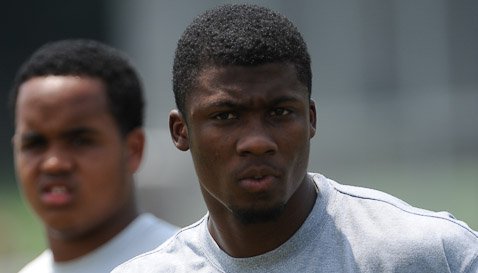 Marqui Hawkins
*Florida commitment ATH Marqui Hawkins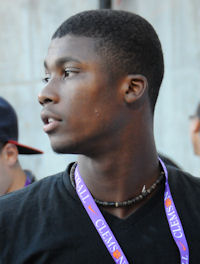 Marqui Hawkins
Wide Receiver
6-2, 205
Columbus, GA
View Full Profile was also at the afternoon session but did not participate. Hawkins told me that he was still committed to Florida but Clemson was his number two school and he was still looking at the Tigers.
*Clemson offered linebacker Christian Miller today, a 2014 Spring Valley prospect. Miller is also the son of former South Carolina linebacker Corey Miller. Miller definitely showed some skills during the workouts, and said he loves the energy of Clemson defensive coordinator Brent Venables.
*The Lawrenceville (GA) Grayson players that were supposed to take part in the second session Wednesday didn't show up at the camp until after the media were asked to leave. Robert Nkemdiche, the nation's number one recruit and defensive back David Kamara will take part in Thursday's morning session.