| | |
| --- | --- |
| Swinney trades jabs with Spurrier | |
---
| | |
| --- | --- |
| Wednesday, October 10, 2012 7:42 PM | |
CLEMSON – What better way to spice up an off week than a little back-and-forth between coaches.
South Carolina head coach Steve Spurrier, whose Gamecocks play at LSU this weekend, was asked this week about playing in Death Valley and per his custom, took a shot at Clemson in the process, saying, "Most our players have never been to Death Valley. That is the Death Valley isn't it? Is there another one around?"
Clemson head coach Dabo Swinney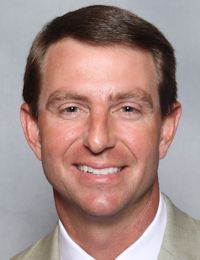 Dabo Swinney
Head Coach
View Full Profile was asked about Spurrier's comments following Clemson's Wednesday practice, and he smiled and answered the question.
"I heard about that. It's amazing people are interested in Clemson so much," Swinney said. "For the record, the original Death Valley is right here (pointing behind him to the stadium). In case anybody has any doubts, its right here. That's the original Death Valley. I am pretty sure that is accurate, but I can see where he might have a little confusion. Our guys have never been to USC. California is a long way from here. I can see where there might be a little confusion there – two Death Valleys and two USC's, but there is only one real one. That is classic Spurrier. When he is winning, you can say anything you want."
Swinney then laughed and said, "Steve will appreciate that."
In case you missed it, Spurrier also wondered whether Clemson's coaches would be proud of the number of plays the Gamecocks ran against Missouri earlier this year, an obvious jab at Chad Morris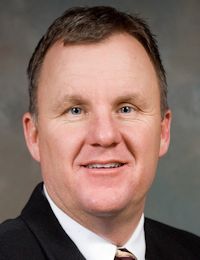 Chad Morris
Offensive Coordinator / QBs
View Full Profile wanting to run a certain number of plays.
Of course, there was also the famous rant last season where Swinney responded to something he thought Spurrier said about South Carolina not being Clemson, and Swinney agreed.
"No three-game winning streak is going to change that," he said. "It's not the first they have won three in a row and it will not be the last time. It might be 100 more years but it will probably happen again. But I have gone out of my way to be complimentary to them and complimentary to coach Spurrier. I got a lot of respect for coach Spurrier, but I am going to defend my program . I'm going to defend my players and my coaches. I am going to defend Clemson University because I believe in it. I think he is exactly right - they are not Clemson and never will be. You are looking at the best era in the history of South Carolina football right now. They just had their second 10-win season. They won a championship in 1969 and the 2010 SEC East. And this rivalry – there is a lot of rivalries out there but this is more of a domination and that's a fact. My kids' grandkids won't live long enough to see this really become a rivalry."
He went on to say that Clemson has a different standard than South Carolina.
"I have respect for their program, but South Carolina is not Clemson," he said. "There are a lot of differences. This is a place that has won a national title, 17 conference championships and two division titles. Heck, we have won more bowl games than they have even been to. I think our program has 100 plus more wins than South Carolina. That is reality. This is the best era in 115 years of South
Carolina football is right now and they have done a great job.
"Coach Spurrier has been there for seven years, but after five years I think he had 35 wins and got a new contract and all that kind of stuff. After five years at Clemson, if I have only got 35 wins there is going to be a new coach here and you know what there should be because there is a different standard. He is
exactly right – they ain't Alabama, they ain't LSU and they certainly are not Clemson. That is why Carolina is in Chapel Hill, USC is in California and the university in this state always has been and always will be Clemson. It's right here in Clemson, SC. You can print that. Tweet that."
For the record – Clemson's Death Valley was given its name by Presbyterian College coach Lonnie McMillan in 1948 because it was where teams went to die. Clemson coach Frank Howard – who was the school's head coach from 1940-69 – reportedly adopted the moniker from McMillan.
Other notes
*Swinney said that running back D.J. Howard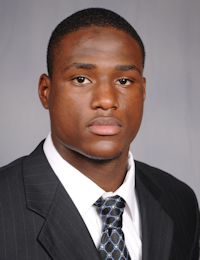 D.J. Howard
RS So. Running Back
#22 5-11, 195
Lincoln, AL
View Full Profile (shoulder) and wide receiver Martavis Bryant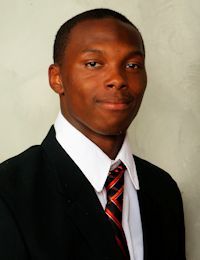 Martavis Bryant
So. Wide Receiver
#1 6-5, 200
Calhoun Falls, SC
View Full Profile (groin surgery) have both practiced this week.
*Swinney said he wanted the team to have more energy Thursday – he thought they lacked purpose Wednesday – and then take a couple of days off to re-charge the batteries.
*On what makes this team special – "I think they have responded to challenges put before them. It hasn't been pretty but they have found ways to win. In potential let-down situations they have found ways to win."