| | |
| --- | --- |
| Swinney says players and coaches in place to make a run | |
---
| | |
| --- | --- |
| Monday, July 22, 2013 4:12 PM | |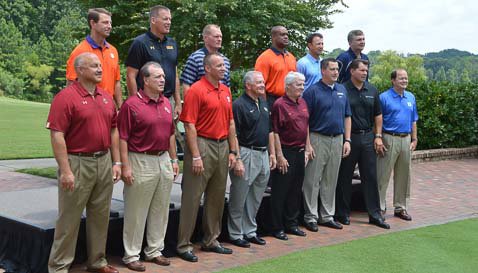 GREENSBORO , NC – Clemson head coach Dabo Swinney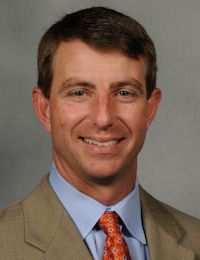 Dabo Swinney
Head Coach
View Full Profile met with the media Monday afternoon at the ACC Kickoff in Greensboro, and the questions ran the gamut of pre-season expectations to the number of conference games.
Swinney wasn't buying into the hype on his team, and tried to downplay the expectations for his team, but did say that the Tigers are good enough to contend for a championship.
"We are good enough. We have good players and good coaches," he said. "We don't sit around and say oh we don't have a good offensive line or anything like that. We are good enough. We have to have the right work ethic and leadership and that is what we spend most of our time on."
Swinney then said that he also feels like he has the kind of coaching staff in place that can make a run at a title.
"I think we have a good coaching staff, and we have good continuity," he said. "But it is going to take a championship effort by our coaching staff to prepare our team for what is coming."
The Tigers were picked by the ACC media as the favorites to win the ACC Atlantic Division and to beat Miami for the ACC Championship. The last time that happened was in 2008, but Clemson stumbled to a 7-6 record and head coach Tommy Bowden was ousted mid-season.
Swinney said that there were really no similarities between this year's team and 2008.
"There is a lot of water under bridge since then," he said. "We are a different program and a different team. But yeah, don't go 3-3 and stay true to what we believe in. the mentality has to be right, but our guys expect to win and they respect each other and themselves."
Other news and notes from Swinney's session
On how proud he is of this group
"I am very proud. You go back to that first group of seniors, and I am proud of that group and proud of all of those guys. All of them made a decision to buy in and helped us build the program, and we changed the culture through graduation and recruiting. The guys who were there had to buy in. Last year was my first year where I had my first true seniors graduate, and then I have this year's senior group and all of them were recruited by me. I am proud of what they have done. I also think we have an outstanding coaching staff, and we have good continuity. It is going to take a championship effort by our coaching staff to prepare this team for what's coming."
On rivalry with FSU
"They are a great program, and they are well-coached. They have a great tradition, and the winner of that game has gone on to play for the championship, so that game is critical for both programs. The margin of error is small. Last year, I thought it was about as good as we have played down there, and then you get a 90-yard kickoff return and then we lost momentum. It is easy to lose momentum when you have two teams battling it out. Hopefully, we can continue to both put great teams out there and maybe one of us can put a dominant year together and for play for a national championship."
On if he thinks his team is best in ACC
"I don't know that. I know we have a good team. I know we have a lot of guys coming back that have proven that they can play winning football. I don't have an idea what everybody else has."
On defense this season
"Last year, we were a major work in progress on the defense, but they finished on a high note. I think when all is said and done after this year that people will say our defensive front seven was the strength of this team."
On playing Georgia in first game
"There is no question we need to be at midseason form and hitting on all cylinders right out of the gate."
On what Tajh needs to do this season
"Tajh just has to be who he is. If you go back to his high school days, he has gotten better every year and he has done that every year with us. He led our team in fumbles, threw interceptions that shouldn't have been thrown and he took eight sacks that were all on him. There is a lot of room for improvement. But when he takes the field this year, the average fan should think, 'That guy has been playing a long time and knows what he is doing.' If he stays healthy, I think that is what we will see this year."
On what will be a successful year
"We might not win 11 games and we might be a better team. I know the win-loss column is the bottom line, but there are a lot of things that can play out. I think our guys have learned how to handle success and how to handle failure."
On Brandon Thomas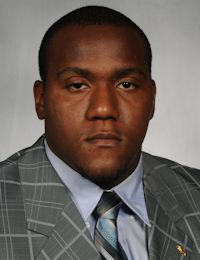 Brandon Thomas
RS Sr. Offensive Line
#63 6-3, 305
Spartanburg, SC
View Full Profile
"Right now he is penciled in at left tackle. He can play anywhere except center. "
On whether he would join a suit like the one Darius Robinson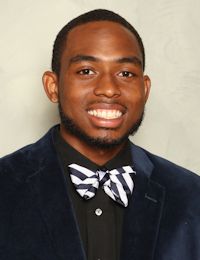 Darius Robinson
Cornerback
#21 5-10, 175
College Park, GA
View Full Profile has joined
"No. Asolutely not. First off, I have zero issues with someone who wants to do that. I would absolutely not be a part of that. I wrote a speech in college on why college athletes should no be paid. I am 100 percent in favor of enhancing scholarships. They have changed since I was in school. Gas is higher, the movies are higher, dates are higher. Everything in the world has changed but scholarships. I think that is wrong. I am 100 percent behind a stipend or enhancing the scholarship. I think that makes sense, and we should give these guys that cost of living. The reason I feel that way is I lived it. I am against professionalizing college athletics. We have that, and it is called the NFL and the Arena League and the CFL. Anytime you diminish the value of an education I am against it. But I don't have a problem with what Darius did, and he had to make a decision that day to be a part of it and he didn't talk to me about it. But this is a free country and he is free to do what he wants to do."
On being the favorite and not the underdog
"We just keep doing what we do. We have been picked down the line – first, second, third. But it is so irrelevant. I took a preseason magazine with Tajh's picture on it in a team meeting the other day and threw it in the trash. It really is irrelevant, and it is based on what we did last year and has nothing to do with the present day. We have to have the same commitment and the same fundamentals and we have to pay the price. It is a clean slate – we haven't thrown a single touchdown pass this season. "