| | |
| --- | --- |
| Saturday Swinney camp observations II | |
---
| | |
| --- | --- |
| Saturday, June 16, 2012 6:48 PM | |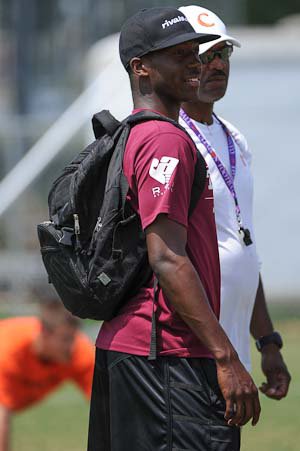 * Dabo Swinney Football Camp Photos VI *
CLEMSON – The Clemson coaches got yet another look at 2014 running back commitment Jae'lon Oglesby and a host of other big-time prospects at Saturday's second session of Dabo Swinney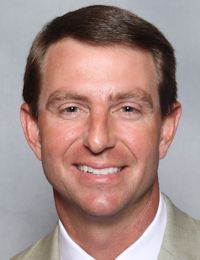 Dabo Swinney
Head Coach
View Full Profile 's high school football camp.
Oglesby, who committed to the Tigers just before the workout began, was in attendance along with several of his Daniel High School teammates and former teammates, including Shaq Lawson, DeShawn Williams, Solomon Brown and D.J. Greenlee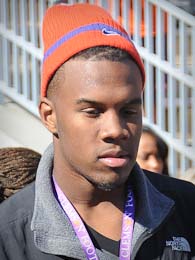 D.J. Greenlee
Linebacker
6-2, 210
Central, SC
Also in attendance at the camp was former Clemson quarterback Woody Dantzler, who helped offensive coordinator Chad Morris work with several of the quarterbacks who were at the session.
*Charlotte (NC) Charlotte Christian tight end Jeb Blazevich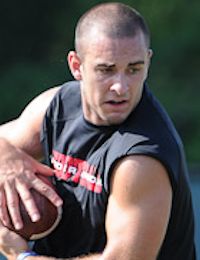 Jeb Blazevich
Tight End
6-5, 240
Charlotte, NC
View Full Profile received an offer from Swinney following Saturday's morning session.
He also has offers from Auburn, Florida, Georgia, LSU, Mississippi, North Carolina, Ohio State, South Carolina, Vanderbilt, and others, but had been waiting on an offer from Clemson after several conversations with tight ends coach Danny Pearman.
"Coach Pearman called me over after a pass skelly, and told me that Coach Swinney wanted to talk to me," Blazevich told TigerNet. "Coach Swinney told me that he watched me work out, and he wanted to make the offer personally. He said the reason he had waited so long to make the offer was because he wanted to do it in person.
Blazevich, whose brother Davis is a rising senior at Clemson, said he likes the Tigers but will wait before making a decision. He caught 32 passes last season as a tight end, and made 68 tackles on defense.
*Another interested observer at the afternoon session was Tucker (GA) ATH Juwaan Williams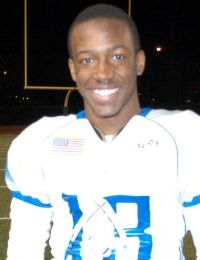 Juwaan Williams
Athlete
5-10, 180
Tucker, GA
View Full Profile . The 2013 prospect has 22 verbal offers, and said he had been wanting to visit the Clemson campus and get a feel for the environment.
"I wanted to come up and check out the campus and talk to the coaches," Williams said. "I wanted to see what position the coaches thought I would play here. I talk a lot with Coach [Marion] Hobby and Coach Cheese [Charlie Harbison]. Coach Cheese tells me he sees me as a corner."
The 6-1, 180-pounder is a 3-star prospect who said the Clemson coaches also tell him he could play early if chose Clemson.
"They told me that I could actually play on both sides of the ball," he said. "I play quarterback some in high school, and they said they could see me at receiver. But Coach Cheese told me I could play corner right away, and get on the field early. He likes my ball skills."
Williams said the Tigers are in his top four, along with FSU, Vanderbilt and Oregon.
"I really like the Clemson campus," he said. "You can tell it's a small town, and it's very tight knit and close. It is all about Clemson football, there are tiger paws everywhere and everything is orange and purple."
*My favorite sound bites of the afternoon session came from Pearman, who had a lot of talent to work with. In one drill, he had three players stand in a triangle formation with padded shields. A tight end would head toward the formation, turn around to catch a bullet pass, and then turn into the formation, where each of his camp mates would then take a hard swing at him in order to knock the ball loose.
Pearman told each of the campers to "take it personally" when they got hit hard, and to remember "who did it so you can smack him when it's your turn to swing."
After one particularly hot session, Pearman told the players they could take a break and grab a drink. He gave them about a 30 second respite, then launched back into coach-mode, saying, "Come on ladies, you are wasting my daylight."
*Every time I watch De Marcus Robinson

Marcus Robinson
Linebacker
6-3, 215
Memphis, TN
View Full Profile at wide receiver, I come away impressed. The 2013 Peach County (GA) Fort Valley standout has offers from most of the major programs, and it's easy to see why. He has great hands, quick feet and runs routes really well. He also gets the award for wearing some of the more colorful socks during the camp.
*Several current Clemson players have been in attendance during the camp, including Sammy Watkins, Tajh Boyd, DeShawn Williams, Robert Smith and Bashaud Breeland on Saturday. I've also seen linemen Jay Guillermo, Patrick DeStefano, Dalton Freeman, tight ends Eric Mac Lain and Darrell Smith and defensive backs Xavier Brewer and Martin Jenkins. I know I am not a strength and conditioning expert like a lot of people claim to be, but each of the players looked like they had packed on muscle since January. Boyd looked like he had added muscle in his arms and chest, and Mac Lain just looks strong.
*I have a story coming about this later, but former Clemson linebacker Keith Adams will be a part of the Clemson coaching staff this fall. Adams has returned to Clemson to finish his degree in Sports Management, and he will be a student-coach, helping out defensive coordinator Brent Venables with the linebackers.
* Dabo Swinney Football Camp Photos VI *