| | |
| --- | --- |
| Rejuvenated Leggett ready to see what 2015 holds for the Tigers | |
---
| | |
| --- | --- |
| Sunday, January 25, 2015 7:01 AM | |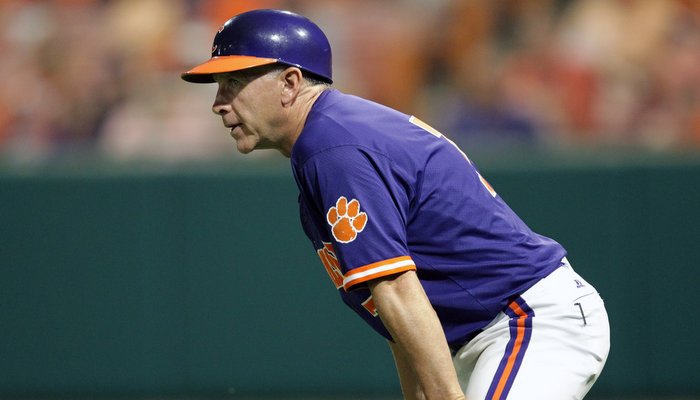 CLEMSON – Clemson head coach Jack Leggett

Jack Leggett
Baseball Head Coach
View Full Profile met with the media Friday afternoon in a hallway underneath Jervey, and he didn't act like a coach whose back might be against the proverbial wall.
The Clemson baseball team began practice for the 2015 season Friday despite the cold weather and the continuing raindrops, and as Leggett met with the media he wanted the cameramen to know that his wife complains when they get to close and "get my nostrils."
Leggett then good-naturedly looked at the line of cameras waiting for his appearance and asked if they were "interviewing the wall."
In other words, Leggett looked loose as he prepares to enter 22nd season at the Clemson helm. Following last season's ouster from the NCAA Nashville Region with two quick losses – at the hands of Oregon and Xavier – and a 36-25 season that was the third-lowest victory total for a Leggett-coached Clemson team he was quickly tasked with restoring the program to its former glory.
Leggett admitted the offseason was tough, but said the past few seasons have been a learning experience on and off the field and he embraces the opportunity to get the program back on track.
"It has been tough, but I don't know one (offseason) that hasn't been tough, to be honest with you," Leggett said Friday. "When you're competitive, they're all tough. But this one has been exciting in a lot of ways. There's some things we can learn and take from last year and improve on, so I don't look at it as a tough thing, but rather more as a challenge and an opportunity for us to get better."
Leggett's team loses catcher-outfield Garrett Boulware

Garrett Boulware
Jr. Catcher
#30 6-1, 210
Anderson, SC
View Full Profile , shortstop Jay Baum

Jay Baum
Jr. Infielder
#13 6-0, 190
Alpharetta, GA
View Full Profile , second baseman Steve Wilkerson

Steve Wilkerson
Sr. 2nd Base
#17 6-1, 195
Roswell, GA
View Full Profile , first baseman Shane Kennedy

Shane Kennedy
Sr. Infielder
#11 6-2, 190
Orlando, FL
View Full Profile and ace Daniel Gossett

Daniel Gossett
Jr. RH Pitcher
#23 6-0, 180
Lyman, SC
View Full Profile . However, five of nine in the field return, including lefty Matthew Crownover

Matthew Crownover
So. LH Pitcher
#44 5-11, 205
Ringgold, GA
View Full Profile .
Crownover, who led the Tigers with eight wins a year ago, will step into the Friday night and staff role. Crownover told the media that parity in college baseball has made for tougher conference and mid-week games.
"It's a different ballgame now," Crownover said. "Everybody in the ACC is pretty good. There's no bad Virginia Tech teams or bad Duke teams anymore and there's really good midweek teams we play each week – the Kennesaw States of the world. There's a lot of parity in college baseball, so you have to play well every day. You can't just show up at the field anymore and just because you have Clemson on your chest expect to win. That's one thing we learned the hard way last year."
Making it to Omaha to participate in the College World Series is the goal – last season's ouster in Nashville marked the first time since 1991 that a Clemson team had gone four years without a trip to Omaha. Clemson appeared in the CWS in 1991, 1995, 1996, 2000, 2002, 2006 and 2010.
Trips to Omaha haven't been the only missing piece to the puzzle – Clemson hasn't won an ACC title since 2006.
Shortstop Tyler Krieger

Tyler Krieger
So. Infielder
#3 6-2, 170
Johns Creek, GA
View Full Profile said he is tired of seeing the seniors end their careers with losses.
"Anytime you lose, if we're not holding the trophy, I'm going to be upset," Krieger said. "This isn't a situation where it's OK to lose. I feel like the players have all taken on a little of the responsibility to not let that happen again and I'm not going to let those seniors walk off that field with tears in their eyes one more time because it's just not what I like to see."
Krieger then added that he doesn't think the Tigers are underdogs, and that the pundits can't predict the programs direction based off of what they see on paper.
"If we stay committed to each other, there's a lot of good things to come," Krieger said. "I think it's going to be a special year. I don't really care about what they say in the preseason. I'm confident in this group. I'm ready to rock. February 13th can't get here soon enough."
Clemson opens its season Feb. 13 with a three-game series against West Virginia at Doug Kingsmore Stadium.