| | |
| --- | --- |
| Pro Day: Watkins, Boyd stand out as NFL scouts look on | |
---
| | |
| --- | --- |
| Thursday, March 6, 2014 2:29 PM | |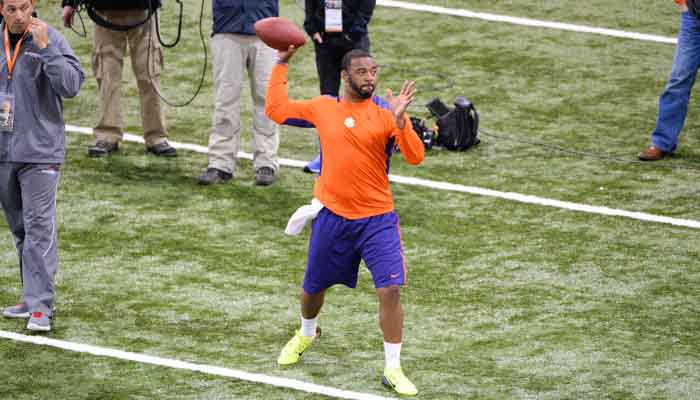 CLEMSON – Pro Days are a chance for players to shine one last time before the NFL Draft, and quarterback Tajh Boyd

Tajh Boyd
Quarterback (2009 - 2013)
#10 6-1, 225
Hampton, VA
View Full Profile and wide receiver Sammy Watkins

Sammy Watkins
Wide Receiver (2011 - 2013)
#2 6-1, 205
Fort Myers, FL
View Full Profile took full advantage of that opportunity Thursday morning inside of Clemson's indoor practice facility.
Sixty NFL scouts representing all NFL teams (two were from Canada) were on hand to watch former Clemson players go through a series of workouts, and Boyd and Watkins were the standouts among the skill players, while offensive lineman Tyler Shatley

Tyler Shatley
Offensive Guard (2009 - 2013)
#62 6-3, 295
Icard, NC
View Full Profile put on a show in the bench press.
Boyd looked more balanced than we've seen in the past, and his throwing motion looks to have improved since the end of the season, something that quarterback coach Ken Mastrole told me that he thinks Boyd has finally put the mechanics together with the talent.
"Those are things we have been working," Mastrole told TigerNet Thursday. "We had a script, and we wanted to make sure we ran through all of the throws that he would have to make in the NFL, and I thought he was excellent."
Boyd threw a series of passes from just past midfield, and was 63-for-64 throwing to Watkins, Martavis Bryant

Martavis Bryant
Wide Receiver (2011 - 2013)
#1 6-5, 200
Calhoun Falls, SC
View Full Profile , Roderick McDowell

Roderick McDowell
Running Back (2009 - 2013)
#25 5-9, 195
Sumter, SC
View Full Profile and Brandon Ford

Brandon Ford
Tight End (2008 - 2012)
#80 6-4, 240
Wando, SC
View Full Profile . Boyd started out hitting 37 in a row, the lone incompletion on a go route to Bryant.
Boyd then moved inside of the red zone, and completed 19-of-19 passes on quick hitches and fades.
I spoke to different NFL scouts, and here is one scout's take on what he saw out of Boyd.
"The quarterback had a nice day, too," the scout said. "I think it was a nice comeback from the Combine. Sometimes it's not the QB's fault at the Combine because he doesn't have timing with the receivers, but he had timing with these guys and it was impressive. He made all of the throws."
Watkins was his usual stellar self, and he told me that the false starts on the 40-yard dash at the Combine didn't hurt his time, but lining up wrong did.
"I was mad at myself," he said. "There were two black lines there, and I was supposed to line up at the first back line, and instead I lined up at the second one and I cost myself a yard-and-a-half. I just didn't listen to the instructions. But I didn't run the 40 out there today because I feel like my tape speaks for itself. I am a legitimate 4.2 guy."
The scout said Watkins didn't show him anything he hadn't seen before.
"Sammy is Sammy and just as explosive," he said. "His hands are just as good live as they are watching film or when you see a game. He's definitely a Top 10 guy."
I asked the scout if he could compare Watkins to any current receiver, and he said no.
"That's a great question and I'm never good at that as a scout," he said. "Sammy is Sammy. He weighed in at 214 pounds but he plays 6-4 and he runs like he's 6-4 in terms of after the catch. He runs like a big, strong man, but he's just as fast as some of the smaller receivers. This is probably the third time I've seen him in person, with one of them being freshman year, but you felt him as a freshman, too, that he was going to be special."
The scout also had good things to say about Bryant.
"Today, I think you saw improvement from Martavis," he said. "He's a young kid, but he's big and he can catch the ball. You see him improve routes and I think that's a nice thing from the beginning of the season until now. He needs to continue ascending like he has been. As a big receiver, continue getting better with the routes and just really learn to be able to go get rebounds. Make it to where you are quarterback friendly and he has an outlet. When things are breaking down, I know that I have somebody really tall and really strong that can go get a rebound out there and they'll throw it to you. "
Tyler Shatley benched 225 pounds 40 times – he started out with 30 reps before taking a pause – and told the media afterward that he has hit the 42 mark a few times during his Clemson career.
North Carolina center Russell Bodine was the only prospect to hit the 40-mark at the Combine last month, when he had 42.
Other observations
*Several of the defensive backs and linebackers had problems slipping, and I noticed they were wearing long cleats on the artificial turf in the indoor facility. I would have thought they would have worn turf shoes.
* Bashaud Breeland

Bashaud Breeland
(2010 - 2013)
#17 6-0, 195
Allendale, SC
View Full Profile showed improved ball skills during his portion of the workout, but it was his 40-time that was really interesting. He ran a 4.55 the first time, a 4.55 the second time, and a 4.56 the third time. That's consistency, and I guess you pretty much say he is a 4.5 guy.
*Mastrole was a constant presence with Boyd during his workout, and it was interesting to see him go through the script. It was obvious Boyd was comfortable with his receivers and having his quarterback coach on hand.