| | |
| --- | --- |
| Pigskin Prophet - SEC Selection Committee Edition | |
---
| | |
| --- | --- |
| Thursday, October 30, 2014 9:57 AM | |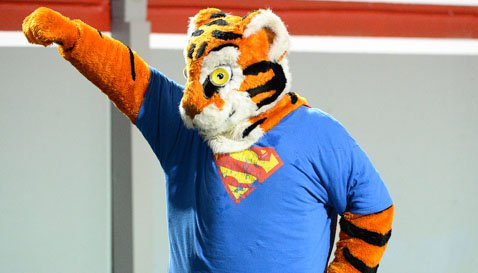 The Pigskin Prophet may have found a forever job, and it's a paying position. The news recently broke that Ole Miss legend Archie Manning would no longer be a part of the College Football Playoff Selection Committee, and the people in charge decided they needed to find someone that knows the ins and outs of college football to replace Peyton's dad.
I'm not sure what happened with that search, because they chose me instead. Ari Fleischer reached me at home and told me the job was to be a non-paying position, but as soon as Fleischer hung up with me some man named Harvey Updyke showed up at my door, asked about my trees and handed me a bag of money.
The next morning, I was out eating breakfast when a strange looking bald man named Paul Finebaum sat down across from me in an SEC shirt and handed me the keys to a new car. Later that afternoon, a group of Alabama fans showed up and told me they were taking care of my mortgage from here on out. Heck, if it works for Saban, it works for me.
As you saw, the first rankings came out and Florida St. of the ACC was one of the four teams. My new car disappeared after those rankings came out, and some man named Tom Rinaldi wrote a scathing article about me. If I promise to dress like Jesse Palmer, can I have my car back?
But I digress – the rankings are really about the best four teams (snicker, snicker). On to some picks.
THURSDAY
FLORIDA ST. AT LOUISVILLE
In case you missed it, Jameis Winston had crab leg withdrawals and the Seminoles had to practice across from Joe's Crab Shack once they arrived in Louisville. The Seminoles haven't exactly set the world on fire, and the Cardinals might just pull the upset. Bobby Petrino has told the Louisville faithful he wants them to be Syracuse loud, and I am sure that there will be plenty of liquored up fans throwing Papa Johns pizza, crab legs and co-eds at Jameis in an effort to get him distracted. The problem, of course, is that throwing a college age girl out on the field will only get Petrino revved up, and he will leave to find a motorcycle to wreck. The Noles survive. Barely. FSU 27, LOUISVILLE 23
LOUISIANA MONROE AT TEXAS A&M
As a member of the committee, I can tell you that even though Texas A&M's best win was over an awful South Carolina team, they are still one of the five best teams in the country because they play in the SEC. They beat Duck Dynasty handily and Brent Musberger passes out from excitement. Or because he accidentally wore Jesse Palmer's shirt and it cut off his air. Either way, A&M wins and joins the ranks of the greats. SEC SEC SEC SEC 45, DUCK DYNASTY 17
BOSTON COLLEGE AT VIRGINIA TECH
So. Now we know that Tech can't win with a tall quarterback. And they can't win with a short quarterback. Would someone who is a normal-sized quarterback work? Probably not. The "Hey didn't you used to be Frank Beamer" tour continues with a home loss to the Eagles. BOSTON COLLEGE 24, VA TECH 20
NORTH CAROLINA AT MIAMI, FL
This is one huge matchup. Two of the biggest cheaters in recent memory meet in the John Swofford AFAM/STRIPPERS MEMORIAL WE DON'T SANCTION TEAMS ANYMORE BOWL GAME. On one side of the stadium, Miami fans (all 12 of them) will rise up and shout "Strippers and Limos!!!" On the other side, Buffy and Brantley and C. Thomas Pattinson will raise their wineglasses and shout, "AFAM STUDIES!!!" The ones left standing win the trophy – a perfect replica of North Carolina's "hard-earned" hoops trophies. STRIPPERS 30, FIGHTING SWOFFIES 27
NC STATE AT SYRACUSE'
NC State fans had high hopes earlier this season when the Wolfpack responded with thrilling wins over Sister Sadie Mae Dinkins Sunday School Class, the Forest City Kindergarten Choir and an easy win over the cousins of the Easy Girl at the South Carolina Tailgate (Everybody scores!!!). But then they played some real teams and came back to earth. This week, they play in what is, literally, the loudest and hottest place on earth in the Carrier Dome in SAIRACOOSE. The Orange win because of the home field advantage of 300 people nobody can understand talking about hockey and basketball. ORANGE 28. STATE 23
FLORIDA VS. GEORGIA
This used to be known as the World's Largest Outdoor Cocktail Party, and now it's known as Florida Loses Again and Sucks in Doing So. The Bulldogs have been pretty good since losing to an awful South Carolina team earlier this season, and the running game hasn't suffered since the team lost Todd Gurley, a poor college student who inadvertently accepted $9.2 million for autographs. Florida pays their guys even more than Georgia, but it hasn't worked under Will Muschamp, whose offense is obviously coached by Rob Spence. Bulldogs win. GEORGIA 30, FLORIDA 13 (the defense scores a touchdown).
VIRGINIA AT GEORGIA TECH
A local radio host is saddened to find out that once again Tech isn't good enough to win a national championship, or even a division. This week the Jackets and their falling down linemen face a Virginia squad that hasn't been completely terrible. Can the Wahoos defensive linemen avoid the Jacket offensive linemen, who roll around on the ground more than the girl from the South Carolina tailgate? IF they can, they can steal a win Atlanta. Ih duh-unt mah-her how bat the Tech dee-unse will be, the genius that is Pawwwwll John-uhn will win. JACKETS 33, CAVS 31
AUBURN AT OLE MISS
Auburn got taken to the wire against a bad South Carolina team last week, and this week they get a fired up Mama Nkemdiche. The Rebels lost to a bad LSU team last week, but it doesn't matter because they are all in the SEC West, where even a loss is a win (isn't that right Mr. Finebaum!!!!) So, really it doesn't matter who wins this one because South Carolina stills wins a championship. Let's face it and be serious – if Auburn's bad defense can't stop the tailgating girls, how can they stop a fired up Mama Nkemdiche? OLE MISSUS 28, ALLBARN 27
TENNESSEE AT SOUTH CAROLINA
South Carolina's defense actually played pretty good last week, only giving up 42 points and 551 total yards of offense. I know that doesn't sound great, but it's good for them!!! This week, it's Tennessee coming to call and this is a GREAT MATCHUP BECAUSE IT'S THE SEC MR. FINEBAUM!!! Actually, I have to tell the truth. Tennessee is only slightly better than Open Date and Furman. FIGHTING SPURRIERS 30. TENNESSEE 20