| | |
| --- | --- |
| Monte Lee era begins as Tigers hold first spring practice | |
---
| | |
| --- | --- |
| Friday, January 29, 2016 4:16 PM | |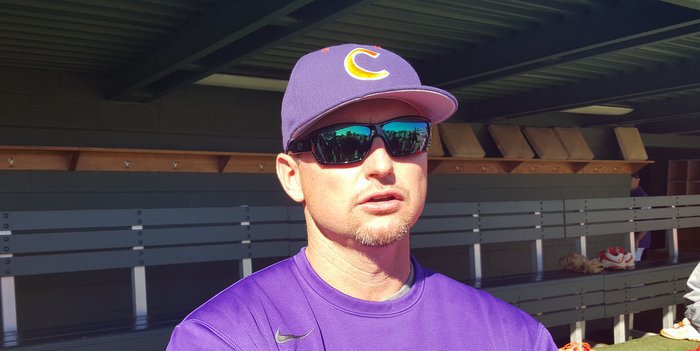 CLEMSON – The 2016 season will be one of transition for the Clemson baseball team, and the Tigers kicked their preparations for the season into high gear with the opening of practice Friday.
Head coach Monte Lee takes over for Jack Leggett, who was let go after last season after 22 years with the program. And Lee, the former head coach at College of Charleston, has one thing in mind in preseason practice for the season opener Feb. 19: competition.
"To me, the season starts (Friday), and quite honestly, our guys have come back in great shape," Lee said. "They did a great job of training and staying in good baseball shape over Christmas break, and on Jan. 6, when we were able to start conditioning and our skill work segment, our guys hit the ground running. We're in really good shape, and we've gotten all our fundamental work out of the way, the ground balls, the BPs, the fly balls, catching bullpens, throwing bullpens.
"Now it's time to cross the white lines and compete against each other and solidify some jobs going into Feb. 19th and getting ready for opening day. But I feel like we're in season right now. Our guys are champing at the bit to get out here (Friday) and compete."
The Tigers open the season against Maine, and the focus before then will be on settling on a pitching staff. Clemson lost 10 lettermen from last year's team, and most of those were on the staff. Clate Schmidt is the only returning starter on the mound.
Schmidt said he learned a lot from watching Daniel Gossett take on the ace role, and he's looking forward to that opportunity entering his senior season.
"It's exciting. I've learned from guys like (Daniel Gossett) and just coming in as a freshman and knowing what the attitude is to take through a weekend," Schmidt said. "It's pretty exciting to see what will happen this year."
The player who will handle those pitchers from behind the plate, junior Chris Okey, is also excited about what he has seen from the staff.
"I've seen huge improvements," Okey said. "I've seen guys who are eager to learn and have made huge adjustments since the beginning of the fall. They look tremendous right now, and I think we're going to see a lot of good stuff early in the spring, and come Feb. 19, they're going to be ready to pitch."
Still, the coaches have to learn the players and the players have to learn the new coaches.
Bradley LeCroy is a holdover from the Leggett staff, but pitching coach Andrew See and volunteer coach Greg Starbuck are new to Clemson.
"It's been great. It's been a great transition," Schmidt said. "Coach Lee, Coach Starbuck and Coach See have been great. They've all pushed us to become better players and become better men. And I think it's been a real blessing to see what goes on this season."
What Lee wants to see the next three weeks leading into the season is competition.
"A big part of what you do at this time of the year, especially with a young and unproven pitching staff, for the most part outside of a handful of guys, is we want to match these guys up and force them to compete against each other to win jobs," Lee said. "Positionally, we're a little deeper. We have a little better idea who's going to play where there, but pitching-wise, these guys have got to compete against each other and earn the right to get on the mound."
*Daniel Shirley is the sports editor of The Telegraph in Macon, Ga., and co-host of The Morning Show on FoxSports 1670 AM. Follow him on Twitter at @DM_Shirley and read his blog at macon.com/peachsports.