| | |
| --- | --- |
| Georgia fight song blares over Wednesday practice | |
---
| | |
| --- | --- |
| Wednesday, August 27, 2014 8:59 PM | |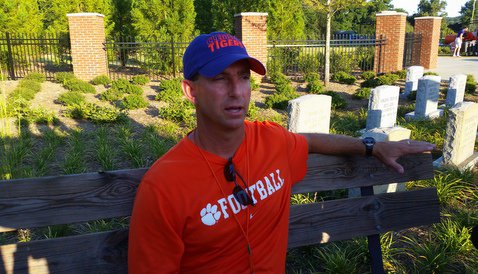 CLEMSON – Paul Revere didn't need to replicate his famous midnight ride to announce the appearance of Redcoats Wednesday afternoon in Clemson – the strains of "Glory, Glory" and "Go Georgia Bulldogs" were heard loud and clear during most of Clemson's practice session.
The Tigers will face Georgia on Saturday in the season opener, and head coach Dabo Swinney

Dabo Swinney
Head Coach
View Full Profile made sure that his troops were used to music of the Georgia Redcoat Marching Band.
"A little crowd noise. We ought to have the tune down and shouldn't be surprised by that - just part of getting them ready from a concentration standpoint - cadence and motions," Swinney said after the practice. "It's really not a factor for our defense. When you're at home is when you need to work the crowd noise for your defense communication wise, because obviously Death Valley is alive when the other team is on offense. It's the same way on the road. The defense will be able to hear just fine because they aren't going to be loud when the offense is out there. When our offense is on the field it will be rocking.
"We're just trying to make sure we get our guys dialed in and ready for it. It's been a while since we played a game. I thought we had good prep today. The guys have been pretty workman like and business like this week. You can really sense that they know we're getting ready to play. Tomorrow is a big day for us. It wasn't a perfect day today as far as getting the plan down but we don't play today. Tomorrow has to be a little better from an assignment standpoint and really understanding what we're asking them to do. We'll focus it all up on Friday and be ready to roll."
Swinney was asked if the threat of severe weather affected the team's preparation, and he said no.
"I tell our guys all of the time. If the things we don't control impact our performance then we're never going to be a good team," he said. "We'll never be a good player or a good team. If the weather, the time we play, the uniforms we wear, what the guy in the third row says about your mama, how many people are in the stands, how many aren't in the stands, you play on Tuesday night or Saturday night - if all of those things affect your performance, you're never going to be a great team. It's all about the things that we do control. That's what we try to coach our guys to do and focus on."
Oliver Jones

Oliver Jones
RS So. Offensive Tackle
#65 6-5, 313
Ninety Six, SC
View Full Profile tears ACL
Offensive lineman Oliver Jones suffered a torn ACL during Tuesday's practice, the second time in his career he has suffered the injury.
"My heart breaks for O.J. He is a guy who has persevered and chased his dreams," Swinney said. "Wasn't necessarily going to play for us this weekend but was in the mix. We thought it was the meniscus but MRI came back today and it was the ACL. This game is not fair and you have to deal with those types of things. We will just put our arms around him and love him up."
Zac Brooks

Zac Brooks
Jr. Running Back
#24 6-1, 199
Jonesboro, AR
View Full Profile
Junior running back Zac Brooks, who suffered a foot injury last week, had surgery on Wednesday.
Charone Peake and Stanton Seckinger injury update
"Been good. Charone has looked good. I've been very pleased with Stanton. He's practiced since last week, really. We're ready to go."
Captains
Swinney also announced his game captains for Saturday night - Vic Beasley

Vic Beasley
RS Sr. Defensive End
#3 6-2, 236
Adairsville, GA
View Full Profile , Sam Cooper

Sam Cooper
RS Sr. Tight End
#86 6-6, 250
Brentwood, TN
View Full Profile , Adam Humphries

Adam Humphries
Sr. Wide Receiver
#13 5-11, 193
Spartanburg, SC
View Full Profile , Grady Jarrett

Grady Jarrett
Sr. Defensive Tackle
#50 6-1, 290
Conyers, GA
View Full Profile and Cole Stoudt

Cole Stoudt
Sr. Quarterback
#18 6-4, 231
Dublin, OH
View Full Profile .